Article
Your Federation: Representative Council, May 13-14, 2015; The Pridehouse That Kids Built; Union School 2015; Building Better Schools: An Update
Representative Council May 13-14, 2015 The May Representative Council meeting opened with President Sam Hammond thanking local leaders for their input and feedback on Phase 1 of the work-to-rule strike action that began on May 11. He also thanked ETFO staff for their hard work in informing stewards and members about the details of the strike activities in a short time. Hammond thanked the locals for their diligence in answering questions as they arise. He also said a special thank you to members such as occasional teachers, consultants and Grade 3 and 6 teachers who face unique challenges as a result of the work-to-rule activities. The president emphasized the importance of members taking back control of their working conditions and classrooms to do what they love best – teach. He summarized: "We have taken a principled stand … we owe it to our members to stay the course." General Secretary Victoria Réaume shared information about political action that has been planned to augment workplace action over the coming weeks, including lobbying efforts, information pickets and rallies. She also presented a slideshow highlighting ETFO's efforts to promote its Building Better Schools education agenda through a television commercial, billboards and subway signs. Representative Council members welcomed Dr. Ian Brown to speak about mental health in the school workplace. Brown, a psychologist who has practised school psychology in several school boards, discussed the effects of stress and mental illness on teachers and education workers. He outlined the signs and symptoms of stress, sources of stress, risk factors for mental health issues and ways for caregivers to look after themselves to avoid the prolonged stress that can lead to burnout. Brown said that with one in five people experiencing mental health challenges it is not an issue that can be ignored. He suggested that employers have a legal and even moral duty to promote mental wellness in boards and schools. He ended with offering ideas for how system leaders can support mental wellness in educational settings. After a short business session on Thursday, May 14, ETFO Executive and Representative Council members headed to Queen's Park to attend an education rally organized by the Ontario Secondary School Teachers' Federation in support of the three striking secondary locals.
---
The Pridehouse That Kids Built On April 8, the International Day of Pink, ETFO First Vice-President Susan Swackhammer helped launch The PrideHouse That Kids Built – an arts and inclusion project designed to engage elementary students, educators and school communities from across Ontario in discussion around inclusion and participation in sport. This curriculum resource was sent to all public, Catholic and French elementary teachers across Ontario in April. The package included nine short stories created by playwright David S. Craig. The stories were designed to stimulate critical thinking and discussion among students and their teachers about why some kids are excluded or withdraw from organized sport. Stories for primary, junior and intermediate grades explored themes related to gender bias, inclusion of people with disabilities, ethnicity and culture, choice and family pressure, bullying, and LGBTQ stereotypes. Included in the mailing was a cardboard panel or "brick" for students to express their ideas and reflections on inclusion in sports through visual arts. Each elementary school was asked to return one decorated cardboard panel/brick by May 15 to the ETFO provincial office. Two recognized and extremely creative visual artists, Sean Martindale and Kalpna Patel, have been contracted to create an art installation entitled The PrideHouse That Kids Built using the panels. The installation will be displayed at the Ontario Celebration Zone at Harbourfront Centre during the TORONTO 2015 Pan Am and Parapan Am Games. The PrideHouse That Kids Built builds on another program developed by ETFO in partnership with OPHEA that is being offered in Ontario schools for the TORONTO 2015 Games – Kids 'n Play. This resource connects students from grades 1-8 to the Games through physical, cultural and healthy-living activities.
---
Union School 2015 This year saw an incredible group of ETFO members that included DECEs, occasional teachers and teachers graduate from ETFO's Union School, class of 2015. Participants in Union School 2015, all of whom are members of their local executive or a local committee, spent the year focused on building leadership skills and developing a more in-depth understanding of unionism. Working with staff from across the provincial organization, as well as prominent speakers from the union movement, Union School participants worked diligently during three face-to-face sessions and online to complete a series of tasks and assignments designed to build their leadership and union knowledge and skills. Networking is a key component of Union School, and participants built ties and connections with colleagues from across the province that will be utilized for years to come. In order to move the work of the union forward in their locals, participants completed a practicum within their local and shared what they learned with Union School colleagues during the final face-to-face session. Practicum projects were developed on a range of issues including designing surveys, creating resources and arranging professional learning for members. All practicums had the goal of engaging ETFO members in the local. Mobilizing members remained a key theme throughout this year's Union School. Participants had the opportunity to work on this issue with Dr. Elaine Bernard, Executive Director of the Labor and Worklife Program at Harvard Law School. The energy, enthusiasm and passion the Union School graduates have for the work of ETFO and its members is inspiring. Congratulations to the class of Union School 2015!
---
Building Better Schools: An Update By now you will have seen our new Building Better Schools commercial on television or online at buildingbetterschools.ca. A big thanks to Peel occasional teacher Jane Hailes for "acting" as our teacher for the commercial and helping share the importance of smaller classes with the public. Building Better Schools first appeared as ETFO's education platform for the 2011 provincial election, although we have long advocated for improvements on many of these issues. The details have been updated to reflect new research and changing circumstances. Building Better Schools has become a long-term vision for improved public elementary education in Ontario. Particularly important is extending the benefits of smaller classes to all elementary grades and providing additional classroom support for students with special needs. Our spring campaign focused on these two building blocks. This can lead to more in-depth conversations about class composition and optimal learning environments. Part of the campaign included some local resources to provide an opportunity to engage parents, guardians and community members on these issues. Postcards addressed to the Minister of Education arrived in every school in May. The website also hosts an electronic version of the postcard that anyone is welcome to send to their own MPP as well as the Minister of Education. The message has been repeated on billboards, transit shelters and buses in communities all across Ontario. Any government expects ETFO members to make quality public education a priority. Our challenge is to build broader support. The people of Ontario are often confronted with false choices. Valued public services are pitted against one another. We're told there is just not enough money in the public purse. Meanwhile corporate taxes fall. Provincial budget debates around spending and revenue are more than a math exercise. They are a product of political priorities. Quality, accessible public education is one of the smartest long-term investments our province can make.
RELATED STORIES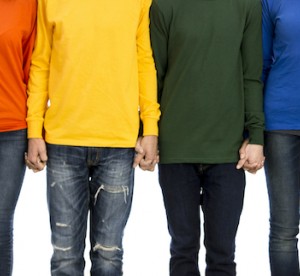 At the 2015 Annual Meeting, delegates approved a Transgender Policy for ETFO.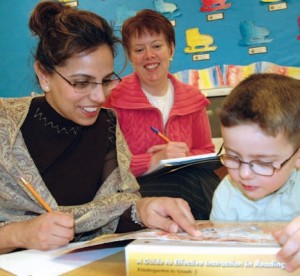 Last year Bobbie Chatha became a coach at her school, supporting colleagues as they looked for ways to improve literacy instruction.