Article
Your Federation
Representative Council 
Oct. 9-10, 2013
President  Hammond  welcomed Representative Council members to  their first meeting at ETFO's new building. With the completion of the 2012 round of collective bargaining earlier in October, President Hammond thanked local presidents for their unwavering  leadership  over  the  past  two years. He discussed the government legislation that  will provide a  new bargaining framework in the education sector, and outlined ETFO's participation in consultations. More information will be forthcoming.
Members welcomed Stephanie Karapita, chief executive officer of Casey House, which is located adjacent to ETFO's new building. She provided an overview of her organization's work in providing  compassionate care to people living with and affected by HIV/AIDS.
Toronto and York Region Labour Council President John Cartwright spoke about the  power and value of unions in winning rights for all  Canadians. He encouraged ETFO to engage members and build alliances with  other  unions,  community groups,  and  parents  in  order  to  achieve prosperity, respect, and power in the face of anti-union and corporate interests.
Presidents' telephone town hall
On  Wednesday October  30, 2013, local presidents participated in a telephone town  hall  meeting  to discuss provisions in Bill 122, An  Act  Respecting Collective Bargaining in Ontario's  School System.President  Sam Hammond reviewed the provisions of Bill 122, discussed  ETFO's position  on the bill,  and answered presidents'  questions.
Union School ensures leadership renewal
Thirty-six  members  from  across the province met between October 27 and 29 to start their year-long  ETFO Union  School  journey. This intensive leadership program is a significant part of ETFO's commitment to leadership renewal. The program is designed to help prepare participants for the many leadership roles within the union by providing learning opportunities and skill building within a unionized environment. Over the course of the year the participants will focus on communication, collective bargaining, unionism, information/resources management, the use of  technology,  problem  solving,  member engagement, advocacy, issues of professionalism,  relationship  building,  emotionally intelligent leadership, and equity principles.
OFL Convention
More than  70 ETFO delegates  participated in 12th biennial OFL Convention November 25-29, 2013 in Toronto.  The theme  of the convention was "Rising Together!"  – a reflection on the past accomplishments of the labour  movement and a declaration of labour's  commitment  to pushing  back against  austerity and neoliberal policies  in Canada.
ETFO's second GSA Symposium
ETFO's  second  GSA  Symposium  in November  was  chock-full  of  ways to  assist  members  in  starting  gay-straight  alliances  (GSAs)  in   their schools. Along with a keynote address by Jeremy Dias of Jer's Vision, participants heard from Peel teacher Greg Maxton, author of the middle school book for educators and students, Defying Gay Gravity. OISE/University of Toronto's Larry Swartz led a literacy/arts session on bullying and inclusiveness, and representatives from COPA introduced new tools for creating safe, strong, and equitable schools. A key message was that GSAs create safe schools and help students take a moral and ethical approach to stopping homophobia, transphobia, and cyberbullying.
ETFO Provincial Bargaining Conference 2013
Over  300   ETFO  leaders  from across the province gathered in Toronto on November 20 and 21 for the 2013 Collective Bargaining Conference in preparation for the 2014 round of bargaining. Current collective agreements expire on August 31, 2014. Participants attended a variety of workshops on topics such as Bargaining Basics, Maternity Leave, Grievances, and Bargaining through an Equity Lens. President Hammond welcomed gathered local leaders saying, "What we are preparing for – free and fair collective bargaining – is at the very heart of what makes ETFO a union. Unions are the greatest force for progressive social and economic change that I know. Fighting injustice is our mission, delivering equity for all – including our students – is our defining purpose."
ETFO hosts launch of COPA resources
In  October,  ETFO hosted  the  launch of new resources from COPA (Centre ontarien de prévention des agressions) designed to stop bullying and foster inclusive learning environments.
Called "Tools Not Rules for Bullying Prevention, Equity, and Inclusion," the event showcased  safeatschool.ca,  a  new  toolkit called  "We  All  Belong,"  and  the  website changeourworld.ca developed with the Ontario Teachers' Federation. Lead educators were joined by Ontario Human  Rights  Chief  Commissioner Barbara Hall, and Ruth Flynn, director of the Ministry of Education's Inclusive Education Branch and Parent Engagement Office. Jody Nyasha Warner, author of  ViolaDesmond Won't Be Budged, read from her new children's book written for COPA.
RELATED STORIES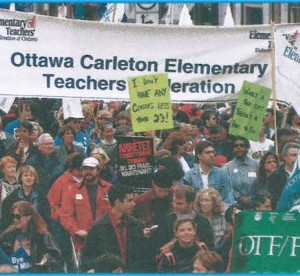 This fall has been the most tumultuous time for members and provincial staff involved in collective bargaining with school boards.