Article
From the Editor
With the fall issue of Voice, we are focussed on the safe reopening of schools and the ways in which we build community, particularly in these challenging times when the inequities that are always present, are laid bare. Since the beginning of the COVID-19 pandemic, ETFO has been working to ensure a safe reopening of schools. As President Hammond writes in his column, "We have spent the summer lobbying for a safe return to school, writing submissions, advocating for adequate health and safety protocols, organizing to support educators and students, and campaigning to get our message out. Our collective efforts have made a powerful impact on the reopening plan, but our work doesn't stop when the school year begins." 
In his column titled True Colours, Federico Carvajal reflects on the Ford government's approach and flawed plan for school reopening in September. "The Ford government's shocking lack of action on school safety in the wake of the pandemic," he writes, "is a stark reminder of their contempt for public education in general – and educators in particular." 
Also in this issue, Patrice White writes about the practice of streaming, its impacts on Black and other racialized students and what all educators can do about it. In Stop Streaming Black Kids into Special Education she writes, "The complicated history of race and schooling necessitates a more culturally responsive public education system, one driven by practitioners who are ready to do the hard work of unlearning decades of racism." 
Building community and recognizing how we all contribute is a significant theme in this issue. In Math on the Land, Jennifer Baron and Towana Brooks consider Indigenous ways of learning from and with the land. "As educators charting a way forward and working through the recommendations of the Truth and Reconciliation Commission," they write, "we must continue to decentre Western ideologies and ways of thinking about science, mathematics and history." In Building Equity and Inclusion in the Classroom, Erik Hakim considers the shifts in his teaching practice as he learned more about Indigenous approaches to education and how these shifts allowed him to build community among his students. 
These, among other great features, tips for online learning, health and safety resources, CRRP curriculum and book reviews are sure to make great fall reading. Welcome back to school everyone! We look forward to supporting you as we embark on this unprecedented year.
– Izida Zorde
RELATED STORIES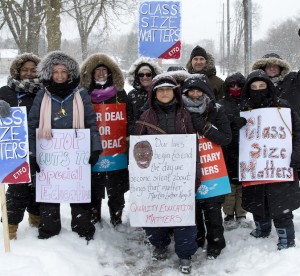 ETFO educators are in an unprecedented round of bargaining with a government intent on making drastic cuts to public education.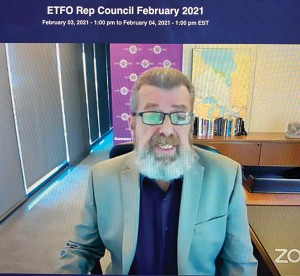 ETFO's February Representative Council meeting was held over Zoom on February 3 and 4, 2021.