BOOKS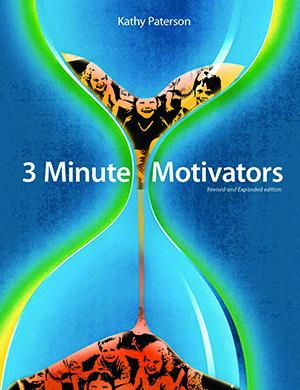 3-Minute Motivators, Revised And Expanded Edition
Kathy Paterson. Pembroke Publishers, 2014. 160 pages, $24.95
The book, 3-Minute Motivators, contains more than 200 quick activities that engage students, refocus their attention and provide a boost of energy and fun. Teachers can use these activities to respond to the needs of their students and help them develop skills to manage stress, anxiety, boredom and frustration, while providing opportunities to co-operate and collaborate.
The first chapter discusses many reasons for using 3-minute motivators: how to choose the right one; rules for participation (including the right to pass); the importance of concluding and refocusing; and tips for teaching with the motivators.
The motivators are clearly laid out with sidebars indicating type of activity, subject connections, props or preparation required, and appropriate group size. The instructions are clear and the author provides a "script" teachers can use verbatim if desired. There are samples of topics, items, movements or words. Each finishes with ideas for quick or extended debriefs.
There are many ways to find an appropriate motivator. The table of contents is set up by categories of activity such as "At Your Desks" and "Up and At 'Em." Each category is further divided into sections such as "Pencil and Paper" and "Get Active." There is also a chart showing the motivators by subject area. The index is useful for a search by keyword such as "emotions" or "rumours."
I have been implementing the activities in my Grade 6 classroom and found using sticky notes to mark my, and my students', favourite motivators helpful. With most of the motivators, I was able to adhere to the three-minute time frame. I used the activities when my students' attention was waning. They became engaged and had fun, and were able to refocus on the lesson with renewed energy. I also successfully used several motivators as "hooks" for lessons.
My school board has been implementing the "feed all four" philosophy to help our students grow in body, mind, emotions and spirit, and I believe that 3-Minute Motivators is a valuable resource in this pursuit for all grade levels.
Gail Terreberry is a member of the Trillium Lakelands Teacher Local.