BOOKS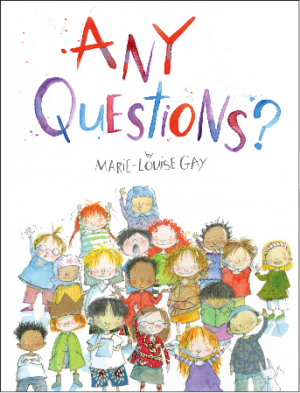 Any Questions?
Marie-Louise Gay. Groundwood Books, 2014, 60 pages, $19.95
Any Questions, by Marie-Louise Gay, is a delightful picture book that captures the reader's attention right at the beginning by contemplating, "If you don't ask any questions, how on earth will you get any answers?"
Gay was inspired to write this book by the many questions she has received about how she comes up with ideas for stories. Gay cleverly writes this book in two voices, one as herself, the author, and the other, as an inquisitive audience member who wants to know how to write a story. As the two voices converse, Gay describes to the reader how a story can begin by the use of colours, sketches, paintings, words, questions and/or ideas. She addresses writer's block eloquently by writing "I shake my ideas around and turn them upside down and look at them flying out the window like a flock of birds. Suddenly, I know who lives in the forest…."
As the story develops, the author invites the inquisitive audience member to become involved in the writing of the story. In one section, the audience member "brainstorms" what will happen next and this is illustrated in a child's handwriting with spelling corrections, omission of words and the process of word selection. The story ends with the audience wanting to write more stories; when the author writes "The End" it is crossed out and rewritten as "The Beginning" by the audience.
Any Questions is a great way to introduce narrative writing to students of all ages. It could also be used to teach how to use "voice" in writing for students in junior and intermediate grades. Throughout the reading of the story, the teacher could encourage students' involvement by asking them to brainstorm and let their imaginations run wild, before revealing what comes next in the book. This story-within-a-story will encourage even reluctant writers to attempt different methods to complete narrative writing assignments, while promoting inquiry across the curriculum.
Paula Marengeur is a member of the Simcoe County Teacher Local.