BOOKS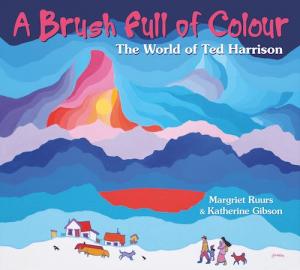 A Brush Full Of Colour: The World Of Ted Harrison
Katherine Gibson and Margriet RuursPajama Press, 201440 pages, $22.95
A Brush Full of Colour: The World of Ted Harrison tells the story of how a coal-miner's son from England became one of Canada's most celebrated artists. Combining examples of his artwork with photographs, and anecdotes, Gibson and Ruurs show the development of Harrison's style and how it was influenced by his desire to capture the essence of the land and its inhabitants.
Harrison's work has been criticized for being "so simple that even a child could do it," which he has taken as a compliment; in his eyes, children see "what is real, what is true." He encourages students to paint, and claims that it is one of the last true freedoms. A prominent theme throughout the book is the way in which Harrison struggled to follow rigid rules of painting and eventually followed his own path – "The School of Cheery" as he calls it. His art is true to his inner need to make the world a happier place.
This dynamic book could be used across the junior and intermediate grades. It is written in an approachable manner, with shorter, chunked text passages and headings. The captions are succinctly composed, and incorporate questioning techniques, biographical details and/or information about the art work. The text provides opportunities for students to discuss the way the pages have been designed – colours used in relation to the photographs or art, or the placement of each component on the page. For visual arts, this book allows students to revel in bold, simple lines. Students could attempt to recreate northern scenes or to capture the essence of their environment and people in a similar fashion. For social studies and geography, Harrison's artwork would be a unique minds-on introduction to life in Canada's north.
As a teacher-librarian, I can attest that the binding on this book will definitely stand up to multiple reads over many years. Ruurs and Gibson's book will be a great addition to other Harrison works that might be in your school library already – The Shooting of Dan McGrew, The Cremation of Sam McGee and A Northern Alphabet come to mind.
Mike Goncalves is a member of the Thames Valley Teacher Local.