BOOKS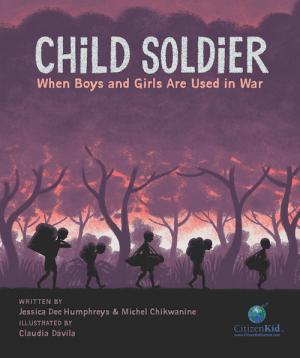 Child Soldier
Jessica Dee Humphreys and Michel Chikwanaine, illustrated by Claudia Davila. Kids Can Press, 2015 48 pages, $18.95
Given present world conditions, students are coming to school with questions and wanting to do something to help those living through war. Many of our students themselves have been through war or in refugee camps. As teachers, we are often looking for age-appropriate resources that allow us to address this subject in a sensitive way and to create a safe and inclusive classroom.
Child Soldier is a great resource to address this issue. It recounts Michel's experience as a five-year-old boy in the Democratic Republic of Congo who is one day taken away by rebel soldiers and forced to become a child soldier. Michel miraculously escapes back home to his family, to see his father, a human rights activist, kidnapped and hurt before being provided refuge in Uganda. His family continues to show resistance and support each other. Michel, his younger sister and mother manage to safely arrive in Canada, where Michel works hard to fulfill his father's dream of uniting his family. It's a story of resilience and courage sharing Michel's experiences and his efforts to educate and support others while living his new life in Canada.
Being a graphic novel, this book both captures students' interest and is accessible to readers at a variety of levels. This makes the book useful for students who may themselves be new arrivals and have limited English. It would make an excellent read- aloud or book study to complement any junior/intermediate/ senior classroom. It would also be an excellent book in an ESL/ELD classroom.
The back of the book shares further information and websites about child soldiers and has ideas on how to support those who have experienced war.
This book is timely given the present conditions and the numbers of new arrivals expected in Canada. Child Soldier has a hopeful ending – we can all make a difference. Michel shares a powerful quote from his father: "If you ever think you are too small to make a difference, try sleeping in a room with a mosquito."
This book is sure to create great discussions, empathy and hope and move students towards working together for social justice. An excellent read!
Sukayna Dewji is a member of the Elementary Teachers of Toronto.