BOOKS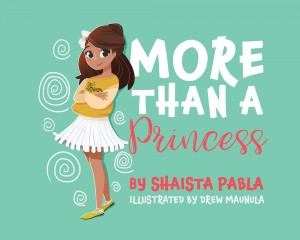 More Than a Princess
Shaista Pabla, illustrated by Drew Maunula. Upon a Star Books Inc., 2017. 32 pages, $19.95.
In the wake of Twitter trends like #RepresentationMatters and #WeNeedDiverseBooks, comes a picture book written by Torontobased author (and ER nurse), Shaista Pabla. Pabla writes that one of her own daughters, Maya, wanted to see herself, as a racialized girl, reflected in the pages of picture books. In More Than a Princess, Pabla creates a strong female character using the familiar fairy tale formula.
More Than a Princess begins as any fairy tale does: once upon a time, there was a pretty princess who needed to find her prince. Princess Maya is no ordinary princess, however; she wants to find adventure and forge her own destiny. She dreams of travelling to destinations around the world. Maya shares her ambitions with courting princes, but most of them aren't interested in her ideas. Maya stays true to herself and recognizes that her happiness is paramount, more important than trying to please her parents or any of the princes who try to woo her.
The moral of the story is clear: girls should be able to do what they choose and there's no need to conform to societal pressures. The writing is poetic in parts and uses repetition to help reinforce the main idea.
The illustrations, in a cute comic book style, are fun and bright. Students will like the way Maya's dreams – as well as those of the princes – are articulated with thought bubbles and graphic features. The illustrations, however, are also problematic; Maya is drawn as a very slim young woman with long straight hair who is often depicted wearing short skirts, hardly busting stereotypes about what a princess or "pretty girl" looks like. While the racial diversity of the characters is to be applauded, the body types presented do not display such diversity.
This book can be used with any age group, especially in language class. Younger students could make predictions about what other adventures Maya would enjoy. They could have a discussion about the ways boys and girls are presented in traditional fairy tales compared with this story. Older students may focus on the ways gender stereotypes continue to seep into current media representations. There are also clear curriculum links to the social studies and geography curricula.
More Than a Princess is a very good conversation starter about gender (in)equality. It is easy for students to access and a strong effort from a first-time author.
Catherine Inglis is a member of the Elementary Teachers of Toronto.