BOOKS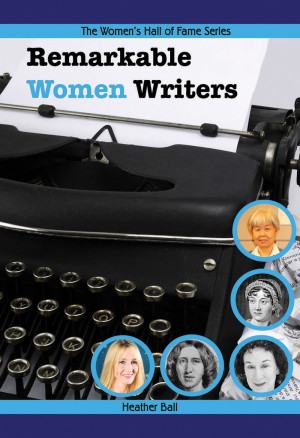 Remarkable Women Writers (The Women's Hall of Fame Series)
Heather Ball Second Story Press, 2006. 120 pages, $10.95.
Remarkable Women Writers by Heather Ball allows readers to learn about prominent women writers. Each writer showcased in this book has her own chapter and the order of the chapters is based on the birth year of the women. All the writers were born between 1775 and 1965. The writers include Jane Austen, Harriet Beecher Stowe, Louisa May Alcott, Lucy Maud Montgomery, Tony Morrison, Joy Kogawa, Judy Blume, Margaret Atwood and J.K. Rowling. The authors presented in this book have varied writing experiences. Their genres include romance, fantasy and science fiction. Some focused on anti-slavery, feminism and history.
Each chapter gives a detailed biography of the woman's life. The chapter follows her life and explains her writing process and the development of her works. I encountered authors who were unfamiliar to me and and learned many facts about each author presented.
I would recommend this book for children in grades 5 to 8 for readability, but as far as specific content goes, I would recommend it for students in higher grades. This book provides great information if you are doing a research project or if you need to find out more about one of these particular writers.
While this book is about remarkable women writers, there is nothing truly remarkable about the book. Although it is generally well-written and contains interesting facts, you could find other resources that would help you obtain the same information about these women. The writing style is a little juvenile, so students in higher grades, although they could learn useful facts, would not enjoy reading the book. Younger children would not be reading the works of most of the authors presented, so this particular book is not well-suited for them. This book provides detailed biographies about the writers, but lacks appropriate writing style and content for its audience.
Jessica Crowley is a member of the Grand Erie Teacher Local.