BOOKS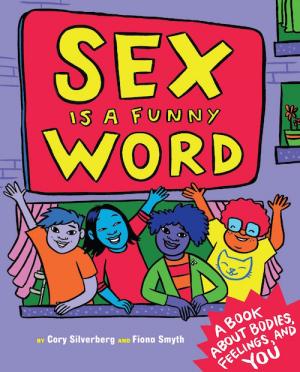 Sex is a Funny Word
Cory Silverberg, illustrated by Fiona Smyth. Triangle Square, 2015 160 pages, $17.29
Cory Silverberg and Fiona Smyth have continued their straightforward and respectful talk about sex, love and reproduction in their second book for families, Sex is a Funny Word. As with their first book, What Makes a Baby, which I reviewed two years ago, this book is illustrated in a colourful style that is inviting and non-threatening to children.
In the introduction Silverberg states that this book is meant to address the questions around sex that come between reproduction and sexual intercourse. The book covers physiology, touching, relationships with family and friends, gender and feelings, through the lens of respect, trust, joy and justice. Families are guided by four child characters who share their experiences and questions surrounding these issues.
I eagerly anticipated the publishing of this book and was not disappointed. For families, this book is a resource that can be used over a number of months or years as questions arise from children or when parents feel children are ready. For Ontario parents who are concerned about the new health curriculum and talking with their kids, I would not hesitate to recommend this book.
For teachers who are looking for resources for students, many parts of this book align well with the new curriculum from grades 3 to 6. In grade 3, visible and invisible differences and healthy relationships are paramount in two complete chapters and include respectful and age-appropriate explanations about new concepts such as gender identity. Emotional and social topics included in grades 4 and 5 are interspersed throughout, and the later chapters are appropriate for grade 6 as the groundwork is laid for students to build healthy sexual relationships and, in the future, make decisions regarding sexual activity.
Silverberg and Smyth have once again opened the door wide for honest conversations where children can learn about sexuality in an inclusive and respectful manner. The final book in their series is forthcoming and will deal with issues surrounding intercourse and other sexual activity. I fully expect the authors to continue their good work!
Jennifer Johnston is a member of the Ottawa-Carleton Teacher Local.