BOOKS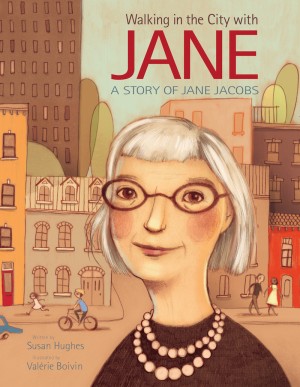 Walking in the City with Jane: A Story of Jane Jacobs
Susan Hughes, illustrated by Valérie Boivin. Kids Can Press, 2018. 36 pages, $19.99.
Walking in the City with Jane: A Story of Jane Jacobs introduces the reader to a curious and imaginative young girl who grows up to become a ground-breaking urban activist. This gorgeous picture book provides a concise biography of Jane Jacobs suitable for grades 3 through 5, though its message of perseverance and advocacy is applicable at any age. The illustrations offer a window into the vibrancy of a diverse city ecosystem; the pages depicting aggressive urban planning are dull and devoid of colour and life.
The book walks you through Jane's life. She moves to New York City from a small town and develops a love for the complexity of urban living. Jane learns that city planners are labeling some of the old, eclectic neighbourhoods she loves as "slums", intending to bulldoze them to build modern high-rise buildings in their place. She is further dismayed to discover that her own neighbourhood is labeled a slum by a powerful city planner named Robert Moses. This prompts Jane to take action, working tirelessly as an advocate for her home. In the end, Jane and her neighbours save their community. Bolstered by this success, Jane continues to be an activist for the preservation of the city ecosystem, defeating a number of other plans for urban development. She proves that a small voice can have a big impact.
Walking in the City with Jane provides ample opportunity for critical thinking and lively class discussion. A note at the end of the book includes a link to a series of city walks in Jane's honour. It would be an engaging class activity to discover if a walk exists in your city, or to plan such a walk as a community outreach. This book marries beautifully with the social studies curriculum including the grades 3 and 5 strands, People and Environments. Many a geometry project could be built up around the idea of responsible urban development. This book is a wellspring of opportunity to engage your students with their own community and challenge preset ideas that newer is always best.
Vicki Harding is a member of the Ottawa Carlton Teacher Local.