Article
ETFO Advocacy: Eliminating Violence Against Women (Equity and Women's Services)
Eliminating violence against women has always been one strong focus of ETFO's advocacy work. Our key partner in this work is Education Wife Assault (EWA). Last year EWA celebrated 25 years of activism, outreach and education related to violence against women. In 2005 the Ontario Teachers' Federation awarded Education Wife Assault the Greer Award, recognizing EWA's outstanding service in Ontario.
Our partnership with EWA has enabled ETFO to provide our Breaking the Silence women's program. It has offered workshops on violence against women every year since 1999. In recognition that men need to be actively involved in this struggle we have developed a new workshop: Breaking theSilence: Men and Women Working Together to End Violence Against Women. We are working with EWA and with Counterpoint, a feminist, non-profit organization that provides counselling and educational services to assaulted women and abusive men.
This year, ETFO has deepened our partnership with Education Wife Assault, engaging in a project sponsored by the Ontario Women's Directorate as part of their Promoting Healthy Equal Relationshipsprogram. In this project, we are expanding and diversifying the Breaking the Silence program, creating a variety of resources for use by educa- tors, students, parents and community members. ETFO members are hard at work writing curriculum materials for use in elementary classroom and designing workshops for grade 7 and 8 girls' conferences, focused on promoting healthy, equal, violence-free relationships.
Ontario's Domestic Violence Action Plan
ETFO has also provided support for a major conference on reducing domestic violence, FindingCommon Ground, hosted by the Ontario government in November 2005. The conference was a key component of the government's four-year, $66 million Domestic Violence Action Plan. Another conference is planned for 2006, and ETFO plans once again to be there and to provide support.
Ontario's Domestic Violence Action Plan encompasses a variety of expert training panels focused on different sectors of the community.
December 6: National Day of Remembrance and Action onViolence Against Women
Every year ETFO and ETFO members participate in events organized around the province to remember the murder of 14 young women in Montreal on December 6, 1989. ETFO staff and members fundraise on behalf of the December 6 Fund, an organization that provides interest-free loans to women fleeing abuse.
Advocacy: funding for women's shelters
On Dec. 6, 2005 the Canadian Labour Congress (CLC) initiated a postcard campaign called Freedomand Equality for Women. One of three key demands in the campaign, which ETFO co-sponsored, was for "core funding for women's organizations and services, like shelters, which ensure that abused women and their children have a safe place to go."
Donations to women's crisis centres
This year and every year, ETFO donates $40,000 to women's crisis centres across Ontario: in 2004–2005, 56 such centres received funding. ETFO locals also support women's shelters and crisis centres in their communities through fundraising events, donations, and providing school supplies for students living in shelters.
Advocacy: Sisters in Spirit
The Native Women's Association of Canada (NWAC) is leading a campaign to establish the Sisters in Spirit Fund. The systematic killing of indigenous women in Canada, particularly those who are young and impoverished, has been well documented, including in a report by Amnesty International. On Inter-national Women's Day in 2005, ETFO President Emily Noble wrote to the federal Minister of Public Safety and Emergency Preparedness promoting the establishment of a $10 million fund for research and education related to violence against Aboriginal women.
For more information visit these websites
Education Wife Assault: womanabuseprevention.com
Counterpoint: eurowrc.org
Ontario Women's Directorate: citizenship.gov.on.ca/owd/index.html
Ontario Domestic Violence Action Plan: citizenship.gov.on.ca/owd/english/preventing/dvap.pdf
December 6 Fund of Toronto: dec6fund.ca
Canadian Labour Congress: canadianlabour.ca/index.php/women_statement/813
Sisters in Spirit: sistersinspirit.ca
RELATED STORIES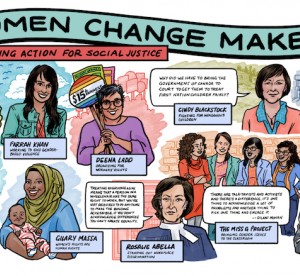 A video animation and companion poster about women taking action for social justice.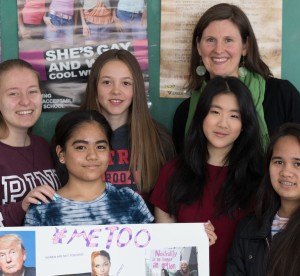 Sarah-Jane Wells writes about the impact of the #MeToo movement on her students and on the ways in which we think and talk about consent.