Article
Your Federation
Representative Council
More than 100 delegates and 35 union school representatives attended February's Representative Council meeting. President Hammond spoke to the importance of ETFO's participation in creating positive social and political change for all Ontarians.
Delegates welcomed Desmond Cole, a Toronto-based activist who addressed representative council on the importance of speaking out about the impacts of systemic racism, our history of colonialism and white privilege. He urged delegates to actively confront and challenge their own learning and what they teach in their classrooms.
... And Still We Rise
More than 400 women members attended this year's …and still we rise conference. The focus was women's leadership in the union. Workshops on collective bargaining, developing leadership skills, developing and delivering a workshop, public speaking, health and safety, the women's movement and equity were all part of this amazing event. Highlights from the conference included keynote addresses by Kim Katrin Milan, artist, educator and writer, and Sarah Jones, Tony Award-winning monologist and UNICEF ambassador, and a musical performance by singer and social activist Lorraine Segato.
Working for a Better Ontario
Building Better Schools
ETFO has a broad vision for public education. Our Building Better Schools plan advocates reforms that would lead to better learning conditions for students and better working conditions for teachers and other school staff. These include more support for students with special needs, smaller classes and more inclusive schools.
ETFO has developed a parent portal to connect with parents and ultimately to engage them to join ETFO members as advocates for education reform. Check out buildingbetterschools. ca and encourage parents at your school to do the same.
Syrian Relief
Locals across the province are organizing to support the many Syrian refugees currently resettling in Ontario. ETFO Provincial has donated $80,000 for Syrian relief efforts, with locals across the province donating an additional $32,800. The funds will support international relief efforts and the settlement projects in place to welcome Syrian refugees to Canada.
ETFO staff are currently conducting workshops to assist members in meeting the needs of Syrian and other children arriving as refugees in smaller centres and rural areas. Contact your local if you are interested in learning more.
ETFO Calls for Public Hearings on the Trans-Pacific Partnership
At the end of November, ETFO joined other unions and non-profi t organizations to call on the federal government to hold public hearings on the Trans-Pacific Partnership (TPP). Teacher unions are particularly concerned about the impacts of the TPP on the education sector, which can be exposed to privatization and commercialization.
While it is assumed that free-trade deals increase exports for Canadian manufacturers, economist Jim Stanford found the opposite in his review of fi ve long-standing trade pacts earlier this year. Most trade deals give multinational corporations the ability to sue governments over regulations they feel are affecting their investment. They limit the ability of governments to expand public services by locking in privatization. Foreign corporations can also get the right to sue for compensation when public services are expanded or when privatization is reversed.
While Canada signed on to the agreement on February 4, 2016, the federal government has committed to debating our participation in parliament before ratifying the agreement. For a detailed list of concerns from unions across sectors go to clc.ca.
Charter Challenge Update
ETFO resumed our court challenge against Bill 115 on December 14, 2015. ETFO's counsel completed their arguments before the holidays, as did the respondents and all the other unions involved in supporting this case. The court case will determine whether Bill 115, which brought an abrupt end to teacher negotiations in early 2013, violated the Charter of Rights and Freedoms. ETFO expects a ruling in early summer.
ETFO Calls for More Funding for Education
On February 2, ETFO President Sam Hammond presented to the pre-budget hearings at Queen's Park. The ETFO brief highlights shortfalls in the education funding formula, and the need for support for students with special needs, reduced class sizes in Kindergarten and grades 4 to 8, and improved resources for English-language learners. Leaders from a number of locals made similar presentations when the hearings came to their areas.
The brief identifies where the government could fi nd savings, such as by moving to random-sample EQAO tests and taking steps towards a single secular school system. It calls for tax reform of both corporate and personal income tax to address the growing income gap and to increase the capacity of the government to invest in public services and stimulate economic growth.
ETFO Proposes Improvements of Strengthen Sexual Violence and Harassment Protections in the Workplace
On January 22, ETFO recommended that Ontario's Bill 132, Sexual Violence and Harassment Action Plan Act, be amended to provide further protection from sexual violence and harassment in workplaces including schools. "ETFO applauds the government's desire to do more to strengthen protections when it comes to sexual violence and harassment," said ETFO President Sam Hammond. "We concur with government fi ndings that the additional protections provided through Bill 168 under the Occupational Health and Safety Act may not have effectively reduced the severity and frequency of workplace violence and harassment incidents." ETFO has suggested that the current gaps are due to a lack of workplace violence and harassment training for supervisors and workers as well as a need for employer and government resources to support the implementation of related policies and programs.
RELATED STORIES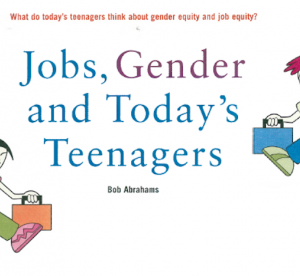 What do today's teenagers think about gender equity and job equity?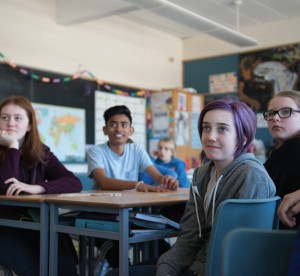 The point of talking about privilege is not to make people feel bad, or guilty; it is that recognizing privilege is the only hope we have of breaking down the system to make it fairer for everyone.