We all hear that positive collaboration is essential to optimizing learning environments, but what does it mean? How do we develop healthy working relationships? When I started my teaching career, it was not clear to me how to work as a member of a team. As a new teacher, I received explicit and ongoing professional development on delivering the curriculum, programming for the needs of all students and reloading the photocopier toner, but no one provided guidelines for building healthy, collaborative working relationships with educational assistants. That gap in my professional development may not be a surprise, however. Guidelines for working relationships are not easy to pin down and resources are not always available.
In my eighth year of teaching, I started in a specialized classroom for youth with autism spectrum disorder that required regular support from four educational assistants. Learning how to collaborate with others was suddenly my first priority. In that classroom, where each student had an individual education plan and required unique programming, there were many ways group tensions or miscommunications could disrupt programming. Fortunately for everyone, I had the pleasure of working with an extraordinary group of educational assistants who modelled professionalism, competence and passion. But even in the best of circumstances, building healthy, collaborative relationships is challenging work.
Let me start off by saying that while I do have some hard-earned lessons to share with you, I also asked my colleagues (long-time educational assistants) for their perspectives.
After reflecting on my teaching experiences, speaking with educational assistants and reading the literature around team building I have three simple rules to propose when building working relationships: (1) know your job, (2) communicate, and (3) be a team.
---
Rule 1: Know Your Job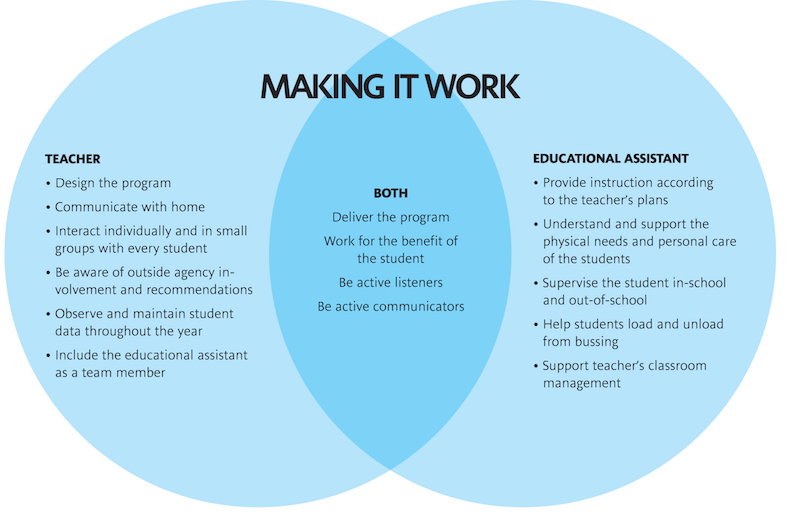 Classrooms are dynamic and fluid environments and, in the hustle of an elementary classroom, it may not always be clear who does what. Sure, work gets graded, messes get cleaned, and bookshelves are organized, but by whom? Have you ever come across an exhaustive job list for all that we do? Do you know the job description of an educational assistant? Or a teacher? What classroom tasks are the shared responsibilities of teachers and educational assistants?
Researchers who study the relationships between teachers and educational assistants tell us that working relationships are more effective when the roles of team members are clear and agreed upon. While the application of these roles may differ slightly between different school boards in the province, these are the generally accepted roles played by teachers and educational assistants.
Here is an important question for you to consider: who does the educational assistant actually assist? Do educational assistants assist the teacher in instruction, or do they assist the students in