Article
Your Federation
Representative  Council
Bargaining, teacher pensions, and the October 14 federal election were the topics in the forefront  at  the  October  Representative  Council meeting. Representative Council brings together local presidents and executive members three times a year. The meeting is chaired by First Vice-President Sam Hammond.
Dona Dasko, a  partner with  Environics, provided  an  insight  into  the  findings of  public opinion polls leading up  the federal election. "What is moving people in this election?" Dasko asked. The answer: "Nothing, nothing, nothing." Dasko noted that the absence of a  single over-riding issue made the campaign unique.
ETFO President David Clegg outlined the latest developments in bargaining  as  well  as  negotiations  surrounding  changes to  the  Ontario Teachers' Pension Plan. These pension plan changes and their impact on ETFO members are also described in a webcast on our website: etfo. ca/multimedia/webcasts. (For more on these changes to OTPP please see the OTF column on page 37)
To  commemorate  ETFO's  tenth  anniversary, President  David Clegg  presented  local  presidents with plaques. Above, Mary  Karchemny, president of  the  Waterloo Region Occasional Teacher Local, accepts the plaque on behalf ofher members.
Federal  Election 2008 Voters in Ottawa Centre re-elected ETFO member Paul Dewar  as their MP in the October 14 election. Dewar was first elected to Parliament in 2006. Other ETFO members seeking  election were Russ Aegard, Green Party, Thunder Bay-Atikokan; Katy Austin, NDP, Simcoe-Grey; Myrna Clark, NDP, Barrie; and Nigel Barriffe, Green Party, Etobicoke North. Leadership  2008 Training for leadership in ETFO locals is just one of the many learn-ing opportunities ETFO offers members and activists. In September about 120 local presidents and committee chairs gathered in Toronto for sessions focused on communication skills, political action, social justice, and equity. Keynote speaker Wendy Mesley explored the implications of the digital age for teachers and parents and emphasized the importance of  critical thinking skills in an age when we are swamped with information of all kinds. Summer  Academy More than 2,500 members took part in Summer Academy courses in July and August. These two-day courses offer members practical information about a wide range of topics for every grade level. An expanded course selection was made possible this year thanks to Ministry of Education funding. Information about ETFO professional learning programs is available on our website etfo.ca. In  October,  ETFO provided  training  for  activists  who will be involved in negotiations  during this round of  collective bargaining. Women in Action By training workshop leaders and facilitators, ETFO ensures members learn from their colleagues. These members will facilitate Women in Action workshops, teaching colleagues about political involvement in their union and in the broader society. Teachers  learning  Together This unique program enables classroom teachers  to  work  on  collaborative  action  research projects  with  the  support  of  a  faculty  team from one of five Ontario universities. During the first phase of this program, last year, teachers' projects focussed on a wide variety of topics including oral language, the arts, and literacy. Mathematics is the focus of the second phase of the program this year. Some 200 teachers from locals across the province are involved. This is one of a number of professional learning pro- grams made possible by funds provided by the province. New EWS professional learning communities Equity and Women's Services is offering two professional learning communities during this school year. Men and women taking part in the social justice PLC engage in critical reflection on such topics as identity, and the privilege that relates to class, gender, sexual orientation, and race. This PLC will be offered again in the new year. For more information about this program, please contact Belinda Longe, blonge@etfo.org. Participants in the second session of the PLC for women will examine the stories of  immigrant educators  and the implications of these experiences with regard to the development of equity-based curriculum. For more information, please contact Sherry Ramrattan Smith, srsmith@etfo.org. One Million Acts  of Green The kids at Armitage Village Public School in Newmarket are going green and they want the world to know about it.  Grade 2 and 3 students taught by York Region ETFO members Katie lloyd  and Roshni  Sharma-fleming  are featured in a public service announcement for One Million Acts of Green (OMAoG), The campaign is a collaboration between the Canadian Broadcasting Corporation and the Canadian  Teachers' Federation  Green  Street  program.  It features an interactive website where individuals can report their  environmentally  friendly  actions.  The  PSA  shows students making a pledge to protect the earth and talking about their green acts. To view it go to etfo.ca>Advocacy and Action>One Million Acts of Green. You can register your own green actions at onemillionactsofgreen.com.
EtFO Olympians
Tonya  Verbeek It's not competing at the Olympics, it's the journey to get there that is the biggest challenge. Olympic wrestler Tonya Verbeek says it's a journey that requires discipline and motivation. "You can't lose your eagerness for the sport. You have to want to keep pushing yourself, keep looking forward, and keep asking yourself what you can do to be better. "Sometimes  you think there is nothing left. That's when you have to  be creative, and persistent and listen to and rely on your coach. For these games I had to qualify three times. I didn't know I was going until March." But, once you're at the Olympics, "Most of the work is done. You have to rely on your training and preparation." Verbeek who won her second Olympic medal at the 2008 Beijing Summer Games shared her insights with ETFO local leaders attending Representative Council. Verbeek won the bronze medal in women's wres- tling, in the 55-kilogram weight class. She won a silver medal in women's freestyle wrestling in Athens in 2004. An ETFO member, Verbeek is an occasional teacher with the Niagara District School Board. She also continues to train for competition and coaches other women at Brock University. Victoria Allen ETFO member Victoria Allen also went to Beijing – as a member of the Canadian paralympic rowing team. Allen began rowing three years ago. "I wanted to do something active as a way to help overcome depression. It surprised me how much I liked it," she said. She found she had natural talent and was encouraged to compete. Allen has suffered from retinitis pigmentosa since birth and, because of her severely limited vision, had never taken part in sports. For her, row- ing was "life-changing. It was an enormous boost to my self-confidence." Allen's adaptive coxed four (LTA4+) team came in sixth at the Paralympic Games, a disappointment since they had won the bronze medal at the World Championships in Munich last year. Allen is a mother of two young children and a teacher with the Toronto District School Board. She received support from ETFO and from the Elementary Teachers of Toronto Local during her training.  
Waterloo ETFO Local Goes Green
The  ETFO  Waterloo  Local  officially  opened its new headquarters in September, to  much acclaim from members and the public. Why all the excitement? The  new  building  was  designed with  the environment in mind and will probably qualify for a Silver LEED certification. (LEED – Lead- ership  in  Energy  and  Design  –  is  a  rating system  created  by  the  United  States  Green Building  Council  in  1998.)  Local  President James McCormack believes it will be the first union office in Ontario – and possibly in North America – to get the LEED certificate. "Everybody always had that perspective on things," McCormack said, explaining why the local  chose  to  build  green. "Our  board  was one of the first boards to begin recycling office paper. We've always had outdoor centres and outdoor education. We put it to a vote and it's what the membership wanted." Two other characteristics make the building noteworthy: union labour was used exclusively "right down to the landscaping" and the build- ing was also designed to be "member-friendly," incorporating meeting spaces available to all of the local's committees and to the community. It has already been the site for Waterloo District School Board workshops. The building's green features, which will reduce energy use by 50 percent, include: •      geothermal heating and cooling •     a cistern that captures rainwater used to flush toilets •     low-volume toilets, with dual flush levels •       superior insulation levels that reduce energy loss and noise •     energy-rated doors, windows, and window blinds •     white reflective, high-emissivity roofing to reduce the heat-island effect that occurs when the sun's heat is absorbed by roads and buildings •     a small "green" roof that boasts living plants •     parking spaces that are porous to reduce runoff •      a catch basin that collects runoff water and filters it before it enters storm drains •      low-emission, green-certified materials, including paints, tiles, and replaceable carpet tiles •     cabinets made of new-growth wood products •     low-energy lights with timers and motion sensors •     bike racks and showers to encourage bike commuting •      low-water-demand landscaping that includes native plants and  shrubs that are bird- and butterfly-friendly. You can see photos of the building during its construction phase at mcq.wrdsb.on.ca/Green/index_green.html.
RELATED STORIES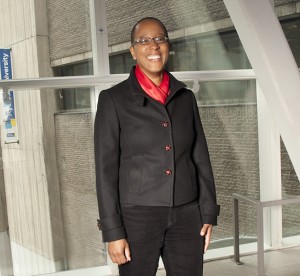 Voice speaks with civil rights lawyer and Ryerson University's Sam Ginden Chair in Social Justice and Democracy Kiké Roach.