Article
Meeting the Challenges of the Early Learning Program (From the President)
When  school begins next September 600 Ontario elementary schools will open their first early learning program (ELP) classrooms. Children will attend full-day kindergarten and, where numbers warrant, schools will offer an extended day, with programs before and after classes.
The decision the government made in October to have a full-time teacher in the ELP classroom for a full-day, was a significant victory for  ETFO. As a  result  of  our  comprehensive discussions  with  government, the  supporting legislation  –  Bill  242,  the  Full-Day  Leaning Statute Law AmendmentAct, 2010 – confirms that the teacher has primary responsibility for the program. Teachers will not be required to take an additional qualifications course, before and after school programs are not called classes, and principals cannot delegate responsibility for them to teachers.
ETFO has taken a number of measures to make sure our members are ready for the new program.
•    The released vice-presidents and I have been travelling around the province speaking at local meetings and hearing from you.
•    Our website has a new ELP page and a portal that allows you to ask questions and post concerns, which will be addressed by ETFO staff.
•    Jim Grieve, the assistant deputy minister in charge of the ELP, spoke and answered questions at a meeting of all local presidents earlier this month.
As well ETFO has developed a wide range of professional learning resources for those working in the early  learning programs: our Kindergarten AQ, various print resources, and the Kindergarten Makeover video on our website. A new resource, "A Day in the Life of Early Childhood Educators," demonstrates concretely how the  teacher-early childhood educator part- nership will work in the classroom.
The ELP has been rolled out very quickly and there is much more to be done. For ETFO and our members there are collective agreement concerns. The average class size of 26 students violates the provisions of a number of our  local collective agreements. Simply put, this is unacceptable. As well we worked hard in the last rounds of bargaining to increase teacher preparation time. To be successful, the program must be structured to allow both the teacher and the ECE to have planning time together. That time should be in addition to the time provided in collective agreements. (You will find more on both these issues in Christine Brown's collective bargaining column on page 35.)
The critical relationship between teachers and early childhood educators, and the working conditions for both, are just two of the reasons the ETFO executive has decided to work to become the union representing ECEs. We recognize the important contributions ECEs make and have supported and advocated for them. If ECEs who work in the Early Learning Program are members of our federation we can negotiate provisions that make it easier for both professionals to do their jobs while taking into account the unique role of each. As well, we will be able to make available to ECEs the high quality professional learning we are renowned for. Being able to learn together will enhance the relationship between teachers and ECEs and will enhance the quality of the program they are able to deliver.
We believe that we are the best organization to represent ECEs working in elementary schools. We know the working environment intimately and we know the challenges that will confront ECEs in school boards across the province. We also know that teachers and ECEs will be better able to work together if all are members of ETFO.
When we are successful, I know that all ETFO members will welcome these new members into our federation.
RELATED STORIES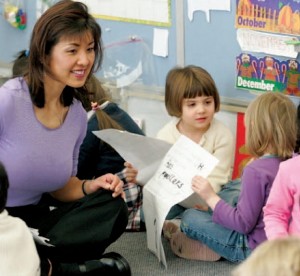 A mid-career teacher updates her knowledge.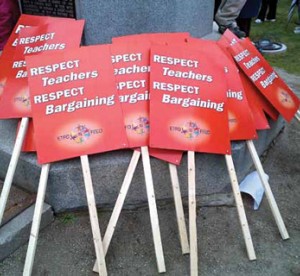 ETFO's member communications campaign for the 2012