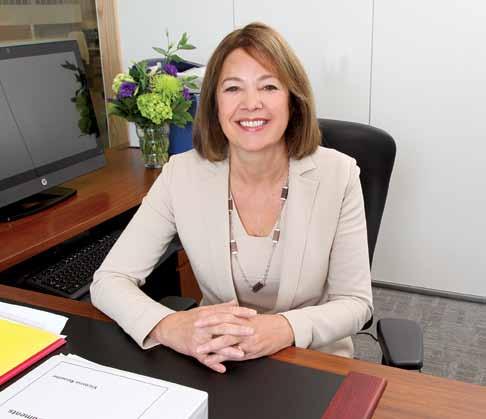 ARTICLE
ETFO: A Leader in Learning (From the General Secretary)
As part of its priorities, ETFO provides learning opportunities for all members whatever their role or interest: classroom teacher, occasional teacher, ESP, PSP, DECE, local leader, chief negotiator or member of an equity-seeking group. ETFO learning takes place in multiple sites that include the ETFO office, online, local offices and schools throughout the province.
This summer ETFO held 100 Summer Academy courses for over 2,000 participants in locations across the province on a range of topics, including the arts, literacy, kindergarten, assessment, special education, math and technology. A one-time grant from the Ministry of Education allowed ETFO to offer 60 courses in math and technology. Many of these member-led courses were held in our new building, and kept the place bustling with activity all summer long.
Teachers have indicated a great interest in knowing how to integrate information and communication technologies (ICT) in the classroom. A grant from the Ministry has provided ETFO the funding to offer two ICT Conferences in November and January. The funding also provides for a series of webinars in November.
Also critical to teachers' professional learning, ETFO offered 142 online and onsite Additional Qualification courses this summer to over 2,000 participants. The ETFO AQ program has grown substantially over the past few years as more teachers have sought to balance their professional and personal lives with the flexibility that online courses offer and benefit from the excellent quality of ETFO AQs. ETFO AQ courses are offered four times a year, in the fall, winter, spring and summer.
Webinars for local leaders were piloted for the first time last spring with great success. This led to the development of the ETFO Local Leader Virtual Academy, a series of interactive webinars that will take place throughout this school year to enhance local leaders' knowledge on topics such as IEPs and the reporting process, pensions, pregnancy/parental leaves and reporting serious student safety incidents.
The Webinar series is the first to use ETFO's new web-based Events Management System (EMS) for its registration. The EMS has been created to allow for the consolidation of ETFO's events management processes into a single integrated system, and will make it easier for members to register for programs, workshops and conferences.
In September and October, ETFO held its annual Leadership Training Conference at the new ETFO building. The theme of this year's conference was Learn – Connect – Network – Support with a special focus on broadening our understanding of Aboriginal issues. For women members from designated groups aspiring to be leaders, Leaders for Tomorrow began in October. This year-long ETFO program is designed to enhance leadership skills in an inclusive framework.
In November, a Collective Bargaining Conference will offer workshops for both new and experienced collective bargaining local leaders. The theme for this year's conference is Navigating Uncharted Waters – a recognition that this round of bargaining is the first under the new education bargaining legislation in Ontario. The goal is to update the participants regarding this new process and ensure that our leaders are ready to move forward with both central and local bargaining.
As we head into a new round of collective bargaining this fall, be sure to stay up to date on the progress of negotiations through the new collective bargaining website, eNewsletter email updates, Twitter and Facebook. An article in this issue of Voice outlines the new communications campaign Our Union. Our Values. Our Profession. and how you can access and/or subscribe to online collective bargaining updates. Information will also be sent to work sites and members' homes.
As you can see, ETFO's commitment to teaching and learning reaches beyond the classroom to impact local leader development, relations with education partners and diversity within our membership. Together we continue to work together to build a stronger union and better schools for Ontario.