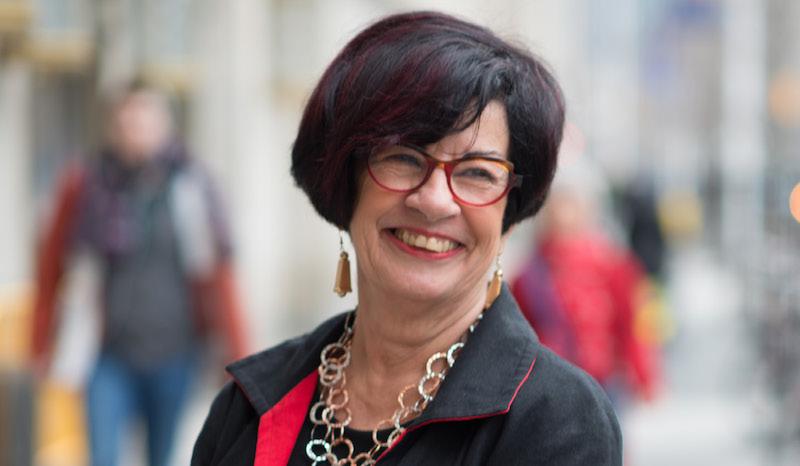 ARTICLE
Paying Tribute to Women's Leadership: Susan Swackhammer
In the evolution of every organization, there are those whose sheer determination and commitment ensures that the future is indelibly written for those to come. Susan Swackhammer is one of those leaders.
Susan's long history as a union leader began as president of the Brant Teacher Local of the Federation of Women Teachers' Associations of Ontario, or FW, in 1991. But it was when she became a member of the FW provincial executive in 1995 that Susan really tested her mettle, helping shape the future of ETFO.
The merger of FW and the Ontario Public School Teachers' Federation was momentous. Since 1918, FW had been at the forefront of the battles for standard teacher contracts, equal pay, maternity leave, equality guarantees for women in the Canadian Charter of Rights and Freedoms and many, many other issues. Susan and other executive members fought hard to protect women's rights in the proposed ETFO constitution. The first protection was women-designated positions on the provincial executive. The second was a guarantee of women's programs through an annual six percent budget allocation. While we take these protections for granted today, in Susan's words, it was hard work to get them embedded into the new ETFO constitution in 1998.
Opposition to women's constitution articles has come up at every Annual Meeting since. Women like Susan have continued to stem that opposition.
In her role as First Vice President, Susan has served as head of the budget committee since 2009. Through her deep understanding of how ETFO has evolved, Susan has helped shape ETFO's three and a half million-dollar budget to meet the mission, values and priorities of our organization.
She has been a driving force to ensure that equity, social justice and women's equality, representation and programs are reflected in the Federation's budget.
She has remained a strong advocate to further the cause of women across the globe, helping to ensure that ETFO's budget is devoted to women and girls' rights and education in countries across five continents including Thailand, Colombia, Benin and Cambodia.
Susan is one of the last links in ETFO's political structure to the FW, the union that shaped so much of who we are today. But while the physical link to FW that Susan represents is coming to an end with her retirement, the spirit, motivation and determination to continually champion equity, social justice, women's programs and women's representation within the union that FW leaders like Susan brought to ETFO will carry on. It will carry on with today's current women leaders, members and staff. And most importantly it will carry on with you, our next generation of activists. We wish Susan all the best in her retirement.