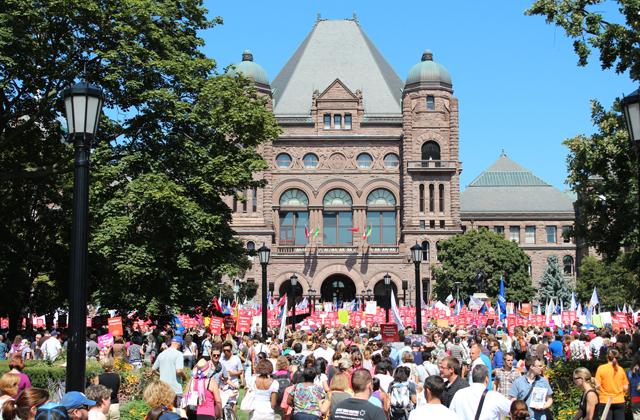 ARTICLE
Queen's Park Rally for Education
Thousands of ETFO and other union members,  concerned  citizens,  and students converged on Queen's Park on August 28 for the Rally for Education. Eighty-nine  busloads  of  ETFO  members arrived, some of whom travelled for  seven hours to attend the rally. People crowded the lawns of the legislature and overflowed onto surrounding sidewalks,  demonstrating incredible support for teachers, collective bargaining rights, and democracy in Ontario.
"McGuinty, this is the answer to your legislation!" is how  President Sam  Hammond began his address, gesturing to  the large crowd gathered before him. "You have betrayed educators and  now  the  government wants to deny fundamental rights for your own political purposes. This government has manufactured a crisis to mislead parents, the media, and the public and we will not stand for it!" President Hammond emphasized that the  legislation, if passed, would be challenged by ETFO because "no government in Canada is above the law or the Charter of Rights. Stop lying to people and saying that this is about money. This is about democracy and this is about democratic rights."
Hammond asked the people gathered to stand strong and stand together. "From this day forward, forget about your title, forget differentiating whether you are a teacher, an EA, a custodian, forget about the position you hold. Look around you. There are no titles on people here. We are in this together! " "Mister  McGuinty,"  Hammond  concluded, "we will never, ever, forget this betrayal. And to those people who have said that this is the conclusion to this battle, this is just the beginning."
Thunder Bay's "Mini Queen's Park Park Rally" — A Resounding Success
Over 300 teachers, educational assistants, designated   early   childhood    educators, custodians and  office  administrators rallied in Thunder Bay on August 28 to stand together  against the punitive Bill 115 introduced  by  the  McGuinty  government. The rally – dubbed the "Mini-Queen's Park Rally" – included participants from ETFO, OSSTF, COPE, CUPE, CAW and OPSEU.
The organizer of  the Mini-Queen's Park Rally, ETFO Lakehead President Ellen Chambers, summarized the purpose of the event: "Our message is clear – workers will not be bullied."
"Whether you belong to a union or not, this bill sends a message that workers don't count and that the process doesn't count," Chambers said. "That's the way I look at it and I think it's a very scary thing."
We Are The Front Lines of Education
We ARE the Front Lines was formed by Kathreen Hansen (Peel Teacher local) and Susan  Goode  (associate  member),  two teachers who  wanted  to  unite  educators and encourage everyone to have a voice.
Speaking  at  the  Rally  for  Education, Hansen said, "I've been putting students first for years now and consider myself somewhat of an expert on the subject. I want you to know, Mr. McGuinty, that if this legislation is how you put students first, you are doing it wrong because you cannot put students first by putting their educators last."
"We are teachers and we have a voice that cannot be legislated away," concluded Susan Goode. "We are the experts at putting student's first."
Canada's Teachers Stand in Solidarity with Ontario Colleagues
In  a  press  release  issued  by  the  Canadian  Teachers Federation, President Paul Taillefer stated that "the 200,000 teachers of Canada raise their voices in support of their Ontario colleagues." Presidents of the teacher organizations from  Newfoundland, Nunavut, New Brunswick, Prince Edward Island, Quebec, and Manitoba were at Queen's Park to stand in solidarity with Ontario teachers and education professionals, and to tell this government that imposing legislation is an affront to the rights of every teacher in Canada.