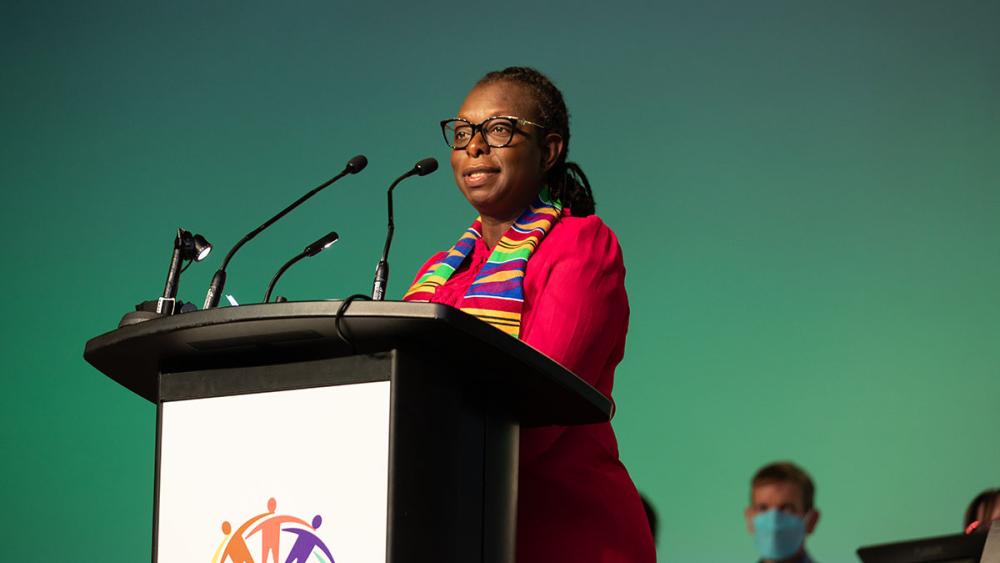 ARTICLE
Your Federation – Annual Meeting 2022
Annual Meeting 2022
In August, ETFO held its first in-person Annual Meeting since the beginning of the COVID-19 pandemic at the Westin Harbour Castle in Toronto. Over 600 ETFO members from across the province attended the meeting to chart the course for the next year by debating and voting on motions.
Tehahenteh Miller presented a traditional Haudenosaunee opening and welcome for the Annual Meeting. Miller talked about the interconnectedness of humans, animals and nature and encouraged educators to consider how they can offer greetings, love and respect as they educate children.
ETFO President Karen Brown Opens 2022 Annual Meeting
ETFO President Karen Brown opened the meeting by expressing her sincere gratitude to ETFO's 83,000 members for the amazing work they have done to support students during difficult years. She then thanked local presidents and local leadership teams for their work supporting ETFO members.
Brown spoke about the work of unions during the pandemic, how unions forced Premier Ford and Minister Lecce to do better – to protect our communities and to provide more support and funding over the past two years.
"There is much work to be done, but remember, the people of Ontario trust you when you speak about the needs and conditions of our schools. They do not trust the Premier or the Minister of Education. While parents and caregivers absolutely want stability, they are not willing to accept more cuts to public education. They want public schools and students to have the in-school support and resources they need," she said.
She outlined what the Conservative government has done to undermine public education, including diverting $225 million in funding from public schools to private services in the most recent provincial budget.
Brown called on the government to:
Make a commitment to high-quality universal public education for every student in Ontario.
Put an end to hybrid learning.
Invest in and respect frontline educators.
Address fail-to-fill issues.
Provide job security for ECE members.
Brown spoke about the judgement in our legal case regarding Bill 115, indicated that ETFO has upcoming bargaining, which will start on August 30 and encouraged delegates to take full advantage of the week here together at Annual Meeting to set the course for the next year.
General Secretary's Report
ETFO General Secretary Sharon O'Halloran delivered her Supplementary Report to the Annual Meeting. ETFO staff have been developing programs, materials, and resources, creating public campaigns and building alliances with organizations across the province to strengthen the campaign to protect high-quality public education in Ontario.
O'Halloran reported on several legal challenges, including a Charter challenge with OECTA, OSSTF and Working Families against sections of the Elections Finance Act. She also outlined the $103 million remedy decision from Justice Lederer for Charter violations arising from Bill 115 affecting 70,000 ETFO members.
Looking forward to the bargaining ahead, she concluded, "It is strength and solidarity that will guide us along the way. We will fight for our schools and our future."
Ontario Teachers' Federation President Chris Cowley
OTF President Chris Cowley provided a report and pension update to delegates. He told the assembled delegates that "OTF is there to be the voice of our profession and publicly funded education," and that ETFO is a big part of that voice. Cowley emphasized the problems inherent in changes at the Ontario College of Teachers away from self-governance. "There used to be 14 teachers on the governing body of OCT, and now there is only one," said Cowley.
Speaking to the Ontario Teachers' Pension Plan, he said that the Plan funding remains strong and that the OTF and its governors ensure that OTPP invests in areas that reflect teachers' values, noting that the OTPP has committed to net zero emissions by 2050.
Social Justice Speaker Jennifer Holness
The ETFO Annual Meeting social justice speaker was filmmaker, advocate and activist Jennifer Holness, the first Black woman in Canada to with a CSA (Gemini) for writing and the 2021 Indiescreen Producer of the Year. Holness is the founder and chair of the Black Screen Office.
Holness reflected on her film Subjects of Desire, which examines the realities and pressures of Black beauty standards, the activism behind the Miss Black America pageant, appropriation of Black culture and identities by popular media and beauty industries, and the effects of racist stereotypes on Black women.
"I want to say I have been a Black woman my whole life. Intersectionality is my reality, and my Black part dominates how I am seen," she said. "Beauty has social psychological, political and material implications. The narratives are pervasive," said Holness. "Beauty is not benign. It is a tool in the arsenal that maintains a patriarchal white supremacist power structure." She talked about how stereotypes of Black women, produced and reproduced in popular culture, continue to have devastating effects.
Holness talked about how important it is for teachers and education workers to address racism with their students. She urged delegates to consider how representation of Black culture is essential in media, in the education system and beyond for social justice to move forward and to give Black students a view of their full potential.
ETFO Award Winners 2022
Congratulations to all ETFO award winners recognized this afternoon at the beginning of Session 4!
Anti-Bias Award: Alyssa Gray-Tyghter, Peel Teacher Local
Anti-Racist and Equity Activism Award (Presented to a Group): Nayab Abid, Peel Teacher Local Kameni Jaikissoon, Rainbow Occasional Teacher Local Caroline Lusiche, Ottawa-Carleton Occasional Teacher Local Kisrene McKenzie, Elementary Teachers of Toronto Danielle Robertson, Peel Teacher Local Gurpreet Singh-Rai, Peel Teacher Local Tamla Young, Elementary Teachers of Toronto
Anti-Racist and Equity Activism Award: Lisa Levitan, Ottawa-Carleton Teacher Local
Anti-Racist and Equity Activism Award – Women's Program: Marcia Thompson, Elementary Teachers of Toronto
Arts and Culture Award: Michelle Reyes, Elementary Teachers of Toronto
Children's Literature Award: Steve McGrail, Lambton-Kent Teacher Local
Environmental Education Award: Myrna McBrien, Halton Teacher Local
Health and Safety Activist Award: Lisa Marie Gonsalves, Peel Teacher Local
Honorary Life Membership Award: David Clegg Rachel Gencey Lang Nancy Lawler Rian McLaughlin
Local Humanitarian Award for a non-ETFO member: Jackie Ralph
Professional Learning and Curriculum Development Award: Rabia Khokhar, Toronto Occasional Teacher Local
Professional Learning and Curriculum Development Award – Women's Program: Miranda Blazey, Elementary Teachers of Toronto
Rainbow Visions Award: Derrick Miller, Elementary Teachers of Toronto
Women Working in Social Activism on Behalf of Women and Children Award for a non-ETFO member – Women's Program: Manvir Bhangu
Writer's Award: Iyanuoluwa Akinrinola, York Region Occasional Teacher Local
Writer's Award – Women's Program: Sara de Waard, Niagara Teacher Local
CTF President Sam Hammond Brought Greetings on Behalf of the Canadian Teachers' Federation
President of the Canadian Teachers' Federation and former long-time ETFO President, Sam Hammond was greeted by Annual Meeting delegates with a standing ovation.
"Nothing compares to being home with my ETFO family," he told the assembly. Hammond acknowledged the hard work of teachers and education workers across the country and in Ontario throughout the COVID-19 pandemic. "Ford and Lecce's manoeuvres to undermine public education and health care in Ontario are shameful," he said.
"They have cut close to a billion dollars from education funding, are slowly moving toward privatization of education in this province, and instead of funding public education, are sending $225 million dollars to parents.
"You have persevered through it all," he said. "You have stood up for public education and each other in this province."
He added that "ETFO's voice is strong, respected, and valued at the national level and we at CTF/FCE very much appreciate the ongoing collaboration between our two teams."
Based on their research, CTF is calling for a National Education Advisory Table (NEAT). "There is no question that public education belongs to provincial and territorial jurisdictions, but the pandemic revealed its national importance," Hammond said. "It's time to have a national conversation about education."
"The work that you do at this Annual Meeting is central to moving public education forward in Ontario," he concluded. "As you enter another difficult round of negotiations, don't forget that you are part of a national struggle. Your colleagues stand with you and I stand with you."
Closing Address from President Karen Brown
In her closing address, ETFO President Karen Brown thanked delegates for participating in the democratic process of their union. "I know we are all resolved to be united in our efforts to protect and improve the public education system that we, as a collective, have built.
"How this current government conducts itself during this round of bargaining will be a good litmus test for its ongoing commitment to public education," she said. "We expect to see a government that bargains in good faith and shows a demonstrated commitment to public education and to the ETFO members in this province who built a world-class education system that is the envy of other nations. It is also our hope that the Premier and the Education Minister will stop their divisive rhetoric in the media and come together with us, in good faith, to solve the very real issues in public education today."
As we move into the fall, we will continue to keep the membership fully informed and fully engaged in bargaining. "The Federation's priority is to reach fair Teacher/Occasional Teacher and Education Worker central agreements that address ETFO members' priorities and concerns."