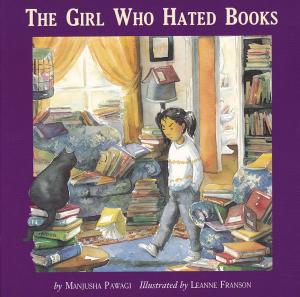 By Manjusha Pawagi, illustrated by Leanne Franson. Second Story Press, 1998. 24 pages, $7.95.
The Girl Who Hated Books is a playful and captivating picture book that tells the story of Meena. She is completely surrounded by books, and her parents' love reading. Meena has to move books out of the sink to brush her teeth and clear magazines out of the fridge to get the milk. She is annoyed by the books and only sees them as a bothersome collection her parents continually insist on adding to. Despite growing up in a house filled with books, Meena refuses to read. One day, however, when Meena is forced to dive into the books, the stories really do come to life. Beloved characters fall out of the illustrations and the text itself bursts into rhyme – "There were princes and princesses, fairies and frogs. Then a wolf and three pigs and a troll on a log." Meena comes to realize the books are full of so much more than just words; they are filled with adventure and excitement. Meena makes her way through reading the tallest stack of books in her house and, with each book she reads, she discovers her own love of reading.
The watercolour illustrations by Leanne Franson are stunning and bring the text to life. From the first page, you are immediately in Meena's world seeing stacks of books in every part of her home. There is not a single page without a book on it. The details in the illustrations draw you in and make you feel you are in the story with Meena. The mood of the story is kept light with humour. Even as an adult, this book made me laugh and experience the wonder of reading all over again.
This book would be a wonderful read-aloud for Kindergarten and primary students, but would also be enjoyed by junior and intermediate students. This is a great story to share with reluctant readers who may be struggling to find their own joy in reading. It is an example of how you will never enjoy something if you refuse to experience it. Many literary connections can be made with this book through rhyming and connections to well-known fairy tales and nursery rhymes. Cross-curricular connections can be made with drama or art by further exploring how words can be brought to life.
Tina Buttineau is a member of Bluewater Teacher Local.