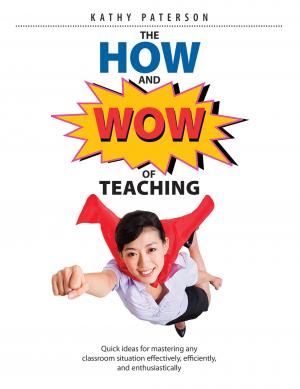 The How and Wow of Teaching: Quick Ideas for Mastering Any Classroom Situation Effectively, Efficiently and Enthusiastically
By Kathy Paterson. Pembroke Publishers, 2019. 158 pages, $29.50
Kathy Paterson's The How and Wow of Teaching is a solid resource for anyone new to the profession or needing a boost to provide a teaching environment that speaks to all students. Paterson outlines many of the responsibilities teachers have and how to handle them thoughtfully and in a way that engages and encourages students. From self-regulation strategies to how to meet with parents successfully, this resource covers many classroom situations and how to handle them in a capable manner. As the author states in her introduction, "The job of teaching today is more important than ever before because teachers provide the humanity that technology can never supply." This resource renews a passion for the craft of teaching and recommends a variety of excellent strategies to uplift and enhance teaching.
Paterson begins with lesson planning and outlines a variety of games and activities you can use to address memory, spelling, reluctant or struggling readers and writers and much more. Universal design for learning relies on variation in teaching methods and assessment and educators can make great use of suggestions from the many activities outlined in The How and Wow of Teaching to plan effectively. There is a chapter devoted to teaching strategies, where Paterson helps to make sense of the strategies teachers have all heard but may not know how to put into place in the classroom. A focus on literacy strategies and those to support social emotional learning will guide teachers, both new and experienced, through some of the more difficult elements of teaching. There is also a detailed description of how to use a thematic approach for inquiry-based learning and cross-curricular connections that will allow educators to step out of their comfort zones and try something new.
Included are suggestions for culturally responsive teaching, which provide a good starting point for honouring and respecting diversity in our classrooms. There are practical suggestions for dealing with behaviour challenges and suggestions for proactive classroom management techniques that will reinforce the expectations of learners. Teachers will be able to skim through chapters for specific content (which is detailed in the table of contents), read the summary lists of effective practice in the margins and use the reproducible graphic organizers and blackline masters in their day-to-day practice. It is an appropriate resource for teachers of any age group as there are activities that can be adapted to work in a variety of ways.
Amy Bolton is a member of the Peel Teacher Local.