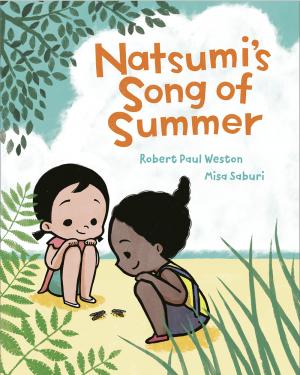 By Robert Paul Weston, illustrated by Misa Saburi. Tundra Books, 2020. 40 pages, $21.99.
Natsumi's Song of Summer is a celebration of summer and friendship, with poetic text and illustrations inspired by traditional Japanese woodblock prints. Natsumi, a young girl, loves everything about summer in Japan – the heat, the beach, the festivals and the fireworks! Most of all, though, she loves the beauty and song of the season's insects. The vivid language used to describe Natsumi's passion for bugs will help win over those not initially inclined to appreciate them. In Natsumi's world, ladybirds are "speckled gems" and fireflies are "sudden sparks." Children will identify with Natsumi's anxiety about meeting her American cousin, Jill, for the first time. Should Natsumi dare to show Jill the most special part of summer, her beloved cicadas? What if Jill doesn't see their large eyes the way Natsumi does or doesn't appreciate the tickling feeling of one crawling on her arm? This heartwarming story offers glimpses of Japanese culture with themes about being open to new experiences and appreciating nature.
Written in a series of tanka poems, a form like haiku but with two extra lines, this title easily connects to poetry studies. While attempting tanka would be an advanced skill for the intended lower elementary age group, the idea of segmenting words into syllables is very relevant. Natsumi's elegant insect observations provide an excellent opening for developing voice by using words to invoke attitude or feeling. They also make this title well-suited for combined science and language arts study. The girls' joy for outdoor exploration and their appreciation of nature will guide Grade 1 students in understanding big ideas of the Life Science strand, especially that different living things behave in different ways and that all living things should be treated with care and respect. Grade 2 students could draw observations about the life cycle of the cicada and the characteristics insects share as a class of animals. The sounds of several different cicada varieties are included in the back, offering extra fun for all students. This title pairs well with The Bug Girl, written by Sophia Spencer and Margaret McNamara and illustrated by Kerascoet.
Katie VanArk is an associate member of ETFO.