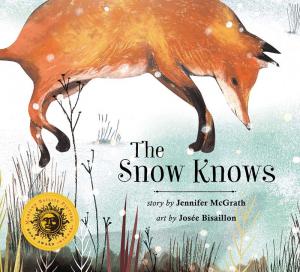 By Jennifer McGrath, illustrated by Josée Bisaillon. Nimbus Publishing, 2016. 32 pages, $22.95.
The Snow Knows is a beautifully illustrated picture book that draws readers into the wonder and mysteries of a snowy forest. Through lyrical prose written in the style of a lullaby, this story gives readers an insight into all the creatures that call the winter forest home; it tells us what the snow knows. This book draws the reader in with its calming and melodic rhythm. Author Jennifer McGrath has captured the sense of wonder children feel walking outside on a snowy morning and seeing tracks in the freshly fallen snow. What may seem like a still and quiet forest is bursting with life and adventure in the winter. It introduces the reader to a variety of animals, both wild and domestic, such as a fox, owl and otter to name a few. It begins with a great sense of adventure and mystery but comes back to the reader at the end with a tabby cat in front of the stove with the child looking out at the snowy landscape. This story feels like a complete journey for the reader.
The paper creatures and illustrations are stunning. Readers are immediately transported into this winter wonderland through the art of Josée Bisaillon. The simple text is bursting with life through the illustrations that take the reader on a journey through the book. The illustrations will engage readers of all ages through its unique hide-and-seek style where the next animal is carefully hidden in the illustration. The full-page illustrations and large font invite even the youngest readers to feel they are exploring the wintery woods.
This book is sure to be a winter classic in school and classroom libraries. There are many cross-curricular connections that can be made to this picture book. The animals could be the starting point for animal research projects, learning about their habitats and winter adaptions. It could be acted out in drama or dance where students need to portray the animal's unique movements. From a literacy perspective, this text introduces young readers to several literary elements, including rhyming, alliteration and foreshadowing. It provides a wonderful opportunity for students to continue the story with their own secret that the snow knows. This book would be a perfect read aloud to get students thinking about and making connections to the natural world. It is sure to spark their curiosity and ignite their sense of wonder.
Tina Buttineau is a member of the Bluewater Teacher Local.