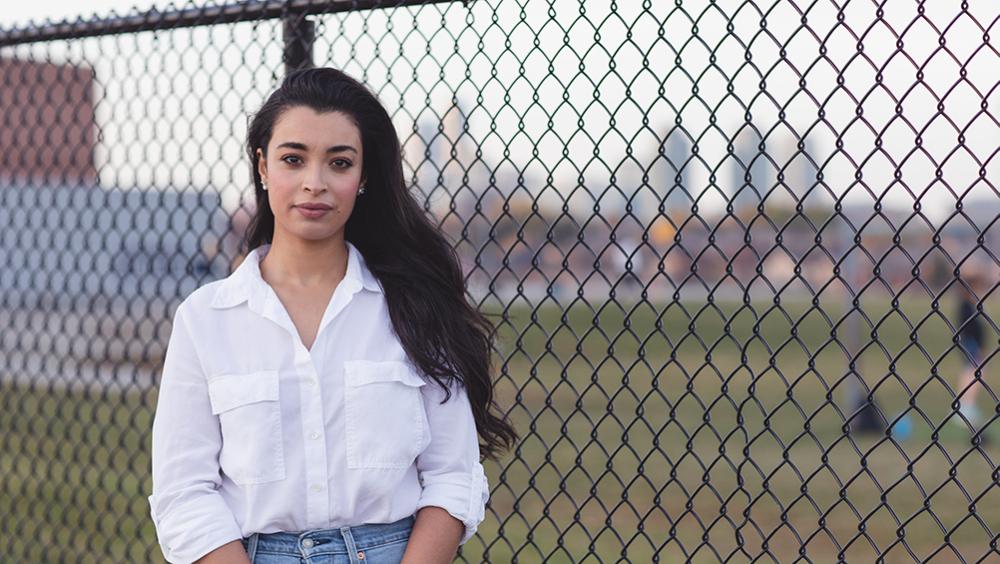 sdfsdf
FEATURE
The Anti-Racist Classroom
"Not in our school." This is something I've heard time and time again at equity PD sessions and meetings among the murmurs of my colleagues as they watch videos, hear the stories of racialized students or see images that portray racism. You see race isn't just about skin colour. It's about colour, culture, religion and language. We expect racism to be experienced as an overt act, something obvious, not open to interpretation, but often racism is experienced as collective and cumulative acts.
Take "Nezha" (pronouns she/her, phonetic spelling niz-ha) for example. She is a Grade 2 student. She is from Morocco, has beautiful curly hair and is an English language learner (ELL). She arrives at school and is greeted by her teacher and classmates who don't pronounce her name correctly. As she runs in gym class someone compliments her on her curls and reaches out to touch them. During the library period she searches through the books looking for someone who looks like her in the pictures or a dual-language book in Arabic but finds neither. When lunch time rolls around, she pulls out her mother's tagine only to hear the comment "that looks weird." Any one of these experiences will sting, but collectively they cut deep.
I have the unique gift of teaching in the same board where I was raised. When I look at my class now I see diversity and the beauty that comes with it. As a student, I was one of the only non-white kids in the school right up until high school. I scarcely saw another person that looked like me, understood my mother tongue or understood the "strange things" in my lunch box. We had Christmas concerts and Easter festivities but scarcely, if ever, spoke of Hanukkah, Eid, Kwanzaa or other days of religious or cultural significance. In speaking with racialized friends who grew up in or around the same area, the consensus is that it was acceptable to be called a terrorist or the "n" word "as a joke" but not to "tattle tale" or get upset. While racial slurs have become more taboo and are less tolerated in society, our education system still suffers from and reproduces racism.
I am one of very few teachers and staff who are non-white at my school in Burlington. Although diversity among students and the population in general has increased exponentially, according to "Bias-Free or Biased Hiring? Racialized Teachers' Perspectives on Educational Hiring Practices in Ontario" (2020) hiring of racialized teachers in Ontario has not kept up despite the increase of interest and supply. I still on occasion experience overt racism, but it's the microaggressions that are indicative of the normalization of racism in education and society. I have had my hair touched without consent. I have been asked countless times where I am from as well as where am I really from when I answer Canada. While trying to establish rapport with an ELL student with almost no English language, they and I were told to use our English words by an educational assistant. I have my name mispronounced every day, even over the loudspeaker at school. As an educator of colour, I have my own biases and see through a lens that makes racial inequities stand out, but the experiences of racialized educators are not always valued in education. Our diversity can be a strength and our perspectives can create a richer environment for students and staff, but we need to be present as teachers in our public schools and our experiences and perspectives need to be heard.
Happening in Our Schools
A report by the Ontario Human Rights Commission (OHRC) titled "Under Suspicion: Research and Consultation Report on Racial Profiling in Ontario" (2017) shows indisputable evidence of racism in our schools. The study found that Indigenous, Black and other racialized students continuously face negative assumptions and stereotypes from educators. Not only do these assumptions result in stricter behavioural expectations, they don't leave much room to make mistakes. Racialized students are more harshly disciplined than their white counterparts. The data from the OHRC investigation shows that Black and racialized students are receiving higher rates of suspensions despite representing a small proportion of the students in their schools and boards. When white students are in conflict with Black and other racialized students, racialized students are often assumed to have started conflicts. (See the TDSB's "Safe Schools System Report 2017-2018" for more detail.)
We know from research that the belief or bias a teacher holds about their students can impact them for a lifetime – academically and psychologically. We know that in Ontario the last segregated school closed in 1965 and the last residential school closed in 1995. Most teachers raised in Ontario have lived through at least one of these periods and all of us carry biases as a result.
These are facts not to shame you or make you feel embarrassed, but to open your eyes to the potential bias you may carry. Take a moment and reflect. Ask yourself, which students do I call on the most? The least? Which students get asked more challenging questions? Less challenging? Which students do I discipline the most? Which students will I have a conversation with instead of disciplining? Which students are represented in my learning materials? In my instructional videos? Do I make an effort to learn about the cultural backgrounds of my students and incorporate this learning into my teaching? Do I learn how to pronounce each student's name correctly and take the time to ensure that all the students in my class do the same?
Part of growth and maintaining a growth mindset is acknowledging that each of us has more to learn. It takes more than having a positive rapport with a student to create a healthy and safe environment for them. Racism is happening in our public schools every day, and we, as educators, have a responsibility to actively educate ourselves on how to address it.
A Unique Time
It is a unique time we are living in. The murder of George Floyd by police in the U.S. this past spring is only one of countless deaths that have resulted from a system of racism. His death sparked protests all over the world and woke up people and governments to the life and death realities that Black and racialized communities face every day, that are deeply embedded in our systems. Research shows that disproportionate over-policing has a powerful impact on the safety and well-being of Black people. Black people are more likely to be stopped by the police and be victims of police brutality. While we often set our sights on the U.S., in Toronto alone, Black, Indigenous and other racialized people make up 37 percent of the victims of police killing. These statistics were personified in the deaths this summer of Indigenous woman Chantel Moore in New Brunswick and in the suspicious death of Regis Korchinski-Paquet, an Indigenous and Black woman in Toronto. They both died after wellness checks by police. These events are just a glimpse into the realities of daily systemic racism.
We are fresh off the heels of a summer full of painful realizations, which will hopefully pave the way for critical conversations and necessary self-reflection. As we continue to settle into our classrooms, we must remember to be mindful of these facts. We must also be mindful that although the entire country has struggled in response to COVID-19, Black and racialized communities continue to be disproportionately affected. Our students, especially those who are racialized, are likely experiencing higher than ever anxiety and mental health struggles. The events of the summer have filled people from racialized communities with fear and pain, but they have also shown strength and power to change the system. We have been left feeling raw but motivated. Now more than ever, we need to call out racism and prejudice when it happens.
Educators have the responsibility to teach the next generation of students about racism and what it means to be anti-racist. I have had open discussions with my Grade 7 students where we consider and explore race, its meaning, racism, microaggressions and their personal experiences. Discussing this with my students has not only brought them enlightenment and validation, but it has done the same for me and my teaching practice. They feel that my classroom is a safe space to share their experiences, feel heard and make a difference. Teachers of colour are symbols for racialized students. Materials that connect to each one of my students' backgrounds and cultures are symbolic. Community circles where we discuss not just our strengths but how as a class we can create a more inclusive environment give students an opportunity to be heard and take an active part in improving our environment.
Everyone belongs and should be treated with equity. Race exists. Skin-colour blindness is not a real thing. The truth is that if you are not teaching in an anti-racist way, you are perpetuating a racist system – unknowingly or otherwise. Ignoring race doesn't make it go away or change the experiences of those who are racialized. We cannot just say we believe in equity and not teach in a way that actively enhances it. That is hypocrisy and it does not have a place in our schools.
One of my favourite former teachers, who later became my principal, said "growing can be painful, learning can be painful, it can be hard." Talking about racism is hard and painful but it is necessary, necessary for our own growth but most importantly because we have a great deal of power as educators and with that power there is responsibility.
Nessrine Lara Lemqadem Alyass is a member of the Halton Teacher Local.
---
Ten Things to Look for in an Anti-Racist Classroom and School
The images portrayed in all instructional materials reflect a variety of skin colours, hair textures and cultures.
The Land Acknowledgement is practiced and understood.
Textbooks, storybooks and novels are by authors that reflect the diversity of our society.
Culturally Relevant and Responsive Pedagogy, where high expectations are held for all students, the cultural background of each student is embedded in all aspects of learning and narratives that demonstrate the contributions of different cultures and the impacts of racism, is practised.
Phonetic spelling of each student's name is shared to ensure you and others are pronouncing it correctly.
Authentic conversations are held with students about race and their experiences.
Teachers/educators reflect on their own biases and privilege.
Racism is named when it happens and is reconciled.
A multicultural club exists that celebrates and informs others of the beauty and richness of different cultures of the staff and student body.
A SIPSA plan that incorporates specific goals for combating racism and creating an inclusive environment is in place.