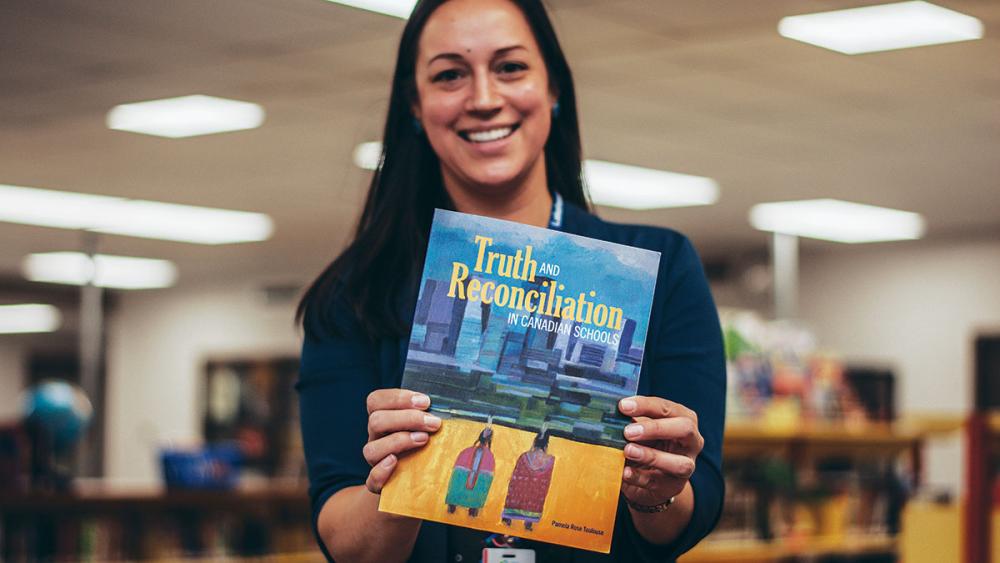 FEATURE
Biindigen: You Are Welcome in This Place
Setting the Stage
If you've ever arrived in the Northwestern Ontario city of Thunder Bay by air, you've likely been greeted by the sacred site known to the Anishnaabe people of the area as Anemki Wajiw, the home of the Thunder Bird. This landmark is more commonly known as Mount McKay and is located on the territory of Fort William First Nation, Thunder Bay's adjacent First Nation community. If you travelled by land, it is more likely that Nanabijou, known by most as the Sleeping Giant, greeted you. This city has been home to the Anishnaabek Nation since long before it was known as Thunder Bay. The original name for this place was Anemki Wekwidong and the Indigenous Peoples who have lived on and cared for this land, many of whom were forced to remote communities during the creation of reserves and the signing of Treaties, are returning to this place in great numbers. According to Statistics Canada, First Nations peoples represent almost 13 percent of the population of Thunder Bay, up from eight percent a decade earlier. In addition to the many urban First Nations families who make this city their home, it is also a medical, travel and education hub for approximately 50 remote First Nations communities.
As a member of the Anishnaabek Nation, I feel at home on these lands even though I am a visitor. The first time I came to Thunder Bay, having grown up just north of Toronto, I was struck by the visible presence of other First Nations people in public places. The only time I had ever shared space with so many First Nations people was at the annual community pow wow or family gatherings. I hadn't realized how isolating it felt growing up in a community with little diversity until I felt what it was like to be in a space where many of the strangers looked like my aunties, uncles and cousins. It was a welcome change for me. For many Indigenous students and families living here, however, the feelings are not as warm.
Despite the large number of First Nations people living here, it is not always a welcoming, accepting, inclusive or even safe place for Indigenous Peoples. With recent headlines naming this city "the most racist city in Canada," podcasts about the racial division going viral and best-selling books about the systemic discrimination, you may be familiar with some of the racial tensions. I have attended conferences and workshops across Ontario and Canada, and when people hear that I work in Indigenous Education in Thunder Bay, a common question is, "Is it really as bad as the media makes it out to be?" This is a difficult question to answer.
In many ways, the answer is yes. Systemic discrimination and anti-Indigenous racism exist on a large scale, but that's a Canadian truth; it is simply highlighted in a city like Thunder Bay, which acts as a microcosm of Canada. Tanya Talaga's book, Seven Fallen Feathers, shares the heartbreaking realities of seven youth who came to this city to attend high school and never returned home. Many believe that racism in this city cost them their lives. There are racially motivated crimes against Indigenous Peoples, and, according to an investigation and report by the Office of the Independent Police Review Director, officers in Thunder Bay repeatedly rely "on generalized notions about how Indigenous People likely came to their deaths" based on their biases. Recently in the news was the death of an Anishnaabe mother and sister, who had a trailer hitch thrown at her from a moving vehicle by a male Settler youth, who called out "I got one" upon hitting her. This is part of the harsh daily reality for Indigenous students, families and community members living in Thunder Bay.
While this is all true, the answer to the question is also no. There is a beautiful community of people, both Settler and Indigenous, working at the grassroots level to reclaim space and place and promote racial justice for Indigenous Peoples here. I see and work with educators and student leaders who are promoting cultural safety for Indigenous students, families and community members.
Before moving to Thunder Bay, I spent two years teaching and living in a remote First Nation community. When it was my time to leave the community, I realized that many of the students I had built relationships with would also have to leave their community after graduating Grade 8 if they wanted to continue their education. When my husband and I first moved to Thunder Bay it was to support these youth. We rented a house with extra space and became boarding parents to what would become 14 different students in that first school year. We have continued to open our home and family to Indigenous youth attending high school in Thunder Bay over the 12 years since. Having lived in a remote community and experiencing the transition with youth firsthand, I've always wondered what more we can do as educators to support students and families who make this relocation.
Reality for Students/Families
I work as the First Nations, Métis and Inuit Education Coordinator for the local school board. I see many families who move to Thunder Bay from their remote First Nations communities. These families are in the midst of a significant transition and often they are treated like every other Thunder Bay resident upon registration. They are not like every other resident. The reality is that they're experiencing a culture shock; many are experiencing racism for the first time, at the mercy of systemic discrimination, and the pressures for them to assimilate can be insurmountable.
In my research, families shared how the disconnection from their Lands had a significant impact on how they felt during this transition. For First Nations peoples, we are connected to the Land in ways many cannot understand. I live 1,600 kms away from where I grew up. I feel the longing for those waters, for those trees, for the paths I ran as a youth; it's where my roots are. When I visit, I am reminded who I am and where I am from. For many First Nations families who move to or live in Thunder Bay, the concrete buildings and paved roads are a literal barrier to connection and belonging. These things are compounded by the fact that Thunder Bay's reputation precedes itself. Families and students arrive here afraid for their physical, mental and emotional safety.
These challenges are not limited to families moving directly from remote First Nations communities. With the high population of urban First Nations families, educators have a responsibility to support First Nations students and families in our schools.
What Can Educators Do?
There are actions you can take to promote welcoming schools and communities for Indigenous students and families.
Seek to Understand
It's important that educators build their own understanding of the historical relationship between Indigenous Peoples and the Nation-state we call Canada, and even more importantly, the history of education and Indigenous Peoples.
Dr. Pamela Toulouse (2011) outlines the four phases of Indigenous education:
Traditional education, in which Elders and cultural teachers worked with children; education was a community responsibility.
Segregation, which includes the residential school era.
Assimilation, in which the government continued to run schools for Indigenous Peoples, such as Indian Day Schools.
Integration, in which students attend publicly funded schools in towns and cities along with non-Indigenous peers.
In order for students to succeed in our current system of education, conformity to Western Eurocentric values is still a necessity. Knowing this, it could be argued that the current phase of integration has not moved as far from the assimilation phase as we'd like to believe. The historic and ongoing mistreatment of Indigenous Peoples through education has resulted in a mistrust of education systems for many families. For students coming from remote First Nations communities, the realities of chronic underfunding in federally-run schools has had negative impacts on their achievement and well-being. The so-called "achievement gap" for Indigenous students is often discussed, but I encourage people to consider this gap to be a reflection of the system's inability to meet the needs of diverse learners and not the students themselves. Indigenous students and families have much to contribute to school communities, classrooms and the teacher-student relationship.
In addition to this historical understanding, it's necessary for educators to critically examine their own position of power and privilege and how it can be used to build or break relationships with Indigenous students and families.
Commit to Learning (and Unlearning)
For the most part, educators have not received the training and skills necessary in their own educational journey to effectively implement Indigenous pedagogy and perspectives.
I understand, you weren't taught about the beauty, brilliance and complexities of Indigenous knowledges in your own education, but if we want Indigenous students to feel valued in our school and class communities, we need to acknowledge and include their ways of knowing.
Attend workshops and conferences, read books, connect with Indigenous community members to do your own learning and unlearning.
It's also going to require an anti-racist approach to teaching and learning. Sure, we know how to be kind, we expect students to respect each other, but anti-racist educational approaches are much more complex than this. "Nice" is no longer enough. We need to see colour in our students and acknowledge the different experiences they carry as a result of that colour.
Don't be afraid to make mistakes; mistakes are opportunities to learn. We may have to take a note from ourselves as teachers who promote risk-taking and be okay with a few stumbling blocks from time to time.
Educator Resources:
Seven Fallen Feathers by Tanya Talaga
Indigenous Writes: A Guide to First Nations, Métis & Inuit Issues in Canada by Chelsea Vowel
Settler: Identity and Colonialism in 21st Century Canada by Emma Battell Lowman and Adam J. Barker
Truth & Reconciliation in Canadian Schools by Dr. Pamela Rose Toulouse
Decolonizing Education by Marie Battiste
Build Relationships
I should have shared this one first because without a commitment to building meaningful, reciprocal relationships, Indigenous students and families will not feel welcome or included.
Consider your process for registration. Is it completely online? This may be putting up a blockade where there should be open path. Too often we replace human connection for efficiency. Consider your communications home. Do they go beyond the typical monthly newsletter? Or the digital voice recording sharing about the upcoming parent/teacher night?
What expectations are being put on students and families? How can you create space for reciprocity between educators and families? In this area educators need to be innovative in creating opportunities for informal connections.
Don't limit relationships to humans. Foster a healthy relationship to Land for students and families
Maintain high expectations. This may seem like it doesn't belong here, but I assure you, students know when you have given up on them, when you don't expect them to do well, and that is seriously damaging for relationships.
Be Inclusive
Be inclusive of Indigenous knowledges and perspectives in schools and classrooms through the use of authentic Indigenous voices. This does not mean simply "ask an Elder." It does not mean putting the work of inclusion on the Indigenous Education department. We live in a time with incredible access to videos, stories and live events. Yes, it is amazing if you can arrange to have an Elder or Knowledge Carrier visit in person when their knowledge connects to learning you are doing in your classroom and will enrich the experience of students. Of course, the Indigenous Education department in your board can support and guide you, but there are so many places for you to access knowledge and learn along with your students.
Sometimes during our quest for inclusion, educators focus on historical truths (i.e. Residential schools) or present-day issues resulting from colonization (i.e. Missing and Murdered Indigenous Women and Girls) and check off Indigenous inclusion for the year. I encourage you to reach for resources that share the beauty and brilliance of Indigenous Peoples. Teach in a way that represents the diversity of Indigenous Peoples by being as specific as possible when including learning from different Nations.
There was a time when including Indigenous content meant putting up posters, likely of a medicine wheel, maybe the Seven Grandfather teachings. I encourage you to move beyond this kind of superficial inclusion. As an educator in Ontario, you are not responsible for teaching Indigenous culture or spirituality, but you do have a responsibility to make space for authentic Indigenous voices and perspectives in your classroom. Know this distinction.
There are a number of ETFO resources to support inclusion of Indigenous voices. Visit etfofnmi.ca.
Text Suggestions for Classrooms:
Primary
Meet Your Family by David Bouchard
Go Show the World by Wab Kinew
Junior
Siha Tooskin Knows (Series) by Charlene and Wilson Bearhead
The Barren Ground by David A. Robertson
Intermediate
Surviving the City, Vol. 1 by Tasha Spillett Borders by Thomas King
Anika Guthrie is a member of Lakehead Teacher Local.