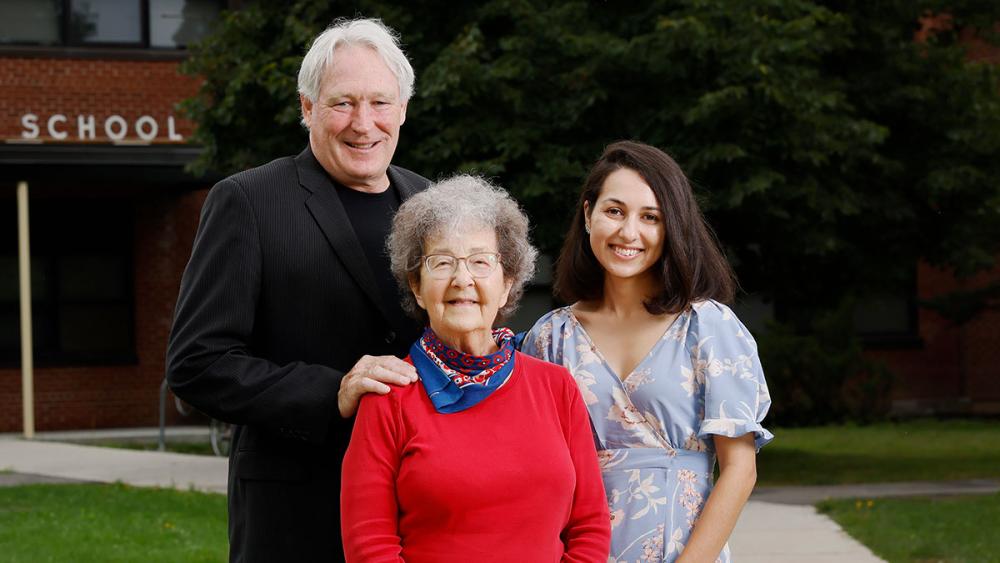 FEATURE
Charles H. Hulse, the inner city Ottawa school where I have taught for many years, reflects the diversity of today's Canadian society with more than 70 different nationalities making up our school community. Seeing children with so many differences getting along and working together day in and day out is one of the things that makes Hulse such an amazing place.
In 2002, in the make of 9/11, I decided to introduce Holocaust Education as a way to build on the character education of my students. With the rise of antisemitism among other forms of racism, and with white supremacist groups emboldened by reactionary right wing politicians, I wanted to talk to students about the history of humanity – at its worst but also at its best. The Holocaust is one of the most documented and historically researched examples of racism, discrimination and genocide the world has ever seen. I focused on groups like The White Rose and Albanian Muslims as well as individuals like Jan Zabinski, Raoul Wallenberg and Oskar Schindler who all made conscious choices not to be silent bystanders.
From the very beginning, my Grade 6 students impressed me with their maturity and their sincere interest in learning about history. The Holocaust was not just a crime perpetrated against Jewish people; it was perpetrated against all people. Eyes and minds opened even further when my students learned that some of the Nazis' first victims were Germans of African descent. When we looked around our classroom, we realized how many of our classmates would have been targeted by the Nazis.
I reached out and invited local Holocaust survivor David Shentow to come and talk to my students. David was hesitant at first. Although he had often spoken publicly and had dealt with Holocaust deniers for decades, he had never spoken to students so young. I suggested to him that people are never too young to learn to stand up to racism as long as we do it in an age-appropriate way. I knew David would be up for the job. The man survived three years in Auschwitz. He was liberated in 1945 on his 20th birthday. He walked out free, but alone; his entire family was lost in the genocide.
When David spoke to my class, you could hear a pin drop. He spoke about how hatred can spread like cancer. He also said that if you look hard enough you can always find reasons to dislike someone. David was 80 years old at the time and his visit turned out to be a truly authentic experience, not just for the children but also for David himself. He was genuinely moved by the quality of questions the students asked and by the respect he was shown. For many of my students, this elderly grandfather figure was the first Jewish person they had ever met. As he said goodbye, he received hugs and handshakes and sincere thanks for sharing his story.
David himself was overcome by the affection and respect bestowed upon him by these young children. What they never knew was that every night after sharing his story, he suffered from nightmares. He suffered from PTSD until the day he died. Yet, he continued to speak in hopes that others would not have to suffer the way he did. Most of my students, in their end of year journals, identified David's visit as the most important thing they had experienced that year. David and his wife, Rose, became regular visitors to our school.
The following year I made contact with Hillel Academy, the only Jewish school in Ottawa, and established a pen-pal program between their students and my students. Receiving our monthly letters always provided a great sense of excitement. My students would tell me, with a genuine sense of astonishment, the many things in common they shared with their new friends. They found numerous common links in the sports, music and subjects they liked.
After months of correspondence, a day was set aside for the Grade 6 classes to meet. It was called A Day of Cultural Understanding. The morning consisted of a scavenger hunt followed by collaborative games, with the emphasis on having fun and getting to know one another.
Students ate lunch with their pen-pals and then had time to play outside together. In the afternoon, David came and spoke to both groups of children.
What followed was a grassroots program that took on a life of its own for the next 17 years. The program continued to run until COVID came along. Students from both schools continued to write letters back and forth each year. More team-building activities were included: sports days, young authors' day and with the support of Rabbi Bulka, we participated in Mitzvah Day activities. The Grade 6 students from both schools worked together to perform good deeds that would help the community. Mitzvahs included painting hallways at a senior's residence, collecting books for a library in Northern Canada that had burned down and raising money to support the victims of Hurricane Katrina.
Our Day of Cultural Understanding continued to be held annually for 10 years, with David Shentow as our guest speaker. Prominent members of local religious and broader communities began to attend, as well as notable politicians including Prime Minister Justin Trudeau, Prime Minister Stephen Harper and premiers Dalton McGinty and Kathleen Wynne.
Our small event was receiving a great deal of media coverage, locally, nationally and even internationally. I think people were attracted to the simplicity of the program and its message.
I received invitations to visit and participate in workshops at the Museum of Tolerance in Los Angeles. I was also invited to speak in Jerusalem at the International Conference on Holocaust Education. In retrospect, the fact that our story was being seen as so newsworthy really says something sad about our society. The story of children of different cultures getting along and having fun shouldn't be newsworthy. It should be the norm.
On June 12, 2017, less than a week after we had last spoken, my friend David passed away. His death left a void in the program. I wanted his story to continue to be told, but it was only genuine when it came from him. Fortunately, the program allowed me to meet so many wonderful people in the Jewish community. One such person was Elly Bollegraaf. Elly was hidden as a child. She was protected and cared for by people who chose not to allow racism to cloud their judgment. She became a nationally distinguished microbiologist and is now retired. She agreed to come and speak at our Day of Cultural Understanding.
Both Elly and I were friends of David. She was the perfect person to continue his legacy. After Elly told her story, we would discuss how her life ended up so differently from David's. David was alone and without help. As a result, he was a victim of racism and suffered many traumas. Elly also suffered but to a lesser extent because people helped her. Subsequently she was not haunted the way David was. She had people in her life who displayed the courage to do the right thing. David and Elly's life stories are tangible examples of what happens when people act on moral principles as opposed to those who act as bystanders.
In 2014, I was approached by the Canadian Society of Yad Vashem about a new program they wanted to launch. It was called Ambassadors of Change. It would bring together high school students of different faiths and backgrounds in a unique program that gave students from Ontario and Quebec the rare opportunity to meet Holocaust survivors and hear first-hand accounts of their experiences. My job was to act as moderator and to promote a guided discussion between the survivors and the students on how to promote equity and inclusion.
The goal was to empower the next generation of Canadians with knowledge of this important history. Like all teachers, I always hope my students will be successful. I also hope that I helped them along their journey. Earlier this year, I was invited to speak at a national online teacher's workshop on the topic of antisemitism. One of the moderators of the workshop was Sophia Mirzayee, a young woman born in Afghanistan whose family escaped the Taliban and came to Canada. She was also in my Grade 6 class. With a Master's degree in Human Rights, she now works as an educator for the Aga Khan Foundation and for the United Nations. Twenty years later, she still keeps in touch with her pen pal.
As teachers, our job is to teach. When we see an issue, we need to address it, not look the other way. Not stand around and hope the problem goes away. Not wait for someone else to take initiative. We are not meant to be bystanders. We are meant to be leaders. So, it is up to us to teach and use education to campaign against all forms of discrimination and racism.
Patrick Mascoe is a member of the Ottawa-Carleton Teacher Local.