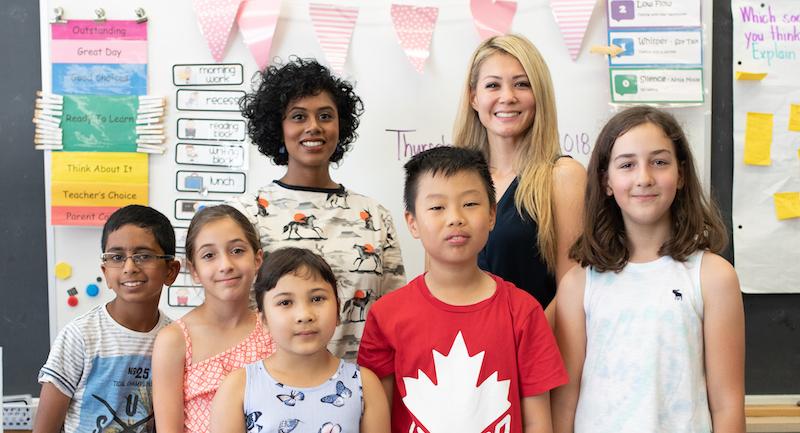 FEATURE
Claiming Space: Self-Identifying with My Union
When I teach, I teach as a young racialized woman. It would be very difficult for me to facilitate learning from a neutral position where my social identities are separate from my identity as an educator. In fact, I see my social identities as an asset given that our schools and classrooms are filled with students who reflect our diverse communities. While it is essential for marginalized students to see themselves reflected in their schools, educators from equity-seeking groups are still significantly underrepresented. This is a systemic issue.
Why Does Representation in Our Schools Matter?
Our society privileges some identities and disadvantages others. With privilege comes overrepresentation in the media, in our belief systems and in positions of power. Unless there are proactive efforts to both make and claim space for individuals who identify with equity-seeking groups, we cannot change systems. It is critical that marginalized students see themselves reflected in the individuals who occupy leadership positions and influential roles. It is just as vital that students who come with privilege understand and interact with educators who identify with equity-seeking groups.
My own schooling experience in Brampton, particularly my elementary years in the 90s, had very few moments of mirrors where I saw myself in the educators, administrators or learning materials. Thankfully, my nature from a very young age was to disrupt; I recall dancing to the Fugees' "Ready or Not" wearing a bright red bindi and a traditional Tamil classical dance outfit at our school's talent show in Grade 3. I remember feeling famous as I was followed around by a local newspaper reporter. I didn't realize then, but what I was doing was claiming space as a young student. I needed respect and recognition from my school community of who I was in a time where Backstreet Boys and Hanson were trending.
Now, as an educator and K-12 Learning Coach, things have become more complex. Being in my fifth year in teaching and now in a leadership position has set me up to experience microaggressions not only based on my race, but also on my age, gender and credibility as someone "too inexperienced" to be in a position of leadership. Seeing myself in my leaders and the powerful work they do as racialized women challenging systemic barriers has been essential in empowering me to bring my voice and experiences to the table. This is my way of claiming space in leadership and centering the voices and experiences of students from marginalized communities within my school board.
Exploring and Examining Social Identities
Part of my current role is to engage educators and administrators in conversations about identity. Taking time to dive deep into one's social identities, power and privilege is imperative to bringing awareness to why we are who we are. Once this foundation has been built, we can then understand at a more complex level how these social identities impact the ways we teach, what we teach, who we teach for and with what values. These are all factors that are intricately connected with how we breathe life into curriculum.
I have had the privilege of working with some incredible educators who are open to thinking critically about how social identities are spoken about in their classrooms. One is Jummi Kim who engaged her Grade 4 students in an activity to unpack their own identities, learn the language used to describe their multidimensional selves and explore the impacts of identities being visible and invisible using an iceberg analogy. Later, she deepened the learning in a conversation about gender identity through the book The Boy and the Bindi by Vivek Shraya. The activity is an incredible way for educators to empower students to self-identify, claim their own spaces and contribute to building narratives for diverse representation.
Having inclusive conversations that underscore the complexities of race, class, age, ability, gender, sexuality, creed, family structures and other social identities at an early age empowers students to see how their experiences are both individual and systemic. Ensuring that individuals from equity-seeking groups are always reflected in leadership positions and always sitting at decision-making tables means that we are working to change the systems that privilege some over others.
Claiming Space in my Union
In the fall of 2017, a colleague encouraged me to apply to an ETFO program called Leaders for Tomorrow (L4T). At this point, I was personally struggling with how my social identities were playing out in my position of leadership. As I filled out the application form, I stopped at a section that said "Due to limited enrollment, consideration will be given to "members who self-identify as a woman and a member of one or more of the designated groups." I had never been asked to self-identify in such an explicit and formal manner to access a program before, so this exercise was new and left me wondering about the impact of doing something so intentional.
With one exception, ETFO's designated groups are the same groups identified in Ontario's Employment Equity Act (enacted in 1994 and repealed by the Harris government in 1995) and in Canada's Employment Equity Act (1986, still in effect). The LGBTQ group has been added to ETFO's designated groups, as this group has in recent years been identified by courts throughout Canada as a key equity-seeking group. Designated groups include: First Nations, Metis, and Inuit peoples; persons with a disability; LGBTQ2I+; members of racialized groups; women. (etfo.ca)
I was later accepted into the L4T program and knew it meant being in the presence of a strong community of women. The program empowered us with concrete strategies and skills to analyze and take on social justice issues. Since we all carry bias, we learned how to acknowledge and respect differences so we are not contributing to systems of oppression. Key to the success of this program was the authentically safe space that was created and maintained and the brilliant facilitators/femtors who were also women from designated groups.
Now that the program has come to an end for me, lifelong friendships have been established and I continue to witness the successes of participants who are claiming space in leadership whether on local executives, programs and committees or within their school boards. The power of this program to move underrepresented women into leadership positions through skill development, knowledge and community building in an anti-oppressive environment is unmatched. My own sense of empowerment in leadership resulting from L4T has led me to work on three professional writing projects (two with ETFO, one with TDSB) related to social justice, equity and anti-oppression. These opportunities have been transformative for me as a racialized woman.
Why Self-IDentify with the Union
If you are a member who identifies with one or more designated groups, consider joining me in claiming space within our union. "The main objective of self-identification is to increase participation in ETFO and to instill a sense of belonging in the union among members of equity-seeking groups. ETFO is committed to collecting and reporting information on the identities of its members through the self-identification process. This is the first step toward the goal of barrier-free inclusiveness." (etfo.ca)
There are opportunities and programs available specifically for those who choose to self-identify as members of designated groups. Every year, ETFO sends out a survey to members that asks them to self-identify. Members have two options: self-identify for statistical purposes only or self-identify for statistical purposes and outreach (to receive information about ETFO programs, focus groups, writing opportunities, standing committees, etc.). The second option provides members with information specific to their self-identification data.
Confidentiality is a concern for members who have had historically negative experiences with sharing parts of their identities. There could be concerns about privacy, stigmatization and further discrimination. However, ETFO acknowledges the enduring presence of these lived experiences and keeps self-identification information strictly confidential. Self-identification data will never be disclosed in ways that reveal an individual member. In fact, the handling of all personal information by ETFO is governed by Ontario's Freedom of Information and Protection of Privacy Act (FIPPA or FOIPOP).
These practices align seamlessly with one of the four key initiatives of Ontario's Education Equity Action Plan (2017): Data Collection, Integration and Reporting. The plan asks Ontario's publicly funded education system to think about self-identification data in the following ways:
What is the data telling us? Who is the system serving? Where are we noticing systemic barriers? How can the data be used to mobilize and close equity gaps? What are the complexities around gathering, analyzing, reporting selfidentification data? Whose voices are missing and what is being done? How is this data informing evidence-based decision making? How is this self-identification data reflective of the visions and philosophies we are endorsing in our educational spaces?
So, how is our union doing in exploring these questions, particularly, with members from designated groups?
ETFO is ahead of the curve in operationalizing the voluntary self-identification data of its members in its priority for equity, anti-oppression and social justice. This is evident in the topics and kinds of resources that are written by and for its members, professional learning opportunities offered and inclusive practices like partnering with local community organizations. However, the data still show that there is work to be done; there continues to be an underrepresentation of members from designated groups in leadership positions within our union. Representation in leadership looks the same in our school boards. It takes everyone involved in our education system to continue breaking down systemic barriers so that voices from individuals identifying with designated groups can be heard from positions of leadership. After all, our students are coming from diverse backgrounds and experiences, and it is vital that they interact with leaders who they see themselves reflected in.
ETFO offers intentional programs to prepare individuals from designated groups to navigate systemic barriers to reach both opportunities and positions of leadership. To enhance these opportunities, there needs to be a critical mass of people who claim space by self-identifying. When there is data to substantiate requests for programs or demands for seats at the decision-making tables, it is easier to make those a reality. When our union has an accurate understanding of its composition, it can better designate programs, positions and resources. These specific programs can, in turn, empower members from designated groups to claim their space, challenge systemic barriers and provide students both with role models and counter-narratives.
Sharla Serasanke Falodi is a member of Elementary Teachers of Toronto.
---
IDENTITY ICEBERG ACTIVITY
Only 10 percent of an iceberg is above the water's surface and visible to the world, and 90 percent is below the waterline. The Identity Iceberg activity explores invisible and visible aspects of one's identity to begin considering how these social identities impact experiences involving access and power in society. It also asks students to name their invisible identities and how they influence who they are. Having students learn the language used to describe themselves through their social identities and interrogate their social location(s) encourages conversations about self-identification, systemic barriers and discrimination.
A version of the activity can be found here:
Getting Started with Identity and Diversity Toolkit, Canadian Centre for Diversity & Inclusion (2017) Identity Iceberg Activity, pages 18-19, 25-26 ccdi.ca/media/1587/toolkit-1-getting-started-diversity-and-identity.pdf
Considerations
Please consider your community of learners. Some students may not want to share. It is important that students name their own social identities and choose the ones they decide to share. Remind students not to call out identities they think belong to others as this is about self-identification. Also, students might think of social identities differently in terms of visibility/invisibility; use these moments as opportunity for discussion.
Discussion Questions
Which social identities do you think about the most?
Which social identities do you think about the least?
Are there social identities that people assume you are that are not true?
Which social identities do you think affect the way others see you?
Which social identities do you think affect the way you see yourself?
Were there social identities you were unsure about?