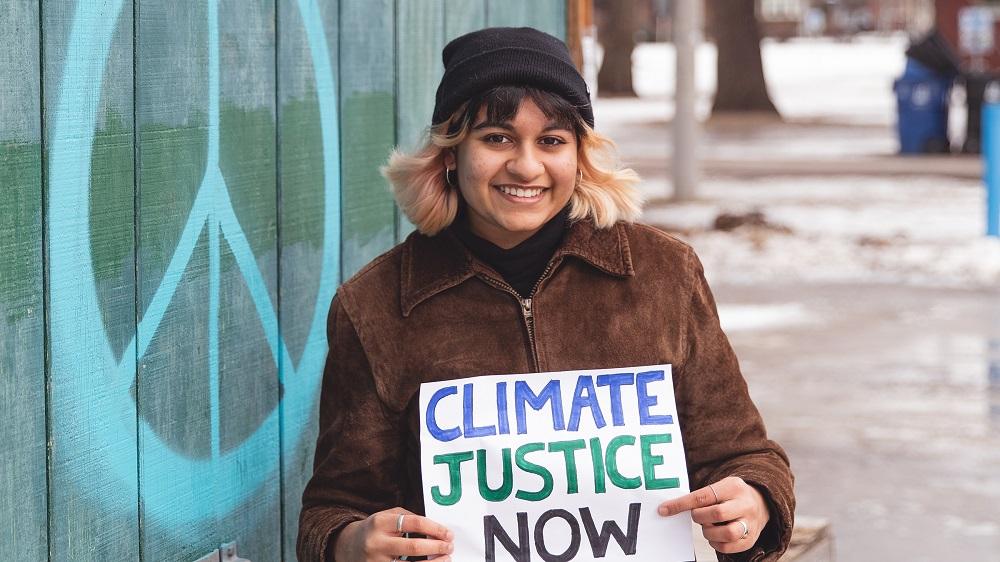 FEATURE
A Closer Look at Climate Justice
VOICE: Hi Savi. So glad to have this opportunity to speak to you. I'm always so inspired by young people who are organizing for social and climate justice. Wondering if you can start by telling me a bit about yourself and how you first began organizing for climate justice.
SAVI GELLATLY-LADD: I have so much gratitude and respect towards the young leaders around the world who are doing this kind of work. I'd like to start off by saying that I am a young, queer person of colour who comes from a working-class background. I think it's important to give this information because my identities and social location in the world have shaped my perspectives of social issues and climate justice.
Before I started with climate organizing, I had been involved in various high school student movements such as Not Just Rumours, the Students Say No movement and #SexEdSavesLives (16 years old). I also became involved in the $15 and Fairness campaign to mobilize high school students to fight for a $15 minimum wage and decent labour laws. Through this, I realized how the struggles that each of these movements were fighting were interconnected. The systems of oppression that were creating low-wages, precarious work, high rates of poverty and systemic racist policing targeting Black community members were also defunding essential school programs and services.
I first got involved in climate justice in 2019 near the end of Grade 11 (16/17 years old) when I saw immense and powerful movements of youth fighting for their futures. Many young people were realizing the harsh reality that our futures are in a threatened, precarious position. It is really hard to grow up with the impending stress of environmental disaster that you took no part in creating. Learning about how long we had left to address the climate crisis instilled a burning panic within me. However, the issues that struck me as most significant were not just about my future being impacted. This is where the "justice" aspect of climate action rose to significance for me. The main thing I was angry and scared about was who would be facing these catastrophic disasters and life-threatening environmental impacts the most? Who was already being impacted? How could I fight for climate justice while also fighting for all the other issues I cared about?
I thought a lot about these questions and had no idea how to put them into action. I jumped around between a couple environmental groups near me, trying to get a sense of the groups and see where I fit in. Unfortunately, at the end of the day I did not feel as though I belonged in those spaces. The environmental activists I met were predominantly white with class privilege. I felt that these movements were not using intersectional perspectives to address the climate crisis. It was less about social justice and more about banning singleuse plastics and meeting carbon emission goals. I am not saying that this aspect of environmentalism is not important, but it was leaving out crucial issues like Indigenous sovereignty, racial justice, issues of class, "ability," gender and so on. I felt as though so many people were not given a seat at the table, even though they are facing the harshest impacts. I wanted to be part of a group that approached the climate crisis through a justice-centred lens.
That is when I saw Climate Justice Toronto's (CJTO) social media shared on a mutual friend's page. CJTO is a grassroots, youth-led group that is organizing in the Greater Toronto Area to tackle the root causes of the climate crisis, which are capitalism, colonialism and white supremacy.
I joined CJTO as a high school organizer who had little to no experience in climate justice activism. I went with a friend to a meeting where I began a journey of learning and growing as an organizer, building relationships with people who inspire me every day!
VOICE: What does it mean to address climate justice through its root causes?
SAVI: In order to adequately fight against the climate crisis, we must look beyond short-term, temporary fix solutions. If there is to be meaningful change, we must focus on the systems that are causing the problems in the first place. The climate crisis is produced by capitalism, colonialism and white supremacy. It is the racist, colonial systems, along with their exploitation and extraction of natural resources for profit, that is harming life on Earth.
We must dismantle the systems that thrive on the destruction of our planet and contribute to the climate crisis. In order to confront the root causes we must challenge colonialism and the theft of land from Indigenous peoples. We have to hold the colonial state, along with the companies who run it, accountable.
VOICE: How has Climate Justice Toronto connected climate justice to broader social justice movements? What kind of organizing do you do?
SAVI: One way that CJTO worked to connect climate justice to the broader Indigenous sovereignty movement has been with #ShutDownCanada. This movement works in solidarity with the Wet'suwet'en community who are resisting the construction of the Coastal GasLink pipeline project. I first became aware of the colonial violence towards Wet'suwet'en land defenders in early 2019. At that moment, there was an RCMP raid after the company obtained an injunction. Many land defenders were arrested and held at gunpoint. Information came out that said the RCMP were prepared to shoot.
The people of Wet'suwet'en have the right to govern their land free from violence. Instead, they must fight to protect the land from money hungry companies who don't care about the lives they impact, the ecosystems they harm, or the planet they are destroying. It is critical for us, as settler allies, to go straight to the companies funding the pipeline. Many of us in CJTO participated and helped organize actions to challenge corporations supporting the pipeline. In addition, Students Say No and Fridays for Future Toronto teamed up to organize walkouts in five Toronto high schools in solidarity with Wet'suwet'en.
We know that the issues of capitalism, colonialism and white supremacy are the root causes of the climate crisis. They are also the leading factors in why there are so many cuts to important public services such as education, legal aid, child care, health services, etc. I understand that our struggles are so deeply linked, meaning that we cannot fight for one without the other.
VOICE: What did you learn as you became more involved with Climate Justice Toronto? What inspired you to get more involved?
SAVI: When I first became involved in Climate Justice Toronto, I was intimidated by the unfamiliar language and knowledge of other organizers who had more experience in the environmental movement. Being in this situation helped me grow as an activist, because I learned that it's okay to not know everything! I became more comfortable with asking questions and communicating my needs.
In CJTO, I participated in and organized my first direct actions! From road blockades to sit ins, occupations to banner drops, I have learned the power of disruption as a form of protest. I learned how to canvass and became more confident in my outreach skills through participating in events for the Our Time campaign, encouraging young voters to support a Green New Deal.
What has inspired me to become more involved in the organization is the centrality of community. Singing movement songs has become a tradition, and I have found that it helps to build unity and hope among us. I have met so many incredible people who have given me a sense of community. It feels empowering and joyful being part of something where I can be myself and constantly be inspired by other people. It is easy to give up the struggle for justice when you are alone, but being in Climate Justice Toronto has helped me find the motivation, strength and hope to keep pushing for change!
VOICE: What have you learned as an activist in the context of COVID-19?
SAVI: In the long run, I think the pandemic has been a really crucial learning point for me as an activist. Prior to the pandemic, CJTO was organizing mainly in-person actions and meetings. As a group we've been forced to adapt and completely shift the ways we organize. I have learned that creating options for people who are unable to attend in person can help us grow our movements. Our movements will be stronger when we can engage and involve people in a variety of ways, whether that is through social media, phone zaps, email blasts or showing up in-person.
I have also learned the importance of community care and mutual aid. During the pandemic, It was clear that COVID-19 exacerbated many already existing inequities that communities were facing, such as poverty and houselessness. We started up a mutual aid fund where over $28,000 was raised to support Black and Indigenous folks in the community who could not pay rent, have lost their jobs or are finding it hard to make ends meet. To me, I learned that organizing is not always about being in the streets or campaigning. It is also about building community care and being there for each other! We can create beautiful things when we show up for each other.
VOICE: What would you say to other young people who want to be more involved in climate justice but don't know where to start?
SAVI: I recommend finding and joining a group near you! It can be daunting but with a friend, I promise you it's worth it. There are so many incredible movements in our communities and it really is true that we're stronger when we unite.
When checking out a climate justice group, I suggest checking out their priorities. Are they using an intersectional perspective to look at climate justice? Is there a critical analysis of the systems that create climate change in the first place? Are they working in solidarity with those who are on the frontlines, facing the harshest impacts? These questions are crucial to think about if we want to spend our energy organizing in the most meaningful ways possible.
Climate justice groups can be found on social media, which is a great place to start learning more! If you have any questions, messaging their accounts is always an option. You can find Climate Justice Toronto on Instagram: @climatejusticeto. Feel free to connect with me as well on Instagram if you have any questions or need support with getting involved: @yellowpeach.es.