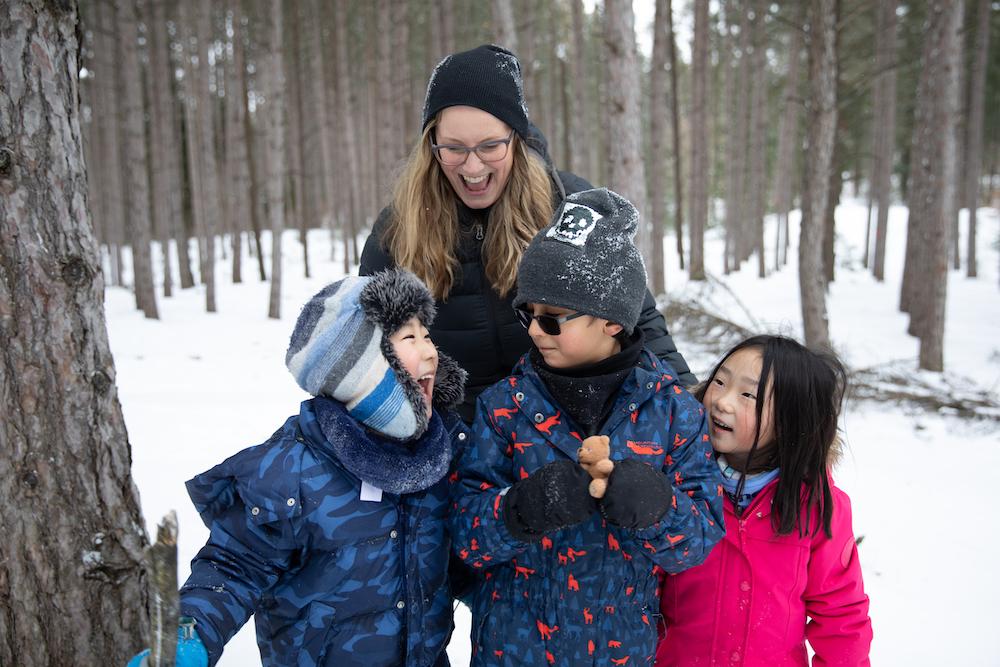 FEATURE
Creating Powerful Learning Experiences with Nature-Based Education
There is something transformational about teaching and learning outside, and not just when the sun is shining and the breeze is warm but in all weather. Standing in a circle, feeling a light rain on your cheeks as members of the group welcome one other, acknowledging the land and all the potential for your time there together, these are opportunities to recognize land not as something to be managed, to take from, but as a friend to connect with, a partner in a reciprocal relationship. Nature-rich spaces need not involve a bus ride or an overnight excursion; authentic outdoor learning can happen right in our backyards, our schoolyards and our local parks (to use the term coined by Jacob Rodenburg, our 'neighbourwoods'). The chickadees, sidewalk cracks and newly-planted oak trees are waiting for us to uncover rich-learning opportunities.
Why Outdoor Learning?
There is a growing cultural and educational movement toward nature-based education and inquiry as a way to create powerful learning experiences with and for our students. The National Wildlife Federation (2014) states "our kids are out of shape, tuned out and stressed out, because they're missing something essential to their health and development: connection to the natural world." Research shows that when we foster a child's connection to nature, we reduce stress and increase patience, self discipline, capacity for attention and recovery from mental fatigue, crisis or psychophysiological imbalance (Russell et al., 2013, p. 482).
We are at a critical moment in time when we need more sustainable ways of being in this world. As we commit to reconciling our relationships with land, people and place, we need to intentionally set the stage for helping to nurture caring, environmental citizens.
Today, the average child can identify over 300 corporate logos, but only 10 native plants or animals. One could say the same for adults. In 2007, an updated edition of the Oxford Junior Dictionary was released, and environmentalists quickly noticed common nature words had been dropped and replaced with those that were more technology-focused, one of many signs of the growing disconnect between childhood and the natural world.
How are children to grow up and know what things are important to save and protect if they can't even name them?
Influential Shifts and Resources
There are moments in one's teaching career when you can look back and pinpoint a shift of practice. Such a shift happened for me five years ago when I was involved in a professional learning opportunity with Learning for a Sustainable Future (LSF). The facilitator positioned the educator not as knowledge keeper but rather as a keen observer and questioner who felt comfortable transferring the power of knowing over to students. We explored strategies that developed knowledge and ideas while allowing students to drive their own learning, leading to responsible citizenship. This transformative framework, along with LSF's Connecting the Dots and Resources for Rethinking resources helped to shape how I facilitated outdoor learning experiences for students.
Through the LSF team, I was also introduced to Natural Curiosity, which recently released a second edition of their resource. Natural Curiosity 2nd Edition: A Resource for Educators highlights the importance of Indigenous perspectives in children's environmental inquiry. It invites non-Indigenous teachers to welcome these perspectives into their practice with humility and a greater understanding of truth, reconciliation and land-based education. The teachers' stories in this resource are a great starting point to help make connections to a variety of different elementary curricular areas.
Exploring Nearby Nature
With continued urban development and a shift toward more indoor-based learning, students may not have had the opportunity to explore and build a relationship with nature. We need to meet students where they are. Place-based education has gained traction because it uses local spaces and issues to make sense of complex environmental topics, bringing relevance and engagement to learning. It also makes learning in nature more financially accessible and invites rich inquiry opportunities.
For those just getting started, try beginning to shift toward an outdoor mindset. It helps to begin with an asset-based approach and engage students in conversation. Ask "What can we do outside? What is possible?" Look at a map of your outdoor spaces and determine what captures students' interest. "Where would you like to explore as a group? What might live in the spaces around our school? How could we find out? What problems do you notice that we could do something about?"
The next step before heading outside might be to ask how we could ensure success as a group. What might we need to remember? What routines need to be established to set everyone up for success. Into Nature: A Guide to Teaching in Nearby Nature is a free, bilingual resource that provides a how-to-start guide when it comes to initial exploration of local spaces. The resource reminds educators that learning in nearby nature improves our teaching just as much as it provides rich learning for the student. It reminds us to prepare ahead, to be safe, to communicate the intentionality of the experience to all impacted and to facilitate rather than direct the learning. It emphasizes the importance of teaching outside on a regular basis and in all types of weather. There is even a pre-written letter to explain to parents and administrators how you intend to weave outdoor learning into your program. Finally, the resource reminds you not to worry if you are not an expert, as the most important modelling you can provide is a curiosity, wonder and care for the natural world.
Earth Week Activities
With Earth Week and spring fast approaching, let the changing season inspire you to notice and name nearby nature. Consider starting with mapping your outdoor spaces and the possibilities they hold for learning over the next several weeks. Set up and follow a StoryWalk and pair reading buddies/nature buddies as guides. A StoryWalk is a fantastic entry point for outdoor learning and has been successfully used during community and school-wide events (Take Me Outside Day, Outdoor Classroom Day, Solstice Celebrations). April showers invite us to play with puddles in the schoolyard and wonder where the water leads. If you are supporting junior and intermediate students, taking a more activist approach to water can engage and connect authentically to curriculum expectations. (See Junior Water Walkers and the Autumn Peltier interview in Voice.) What about planting something native for others to enjoy for years to come? Check out The Butterfly Project and plant milkweed to help to extend the corridor for the monarch butterfly. You might also offer a mindful lunch opportunity outside on blankets in the school yard. Encourage riding bikes or walking to school instead of getting a drive and include a 'neighbourwood' scavenger hunt to explore your local community along the way. CBC Parents has great pre-made examples but your school EcoTeam or other student leadership group could also make one specific to your local area. Other ideas might include making bird feeders and taking part in a Bird Studies Canada citizen science project. Finally, why not encourage students to set up a geocaching adventure in your school yard or search for tracks in the spring mud with an opportunity to make a plaster cast to extend your questioning and research. There are so many possibilities!
Nature for All
How do we best champion this movement? How do we intentionally set up not just our indoor spaces but also our outdoor spaces for success? How do we make sure that everyone has access to these opportunities? How do Indigenous perspectives guide environmental education and inquiry?
They say the future will belong to the nature smart and therefore all educators have a role to play in supporting students in becoming engaged and caring citizens of the world. While building and rebuilding this relationship with nature, we also have an authentic opportunity to acknowledge the history of the land on which we live and the truth and reconciliation action that must follow. I have seen firsthand that spending time in nature helps us become calmer, less stressed, more resilient and more optimistic. Students feel a sense of belonging and empowerment when they are actively engaged in learning about and protecting the environment. This will have ripple effects into their adult life. As Richard Louv said: "All children need nature. Not just the ones whose parents appreciate nature. Not only those children of a certain economic class or culture or set of abilities. Every child."
Tanya Murray is a member of the York Region Teacher Local.
---
Citizen Science and Equitable Access
Encourage students to get excited about their learning and to make a positive contribution to the school and community around them. Empower other teachers to do the same! Action projects like citizen science engage students in authentic problems and allow them to see the difference they can make.
Value outdoor learning. Can we name the benefits? Can our stakeholders? Do we make the learning outside visible and show the impact it has on students, educators, the community?
Improve equity of access to nearby nature spaces by removing barriers, meeting people where they are and focusing on best practices.
Shift the risk-averse mindset to an outdoor mindset as a province, a system, a community, a school, a class, an individual student/educator. This includes addressing barriers like weather, time, proper equipment concerns, and providing well researched data to support resilience and curricular connections (e.g. Clothing Library).
Access professional learning/training to build educator confidence and embrace not being the 'expert' but rather a facilitator of positive, meaningful experiences in the outdoors.
Support mentorship models that promote best practices and provide training to build confidence.
See your school as a nature connection 'hub.'
Recommended Resources