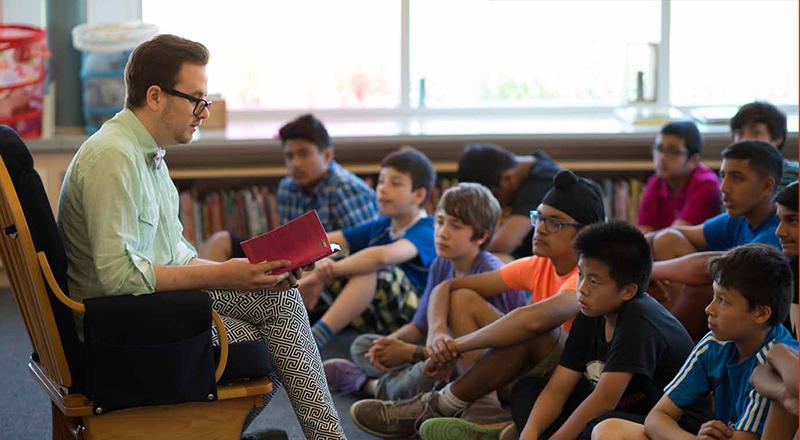 FEATURE
Creating Spaces: LGBTQ Conversations in Middle School
Interview with Author Greg Kentris
There is silence in the library, except for the rise and fall of the author's voice as he reads aloud from the final few chapters of his book. More than 75 Grade 7 students are crammed together in a space carved out between the shelves, but the rich, expressive text weaves a spell that has captured their attention, and they hang on every word. If I refuse to live on the outside how I feel on the inside, how can anyone ever get to know the "real" me? A ripple of movement, and heads nod in agreement. The question clearly means something to these students, and one of them murmurs, "Right!"
**********
What do you do when you can't find a resource to start important conversations in your classroom? You create one, of course. Peel teacher Greg Maxton (who writes under his married name, Kentris) had become increasingly frustrated with the persistent, intentional and casual homophobia that he saw in his middle school teaching environment. Despite a strong social justice and equity focus in his classes, he struggled to find ways to address homophobia and to find resources and texts that would help students who were queer or questioning to feel included in the classroom curriculum. Instead of making do with what he could find, Greg decided to take a giant leap – write his own novel, aimed at middle schoolers, that gives voice to the struggles and triumphs of being a young teen navigating the continuum of gender and sexual identity. Defying Gay Gravity is the culmination of two years of writing, revision, focus groups and an Indie-gogo-funded first run of publication that now sees over 600 copies of Greg's novel in the hands of students, teachers and families across Canada. Voice caught up with Greg, as he read aloud from his book to students who had been using it as a novel study in their Grade 7 classrooms.
Voice: What inspired you to write a novel?
GK: Sometimes using someone else's words is easier. In a profession where we see more and more educators being questioned for addressing hot topics embedded in social justice, using your own words in the classroom can be risky. Teachers needed a resource that would approach LGBTQ conversations directly, and a novel that speaks to students in their language is an ideal place to start. You can analyze a text using any literary work you want, but choosing a novel with an overtly gay story, written by a Canadian, that brings the queer and questioning process into the classroom seemed an important task. Students are more likely to learn about these issues from media and their peers than from conversations at home, and for students that need them most, they can be the hardest conversations to start. At the end of the day, teachers facing resistance from colleagues, administrators or parents can just say they were analyzing a text with their students, giving them the safety to combine good teaching with important and difficult topics without making it personal.
Voice: How did you come up with Gordi's story?
GK: I thought back to a time when I first realized that I had feelings toward members of the same sex. I had always regretted not coming out in middle school. It wasn't a safe place to be for those of us who were questioning our identity and the feelings that came along with it. Having now spent time as a teacher in an elementary school environment, still struggling to figure out where I fit as an "out" adult, I couldn't help but think that not much has changed in regard to homophobic slurs, self-acceptance, positive self-image, et cetera. Drawing on events from my youth, I reimagined many of them in a way that would help me to fulfill my own regret. It's easy to do when you're on the other side of the lens. In the process, I had come up with a novel that explores the very issues that had dissuaded me from coming out all those years ago and validates my very own self-acceptance and authentic voice, in my own life.
Voice: Tell us a bit about the process of creating it all.
GK: I never intended to sit down and write a book. But once I had the story down on paper, the first draft struck me as a tool that I was confident could benefit many. So I did what I knew best – I engaged my friends and colleagues and arranged a series of focus groups. Within these meetings, we read the manuscript chapter by chapter and broke down parts that didn't work or needed tweaking, added details highlighting critical issues, and chose language and references that would both challenge and engage students. It was an emotional journey, but once the book came to a place where it seemed ready to meet its audience, we launched a campaign through Indiegogo to fund it. From editing, layout, graphic design and printing, to legal fees, website development, videography and campaign management, there were so many players invested in this project.
The point was to access a wider audience, spread the message, create some social media buzz and make people aware that this resource was coming. Truly, I wanted people to fund the book and get behind an issue that needs to be talked about more with our youth, so that my regret isn't one they have to share. Crowdfunding was ideal because it made sure people would get their hands on it, as Indiegogo's model is to offer incentives for funders, widening our spread. Having copies donated to schools across Canada, in every province and territory, was one feat we reached from the generous donations of our backers. We also did a street campaign during Pride last year, where we handed out bookmarks with the website on it, and that really brought people in, especially outside the traditional educational community which was our primary target.
There's been so much media attention lately about youth suicide and bullying, especially in the LGBTQ community, so it's not a hard connection to make that young people need to see themselves represented, and that schools need resources to begin having these tough conversations. Inclusivity isn't a word, it's an action – one that we take with every word we utter and behaviour we engage in. Adults in schools all have their own experiences and comfort levels, and we felt strongly that we needed to give people the language and tools to help discuss the book with students.
The development of an online educator's guide was a long process. We spent more than a year rereading the book and creating questions that we hope will help teachers and students dig deeper. The conversations that we engaged in, within these sessions, unknowingly helped us to move our own learning forward as educators and facilitators. We spent hours examining how best to pose thoughtful questions without intentionally leading students to a singular conclusion. That's not how authentic learning happens. We stayed away from "What did the character feel when?" kinds of questions, and built in ones that really allow students the space to question, stretch and challenge how they think about things. After all, the real learning and growing is in the conversations that happen outside of the book, either in students' internal reflections, or in the critical, honest conversations that happen between students and teachers inside the classroom.
Voice: Why is Gordi's story an important one for middle school classrooms?
GK: Whether you're gay or not, coming to terms with who you are is a reality that many of us face. Gordi lives in a world that is created by people who don't view the world and relationships in the same way he does, and who continue to guide him down a path that doesn't fit with who he is or who he is becoming. The reality is that he is being taught that it's unacceptable to be anything other than what is expected. This forced conformity is something that, gay or not, we need to address with students so that they have the ability to choose for themselves who they want to be in an ever-evolving world. Being able to freely explore the various facets that make any one person who they are is a fundamental right. This book helps to address that.
Voice: How do you see Defying Gay Gravity being used?
GK: Whether it's to help teachers dialogue with students around acceptance and inclusivity, play host to conversations around identity and self-acceptance, or merely encourage the unstoppable ally that's needed to help some of their peers through a challenging time, this book has many uses. Outside of the classroom, it can be used for any kids trying to find a place for themselves in the world, to know that they do exist, that their struggles are real and shared, and that not having all the answers is part of the human condition.
The first copies of Defying Gay Gravity hit independent bookstore shelves in the fall of 2013, and the novel is quickly gaining momentum with readers across the educational spectrum. The Upper Grand Teacher Local has ordered copies to send to all of their schools as part of an anti-bullying kit they created; EGALE Canada has added it to their recommended reading list; and it has been submitted for consideration to the Forest of Reading program. Feedback from students and teachers has been overwhelmingly positive, and Greg and his team have created an online educator's guide, to allow teachers to share feedback and ideas about how they are using the book in their classrooms. Greg has been partnering with Jer's Vision (creators of the Day of Pink) to promote the novel and has been featured at a variety of speaking engagements over the past year.
**********
The gift of acceptance is the one I'd wanted for myself today – Gordi's words, but Greg's spirit. When he finally reads the last page, Greg closes the book and lays it in his lap. The students exhale, almost as a group, and then begin to clap and cheer. A flurry of questions and comments follow: "Most books don't interest me, but this one was so interesting!" "Make a sequel!" "Is it really Gordi's story, or is it your story?" Having read the rest of the book with their classroom teachers, this is the first opportunity students have had to ask questions of the author. They're engaged. They're intrigued. Their questions have depth, and they use the language and expressions of diversity with ease. "Did you get bullied because you were gay?" "Is that what really happened when you came out to your parents?" There's no giggling, and no hesitation in their questions. They understand what they're asking, and Greg balances each question with equal parts openness and inquiry. "You have to be patient with the people in your life," he explains, "especially when they haven't learned what they need to learn yet to understand you."
Greg says that creating Defying Gay Gravity has been an important catalyst for his work as a teacher. "I'm able to be myself with kids now: no big story, no big reveal. I'm so very committed to having students and children get who they are! And in the process, I'm going to give them as many tools as possible that will help them to break down the barriers they will no doubt face in their lifetime, in their ultimate pursuit of happiness. Gordi's story is one way to help them get there."
Greg looks around at the students as their time wraps up: "When something happens in your life, you have to decide if you are going to take brave action, or if you're going to throw in the towel and walk away. I hope you'll do the first."
To learn more about the novel and the online educator's guide, like Defying Gay Gravity on Facebook, or go to agooddaypress.com.
*All italicized quotes are from Defying Gay Gravity.
Emily Hastings-Speck and Greg Maxton are members of the Peel Teacher Local.