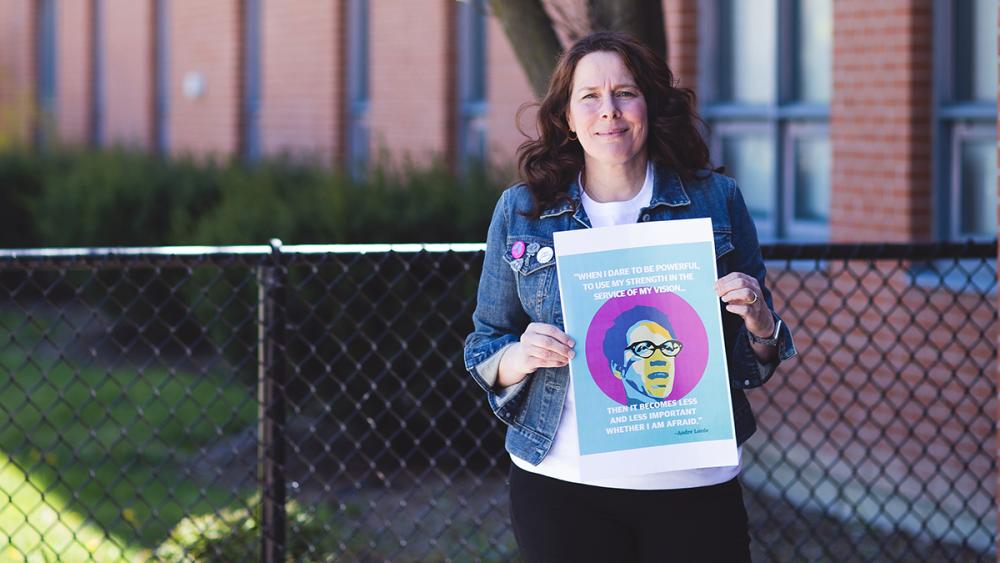 FEATURE
There are those moments in your life where you can actually feel the energy of change about to happen. For me it has always been when I am about to take a leap into what I fear. I remember when I walked into the Student Learning Centre at Ryerson University and saw the poster that accompanied the Audre Lorde quote above. I knew then that big change was going to happen for me. This same feeling of change materialized when I walked into my first Peel Elementary Teacher Local mentorship meeting. I knew the experience was going to be transformative. I had been teaching for 11 years, and while I loved working with the students and my colleagues, I longed for the spark I had at the beginning of my career. I missed the excitement and challenges. I needed to explore what made me passionate and motivated.
I decided I would have a YES year, saying yes to new opportunities and experiences at my school and in my professional learning. I wanted to explore a personal leadership path and began attending leadership workshops offered by my board. Unfortunately, they were never quite what I was looking for. I couldn't connect to the vision.
Later that year, I attended "The Leadership Toolkit" workshop offered in my local. As I sat nervously looking around at all the women in the room, many of whom were actively involved in our union, I was inspired. In our time together, we learned about committees we could be involved in and other opportunities for leadership. It became apparent that the values, norms and goals within the union were more in line with what I needed to feel challenged and fulfilled as a teacher and a union member. As part of our learning we talked about common conflict within school structures and how we can best support our students and each other. This mindset really spoke to the advocacy and community I felt was missing within my own work. It assured me that I had connected with a like-minded community and gave me hope there were avenues within the education system that would support my values, particularly my commitment to equity.
I started to see myself as an activist, as someone who could make change and support justice within my school community and beyond. I started to think of myself in a different kind of leadership role.
In the spring of 2019, I began a two-year mentorship program in my local for members who identify as women. The program encouraged us to carve out a leadership path that aligns with our individual passions and goals, and exposed us to the many journeys and struggles that women have faced within the teaching profession and unionism. The focus of the work in this program is leadership development within our union, equity, activism and social justice.
At the beginning of our mentorship program, we spoke of ourselves, our experiences and the reasons we were there. We learned about what leadership looks like depending on a person's skills and goals and spoke about those who lead quietly. We were able to break out with our mentor and speak about their journeys and how they could best support us as we carved out our own.
We talked about active listening and working through defensiveness when having difficult conversations as well as goal-setting and building trusting relationships.
It was when we started to dive into the story of ETFO that I started to question the systemic barriers to women in leadership and what many women may experience as internal barriers. I started to do a little research about women in our union.
I learned that more than 80 percent of ETFO members are women; however, this same percentage is not represented in key areas of our union. For example, women are less likely to get to the microphone and speak to motions at the ETFO annual meeting and are significantly underrepresented in local leadership roles, such as president and chief negotiator. Although our numbers are increasing, women are still underrepresented.
I learned that women's programs create safe spaces where women can take risks, find their voices and get plugged in to other opportunities within ETFO. As our mentorship journeys developed, and our individual goals and paths started to become more clear, we began to share our experiences and support one another in building toward and achieving our goals.
The Berger-Marks Foundation's Institute for Women's Policy Research has profiled mentorship programs within unions and identified that informal mentoring can be helpful, but tends to reinforce existing inequitable power dynamics of gender and race. As it states in the report, "Mentoring can especially help women, who constitute almost half the workforce but are underrepresented in the leadership ranks of unions. Mentoring can help by providing women with the support they need to move up through the ranks and reach the top positions. Having more women visible in leadership positions can increase women's activism in unions. Informal opportunities often leave women and racialized members with less access to mentorship and associated support for leadership/skills development." The research shows that formal mentorship breaks down barriers and can help unions strengthen and transform over time by allowing more experienced union members to share their experience and knowledge and develop relationships with newer members who can then lean on their mentor for support. Knowing women are underrepresented in many ETFO programs and leadership roles, intentional mentorship programs for women, such as ours, play an important formal role.
Women in our group came to this program with different goals in mind. I wanted to find ways I could support students and families with an ecological approach but within the boundaries and barriers of the school system. I thought to do so meant only through leadership as a principal or vice principal. I needed to figure out a direction of leadership that I valued for myself.
I spoke with some of our group of mentees when I was writing this article and asked if I could share their different goals and experiences.
Gurpreet's journey was focused on helping mobilize other women within our union, particularly new teachers. She felt new teachers might not recognize all the opportunities in the union and their schools. She explained that unless someone taps you on the shoulder, you might not get opportunities or feel you have value within the system. Gurpreet started her journey as a member of the New Teacher Committee within her local, and because of her mentor and the support of the others in the mentorship program, she began to develop "confidence in her competence" and decided to run as the chair of the New Teacher Committee. As a result of the support of this program, she is more aware and open about her personal and professional journey. She was able to find a place within the mentorship group where she could be vulnerable and open.
Nichole did not know what path she wanted to take. She was intrigued by the leadership opportunities within ETFO and inspired by others' narratives and the strength of the collective group. Our work together gave her the guidance and encouragement to write and present a proposal to the local executive that led to the development of a French as a Second Language Network within the Peel Elementary Teachers' Local.
Tracy applied for the program in the hopes of being inspired to find ways to be of service to the union after 11 years of membership. Listening to first-hand experiences of women within ETFO, she has deepened her perspective about women in union leadership, including those in released positions. Tracy has taken an active role in our strike action as an alternate steward for her school. She feels she has a deeper understanding of the importance of women's programs within the union and a fuller picture of the history of ETFO, particularly why dedicated funding is so needed to support more women leaders. Tracy feels that she will continue to be a positive advocate for union issues within her school.
Danielle, like Tracy, was looking to find ways to get more involved, however with a different goal in mind. As a Black woman who embeds social justice and equity in her teaching practice, she found it disturbing that this wasn't a common practice for all educators. She hoped the mentorship program would give her the tools to change the experiences of many Black students who are discriminated against in implicit and explicit ways in our school system. She wanted to find solutions, change policy and develop workshops to support teachers' understandings of how systemic anti-Black racism impacts Black students. Her goal was to work with educators to recognize the experiences of Black students and change them for the better. Danielle is now an active member of PETL's Anti-Racism and Equity Committee and continues to do important work supported by allies, mentors and a community of women members.
Like Audre Lorde, I dare to be powerful. Developing my power and leadership to make change in my school and my community with this group of mentees has been a transformative experience for me. Our group wanted not only to grow ourselves, but also to make a positive difference for our students. Through this program, we've been able to do just that. And more than that, we are confident that this supportive mentorship journey does not end when the program is over. It is just beginning a new understanding of who we are and the power we have as a collective of women involved in the union. Most of all, we have discovered that we are not only sisters in the struggle, but also sisters in strength.
Toni Minichiello is a member of the Peel Elementary Teacher Local.