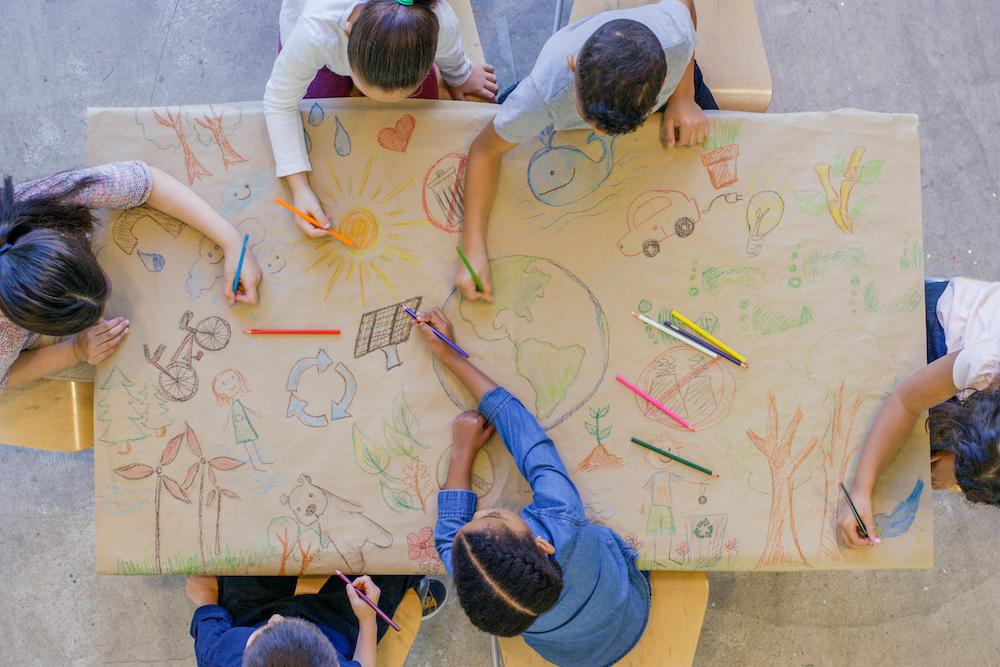 FEATURE
Engagement and Environmental Education
We have all been educated on the perils that lie before us, how our future is intrinsically tied to the environment and the health of the earth. Without trying to age myself too much, I remember being in Grade four and learning that we had no more than 30 years of oil and gas reserves left. This scared me. As a nine-year-old, I was very worried about what my future might look like. How would this all play out? Thirty years have passed and our oil and gas reserves remain – though they are harder to access. When I was a student, nobody talked about the devastating impacts of the extraction and use of these resources on our environment. Now, as an educator, I am no longer worried for myself, but for the future that is unfolding for my own children and my students. Like lambs following the herd, we are unaware when we will fall off the cliff, because all we see are the lambs ahead of us, who continue to follow the path. We are playing on the brink of environmental disaster that has indeed already begun, not believing that it will happen while we are still here.
At the end of the day, what matters is how we can encourage our students to become more involved and motivated to advocate for their future. What can we do in our classrooms to facilitate an engagement and commitment to the environment? As educators, how do we keep our students motivated and engaged so they are actively and meaningfully invested in their future?
ENVIRONMENTAL EDUCATION
Environmental education must include the understanding that everyone should have access to a healthy environment. While the term Environmental Racism (Environmental Justice) has been around since the 1970s and 80s, it is an important topic that needs to be understood and addressed in today's classroom. Globally, including in Canada, people living in racialized and low-income communities are much more likely to come in contact with hazardous materials. The global environmental movement implores us to acknowledge that environmental racism is happening every day and that we are all at risk when we turn the other way. Intermediate and junior students can learn about this through WebQuests and researching a variety of past and present case studies both around the world and in their own backyards. Some examples include:
Africville in Nova Scotia – Africville is a historic predominately Black community in Halifax. Before being condemned and demolished in the late 1960s, this community was in desperate need of basic services such as water, roads and sewage which the city failed to provide. The City of Halifax built a toxic waste dump and a hospital for diseased and infectious World War II soldiers near the community and community members are protesting these injustices to this day.
Residents of Aamjiwnaang First Nation and Chemical Valley – This reserve is surrounded by petroleum plants and refineries. About half of Chemical Valley's industrial facilities are situated within approximately 5 km of the reserve. This has significant and profound effects on the health and living conditions of the people in this community.
The fight for access to clean water among many Indigenous communities in Canada – Let the facts speak for themselves. According to The Council of Canadians Acting for Social Justice, there were 174 drinking water advisories in over 100 Indigenous communities in the month of May alone. Seventy-three percent of the water systems of Indigenous communities are at high or medium risk of contamination. This is a chronic problem in many Indigenous communities and yet a solution seems an abstract concept.
Access to clean water among residents of Flint, Michigan – After switching over to the Flint River as a water source, complaints and concerns were ignored by various officials for over a year. Residents were exposed to and sickened by dangerous levels of lead and fecal coliform bacteria among other things.
Residents of North Richmond, California – This community is surrounded by refineries and chemical companies. The contamination has proven to adversely and seriously affect the health of these residents.
These are just a few examples. Ask your students to do their own research but don't let them get discouraged! Highlight the work of environmental champions, especially youth, who are advocating on environmental issues. Along with Autumn Peltier and Greta Thunberg, are many other young environmentalists who are trailblazing their way toward activism and awareness. Have your students research these dynamic individuals and what they are fighting for. Have them make the important connections to themselves and their futures. Environmental Youth Alliance (eya.ca) is a great resource that provides opportunities designed to engage and empower young people to participate in environmentally minded activities.
The ecoschools.ca website offers a myriad of K-12 curriculum-based lesson plans and activities that can be adapted to any grade. You can also share your own environment-based lessons and activities on this website. ETFO's Environmental Standing Committee has been committed to creating an environmental site on etfo.ca for sharing ideas for the classroom at your fingertips. The Ontario Teacher's Federation otffeo.on.ca has compiled a comprehensive list of environmental education links (both English and French) that can be of great use to your students. Another go-to is the Our Canada Project (ourcanadaproject.ca). It contains actual hands-on classroom and school-wide projects that have students working toward change. You can also apply for funding to this organization to help support these initiatives.
There are various grants available throughout the school year to support environmental projects that will engage and motivate students. Yes, this can be a bit time-consuming, but the payoff is more than worth it in the long run. You can visit the websites of Learning for a Sustainable Future/EcoLeague Youth Forums, World Wildlife Federation, Ontario Grant Watch, Ophea Healthy Schools, Healthy Communities, Evergreen School Ground Planning and Design Grant, TD Friends of the Environment Foundation and Tree Canada Community Tree Grants to begin. These can lead to bigger projects that can be infused with meaningful cross-curricular lessons and activities. These sites give you examples of past projects to help inspire you, if you are at a loss for an idea.
In all grade levels, continue to get outside. Make use of the outdoor classroom. There are so many resources and lesson ideas for all age groups that include curriculum-rich and cross-curricular activities. For example, younger students like to collect natural treasures they find outside to make beautiful pieces of art. Making pinecone birdfeeders to place in the school yard is always a big hit. You can even incorporate a quick adjective lesson by describing the sounds and textures of the outdoors. There are many resources online like outdoorclassroomday.com to help inspire your outdoor teaching. Take a look at amightygirl.com for a list of various environmental stories to read out loud according to age group and The Canadian Children's Book Centre has a useful list of environmental education books that can be used in the classroom. Books like In My Backyard by Margriet Ruurs and Justine McKeen, Queen of Green by Sigmund Brouwer, Lessons from Mother Earth by Elaine McLeod and The Big Green Book of the Big Blue Sea by Helaine Becker are great resources.
As educators we continue to strive to find ways to authentically engage our students to maximize their learning. As we encounter the environmental devastation that is so clearly impacting the health and well-being of people around the world, it is essential for us to empower our students to be critical thinkers, active citizens and organizers for the environment. This knowledge and these skills will help them shape a better future.
Kimberly Maich is a member of the Greater Essex Teacher Local.