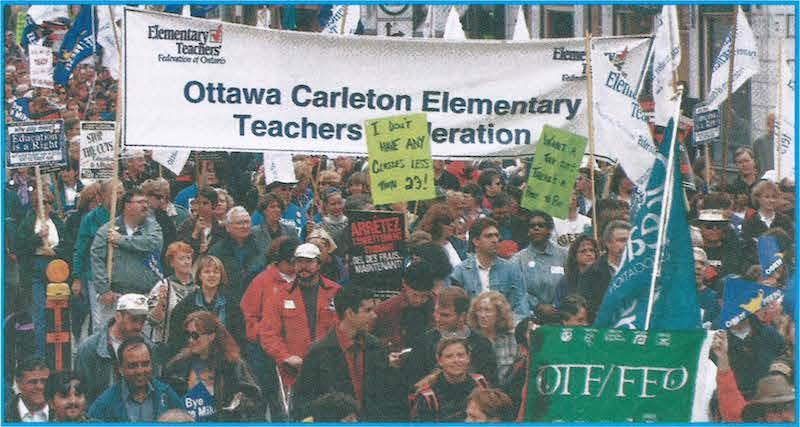 FEATURE
ETFO: Protecting Collective Bargaining, Protecting Public Education
This fall has been the most tumultuous time for members and provincial staff involved in collective bargaining with school boards. The impact of the new funding model together with the amalgamation of school boards have caused havoc in many school boards as your collective bargaining team has attempted to negotiate your new collective agreement for 1998 - 2000. For the first time in many years, many collective bargaining teams continued negotiations throughout the summer break. Even with all the summer activity, very few collective agreements have been reached.
Twenty-three of the new bargaining units for teachers and occasional teachers involve the amalgamation of from two to six former school boards. For some reason, ETFO has been experiencing far greater difficulties in the school boards that did not amalgamate with another board. Your Local collective bargaining committees have been negotiating with school boards who are seeking to reduce preparation time, cap or reduce benefit contributions, eliminate staffing provisions, grandparent and cap retirement gratuity, eliminate salary increases, restrict leaves of absence and to attempt to control everything through management rights.
As of October 25, collective agreements have been achieved in ten of the 31 teacher bargaining units: Durham, Halton, Lakehead, Lambton Kent, Limestone, Niagara, Renfrew, Simcoe, Toronto and Waterloo. Provincial takeover has been in operation in Bluewater, Halton, Lakehead, Near North, Niagara, Peel, Simcoe, Thames Valley, Upper Canada, Waterloo and York Region. Provincial takeover occurs when a school board requests a "no board" report from the Ministry of Labour. Provincial takeover means that a provincial collective bargaining staff officer becomes the chief negotiator and additional extra-ordinary assistance is provided by the provincial office of ETFO. Bargaining difficulties continue in Bluewater, Near North, Thames Valley, Upper Canada and York Region.
One occasional teacher collective agreement has been negotiated in Hastings and Prince Edward and one school authority teacher collective agreement has been negotiated. There are about 70 collective agreements for ETFO members still to be negotiated, most of which will have an effective date of September 1,1998.
Every member counts
The battle is far from over. Members of ETFO must remain vigilant to ensure their rights through the collective bargaining process are protected. Without a strong commitment from you and your colleagues, your Local collective bargaining committee will not be able to achieve the collective agreement you deserve as an elementary teacher or educational worker and a member of ETFO.
Duncan Jewell is ETFO's Coordinator of Collective Bargaining Services.