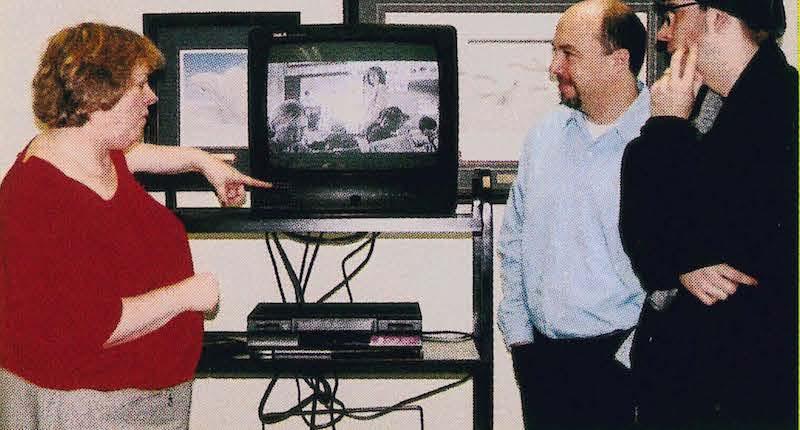 FEATURE
From April 1 to Mav 12, 2002, ETFO's commercial "It is not too Lite to invest in public education" aired on television stations across the province. If you didn't catch it, it's still placing at www.etfo.ca.
When we started thinking about this commercial, we knew we wanted to use real teachers in the roles. All the teachers, and the parent, who were in the spot were l lio members. Also, we were fortunate that many parents helped us bv bringing their children to the Film shoot. In contrast to the government advertisements, we were determined to show realistic, large classes of students.
Planning for this commercial began last year when money was budgeted from the political action fund. The next step was to have our advertising agency; NOW Communications, draft a number of scripts. These were reviewed bv l n o's President, First Vice-President, Vice-Presidents, General Secretary and Depute General Secretary, with assistance from ln o 's Strategic Services staff. Out of eight scripts, four were chosen for further development and focus testing.
The scripts chosen for further work met three criteria:
The message was aimed at our primary target —parents.
The message was hard-hitting, vet positive, and addressed cuts to classrooms.
The message was delivered bv classroom teachers.
Bv mid January, storyboards had been developed and approved for focus testing. Catherine Fournier and Associates was hired to organize focus groups of I n o members and parents in both Toronto and London.These groups gave us important feedback, ensured the message was on target and narrowed our selection clown to two scripts. On March 1, both scripts were presented to I n o 's provincial executive for consideration and final decision.
Bv early March, the creative groundwork was complete. Working together, staff from l n o and from NOW Communications put out a call for proposals to commercial production houses in Toronto. Ultimately, a small company, Postman, was selected.Hie company's director Gord Mclarlane, impressed everyone with his verve, creative ideas and cost-effective approach.
With Gord on board, ! n o members in the Greater Toronto Area were incited to screen-test for the commercial. In the end, the following were selected:
Jennifer Brown, Toronto
Darren DeGenova, Toronto
Kimberlee Johnston, Peel
W'avne Lee, Toronto
Connie Marsh, Toronto
Two more components remained. We needed to fill our classroom scenes with children. We needed a school in which to film the commercial.
1 n o 's Peel Local c ame to the rescue. Peel had recently filmed its own television commercials and had a list ol possible child extras. Only about 15 more were needed to complete our target complement of 55. Staff from ETFO's provincial office were invited to lend us their children for the dav; we also approached our friends and neighbours. Safe to sav, we were somewhat relieved when all the children showed up and performed so well on camera.
ETFO Peel also helped bv finding a school willing to open its doors to a film crew on the first Saturday of the* March break. Not only that, the' school's ln o steward, Aclele Hollingsworth, volunteered to be our "child wrangler" for the dav. Adele's help was to prove invaluable as a set-dresser and all-round production assistant as well. We also enjoyed the exceptional services of Rob Panjov, the school's caretaker.
Saturday, March 9 dawned bright and sunny just the kind of day we needed for our proposed outside shot. By 9:00 a.m., our entire crew was on site in Mississauga. Shooting began on the commercial's five major scenes (four classroom scenes and an outside shot of the parent). Because we wanted to release most of our large cast as quickly as possible, we shot the classroom scenes first. This took us into the middle of the afternoon, by which time the sky had darkened. Our outside shot of the parent with the van was shot in the rain. Perhaps this was the appropriate mood after all. We finished up with an inside shot of two children walking down an empty school hallway. The two little girls are, in fact, sisters in real life as well.
Once the film was in the can, Gord and his production crew disappeared into their small office in an industrial section of Toronto. Two days later, they emerged with an almost finished product. The major discussion at this point was whether to go with black and white or colour and how to feature the ETFO logo. Both issues were resolved to everyone's satisfaction.
Finally, we had two commercials ready to air—one 30-second version and one 10-second "closed caption" sponsorship version. Both left the audience with the line "There's still time to invest in public education." Unfortunately, this message is never outdated and we may be able to air the commercial again in the future.
From start to finish, this was an interesting and creative process that involved dozens of our members as well as parents and children. The director, who initially had some fears about working with "amateur" talent, couldn't find enough good things to say about our members' appearances on camera. It also worked extremely well to have teachers on set who were really able to control a class of 35 children and have them appear to work on-task. No wonder class sizes are small on other commercials; actors would be unable to focus on their own roles. Teachers are used to multi-tasking, and it showed! During the week of May 6—10, an edited version of the TV sound track ran as a 30-second radio commercial across Ontario, final insurance that our message reached as many Ontarians as possible.
ETFO's television commercial is just one example of the many ways in which the federation continues to try to influence the future of public education in Ontario. It is only by engaging parents in the debate that we have any possibility of success. We also continue to press the government to restore funds to education through direct lobbying, presentations and other appeals to reason!
While the commercial was timed to be on the air as we headed into Education Week and the government was preparing to announce this year's grants to school boards, we were broadcasting as the new minister of education, Elizabeth Witmer, was sworn in. We hope that both she and the new Premier heard our message and will act to repair the damage of the Mike Harris years. Stay tuned!
Mary Morison and Charlotte Morgan are staff in ETFO's Strategic Services Service Area.