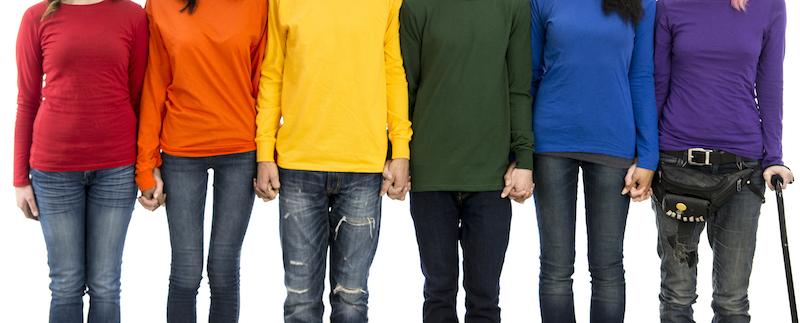 FEATURE
ETFO's Transgender Policy
At the 2015 Annual Meeting, delegates approved a Transgender Policy for ETFO. Last fall, Equity and Women's Services (EWS) staff began working on implementing the policy by examining the organization and its operating procedures/practices. In June 2016, staff submitted a report to the Executive. Many of the proposals outlined in the report are listed here.
Up to this point, ETFO has used two terms, female and male, as possible responses to the gender question on the member survey, the Event Management System (EMS) registration for some ETFO events and conferences, member records data collection and other surveys. Staff researched and consulted with other organizations about the terminology they use to identify gender, recognizing that non-binary individuals use numerous terms to describe their gender. Language and terminology will continue to change and evolve over time as it does in relation to other equity and social justice issues.
The Executive approved and the organization adopted the option of selecting a binary gender or answering the question: What term describes your gender? This keeps the number of choices to a minimum, but allows members to use the term that best describes their gender. It also allows ETFO to collect information and analyze responses to see the frequency of use. At a future point, ETFO may wish to revisit the choices used for gender.
Even before the transgender policy was passed, ETFO had taken action. ETFO provides resources and support to members in a number of ways. Suggested Resources For Gender Independent Children and TransYouth/Adults, is a document created by EWS staff and updated in the summer of 2016. It provides information and support to members when they are looking for resources, websites, strategies and services for their students. We have found this document to be very helpful and include it in conference packages for members. It is posted on the ETFO website under the Advocacy and Action tab, Social Justice and Equity.
Three Voice articles on gender independent children/trans youth are posted on the same webpage. Staff provide resources, classroom materials and suggestions for community contacts to members in response to phone calls and emails from members all across the province looking for information and support.
ETFO has recognized, highlighted and shared resources on the Transgender Day of Remembrance, which occurs each year on November 20, through our eNewsletter and social media channels.
A review of equity and social justice policy statements in the ETFO Reference Book was completed to ensure that they align with the new policy. A notation will be placed in the ETFO Reference Book and the Welcome to ETFO document this year stating that ETFO provides a gender-neutral washroom at events, meetings and conferences held at the ETFO Provincial Office. For ETFO provincial events held at other sites, members should inform our conference liaison staff ahead of time so that arrangements can be made with the hotel. ETFO recognizes it is a member's choice to use the washroom that best corresponds to their gender identity.
Professional Relations Services (PRS) staff are developing guidelines they can use to support members who are transitioning with a goal of eventually preparing a resource local leaders can use. It will be included in future PRS programs and training.
Pride Toronto 2016 marked the first time ETFO officially participated in the Trans March. The ETFO contingent joined other groups for the march on Church Street on Friday, July 1. We marched with ETFO flags and the Transgender flag.
All ETFO staff will attend a professional development session in the fall of 2016 conducted by outside facilitators. Some components of the professional development session will be:
Terms/language used to describe gender identity and gender expression – differences between gender and sexual orientation.
Transphobic language and behaviour, discrimination and harassment.
Experiences of transgender people – develop an understanding of their experiences.
Making our organization inclusive and safe for transgender people.
A small team of ETFO members will be working with staff in the summer and early fall to develop a workshop on gender and transgender issues for members. This workshop will be available as part of the EWS workshop series in late fall/winter of 2016/2017. The workshop will include terminology/definitions, ways to create a safe and inclusive environment for gender inclusive children/transgender individuals, inclusive language, the ETFO Transgender Policy and resources and strategies for the classroom.
The ETFO Human Resources Officer is developing a policy for staff who may be transitioning. This policy will be ready for implementation in early fall. ETFO is committed to ensuring that all members feel welcome in their union and their workplace.
Adam Peer is an executive staff member at ETFO.