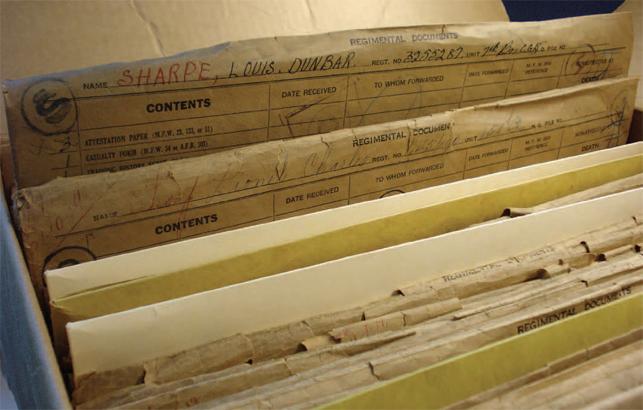 FEATURE
Giving History a Face: A Grade 8 Class Visits Canada's Archives
Last winter, on the recommendation of a parent, I took my rather large and demanding class to the Library and Archives Canada (LAC) to take part in its Lest We Forget project. It was my first year teaching grade 8 and I was struggling a bit to choose a field trip venue that would link to the history curriculum and be interesting for my students. It was near the end of term and I was determined to have a wrap-up that would leave my students thinking.
I had some reservations about the venue, as did most of my students, who wanted to go to the movies. We were all proven wrong: the experience exceeded all our expectations.
Lest We Forget is a project that provides students with access to original military documents of individuals who served in the First and Second World Wars. Students research the life and compile a biography of one person. (See sidebar for more details.)
Some classes begin their Lest We Forget project by finding names of veterans in their community. I began by contacting Debbie Jiang, a former teacher who co-ordinates the project. I provided her with information about the learning needs/exceptionalities and genders of my students. This helped her select names of the First World War soldiers and nurses my students would research.
Once we arrived at the LAC we were ushered into a conference room and treated like historians. Debbie Jiang gave a brief multimedia presentation to refresh students' understanding and to provide a context in which to view the original service files they would be receiving.
The students were amazed when they received the original documents. These included attestation papers, medal cards, memorial cross cards, and records of service. Students didn't have to wear gloves (on smaller hands gloves can do more damage), but they did receive some guidelines for handling the files. Despite my initial apprehension about my students handling primary source documents, they did so with incredible care and focus.
So often students are handed secondary source documents and instructed to understand historical personalities and events. Receiving primary source documents made the experience real for them and fostered a genuine willingness to figure things out for themselves – the ultimate goal that we have for all our students.
The process of piecing together lives from folders full of handwritten military forms and medical certificates was a powerful experience on many levels. Students were keen and focused on getting all the information that they could extract from the files. LAC staff made available secondary source documents for further investigation. These included various books, both fiction and non-fiction, and a video clip.
LAC staff also showed them how to access key websites for military research: Veterans Affairs Canada's digitized Canadian Virtual War Memorial and Books of Remembrance; Canadian Letters and Images; the Commonwealth War Graves Commission; and the Memorial Chamber turning-of-the-pages ceremony in the Books of Remembrance in the Peace Tower.
During the workshop, Debbie, her colleagues Brenda Campbell, Richard Lelièvre, and Dale Simmons, and volunteer Gregg McCooeye, continuously circulated through the room, offering support and encouragement and engaging the students in discussion. Students recorded their research using a graphic organizer. The more they researched, the more connections they made, and the more connected they felt to the soldier or nurse they were researching.
From a practical perspective, this trip provided a variety of opportunities for authentic assessment. The staff were so engaged with the students that I was able to observe them as they organized information, asked questions, solved problems, and made connections.
We were the only grade 8 group that year, which I think is a shame. Normally this program is geared to students in higher grades. However, LAC staff modified the program to accommodate not only the grade level of my class, but the special needs of many of my students. Students I thought would be struggling were actually excelling. Any time your struggling students feel good about learning and taking chances, you know it's worth it.
The experience highlighted the links between curriculum and real-life applications and also generated a genuine interest in Canada's historical experience.
As well, my students had the privilege of encountering a group of professionals who are passionate about what they do and who showed my students just how connected they are to the past.
The trip accomplished the one thing that I was determined to make my students understand all year: that history has a face. It's all about the people and not just about memorizing dates and studying events. I believe that the experience will not be filed away, but will stay with them.