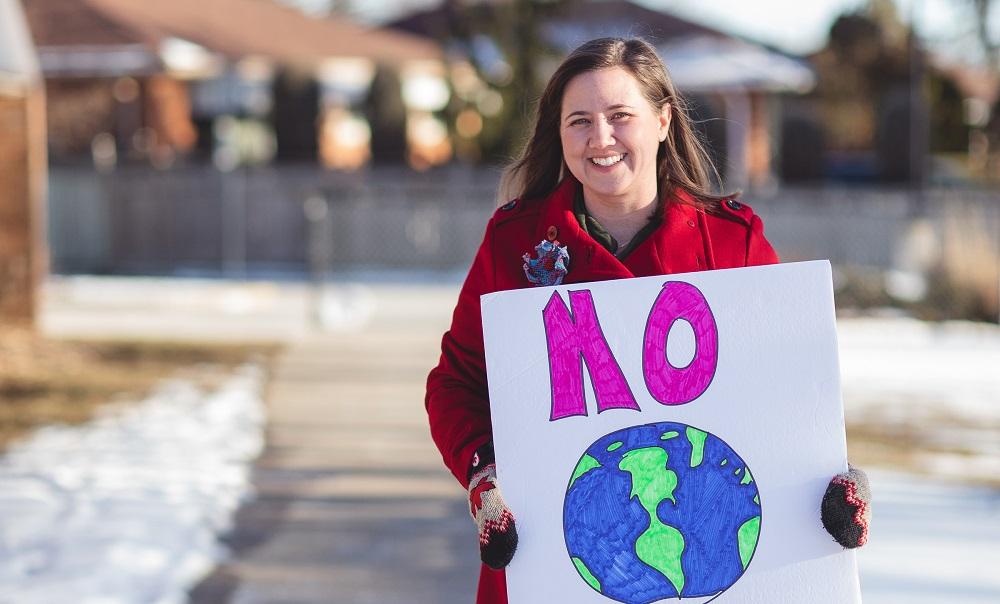 FEATURE
Going Beyond the Green Team
Schools are inspirational when it comes to recycling programs. We run Green Teams that compost and recycle better than many homes and workplaces. Student teams are zealous in their collection of recycling and educators put in hours helping schools reach the highest level of Eco Schools. We teach our students good waste stewardship and they, in turn, take these lessons home. The question many of us are asking now is how do we take our students beyond the act of good recycling and inspire them to be leaders in the fight against climate change? At my school, a group of students, who called themselves The Future did just that. The Future was different. The focus of this club wasn't to collect recycling, but to inspire others to fight for what they believe in, to use their skills and voice to fight for their future.
Two years ago, our custodian introduced our school to the Terracycle program. Terracycle helps communities recycle non-recyclables. They turn pens, lids, trigger sprayers and a variety of other packaging and waste products into park benches, Muskoka chairs, picnic tables and many more products for resale. Terracycle has provided more than $44,000,000 in funds for not-for-profit organizations. This program turned our school into a drop-off point for plastic bottle caps, pens and markers, lids, Febreeze bottles and Lunchable containers. When boxes of these items were collected by Terracycle, the school was rewarded with points that translated into funds. The only problem was, we weren't making any money. We needed to encourage our families to bring in the plastics they already had in their homes.
The environmental activism at Russell Reid grew out of a data management project where students were tasked with gathering data that would help them improve the school and community. Ironically, students in my intermediate classroom were negligent participants in this program and even sloppy recyclers. I picked this project in the hopes that something would change, and they blew me away!
By the time you reach Grades 7 and 8, you have surveyed the entire school many times over. You know and have graphed the favourite chocolate bars, pop choices and movies in the school. This data management project required students to collect primary data related to our Terracycle program. Students conducted audits of recycling bins and garbage bins (lots of gloves!), developed and collected data from surveys and counted lids. They counted water bottles, tracked classes participating in the program, and then they brainstormed ways to improve participation. The challenge was how to get kids and families to bring in more of their non-recyclable products. Students ran contests and created notices to go home. They made fancy collection bins and began to raise awareness about the importance of diverting waste from our landfill. It was a media studies dream! No posters allowed, they had to get the attention of our community in new and creative ways.
One group of Grade 8 students was inspired by the school strikes made famous by Greta Thunberg and chose to bring her spirit for action to Russell Reid. At the time, large rallies were making big news around the world. Youth were rising up and demanding that governments take climate action seriously and protect their future. This Grade 8 group theorized that if people knew more about the effects of climate change on the planet, they would be likely to do more to help the planet. They decided to plan a Friday School Strike. They spoke to classes about their plan and did education on climate change in classes around the school. They hosted sign-making parties at recess and got the kids in all grades involved in their actions. They emailed local government officials, including city councillors and school board trustees. They got the attention of the adults!
Their Friday School Strike was supported by the principal and attended by our local trustee. The ward councillor came to the school to meet the group and asked for their help in bringing a ban on plastic straws to the City of Brantford. The Future Environmental Action group was officially born. One Friday of every month they planned an action for our school including a presentation at an assembly by climate speaker Derek Forgie and a community clean-up. All the while, this group of Grade 8s also researched and prepared to present to city council. And waiting in the wings, inspired by the actions of their peers, a group of Grade 7 students began their own actions to fight for the environment.
The day of the council vote came, and our students joined a group of secondary students in speaking in favour of this ban. They presented a slideshow about their actions at the school and explained why this ban was so important to them. They spoke of a climate changing so rapidly that they were losing the opportunity to know many of the animals that currently inhabit the planet and of the big mess their generation is being left to clean up. Council voted unanimously in favour of the ban. In a few short months, we received letters from councils around the province taking their own actions inspired by the City of Brantford. The students had made a difference and they knew it.
As the founding members of The Future prepared to graduate, following in behind them was the next generation. Letters to juice box companies and a plan to petition McDonalds to discontinue the production of plastic toys in their Happy Meals was hatched by the new group of students. One of their letters went to a wrong address. The letter was addressed to a company that shares a name with a juice box company; however, this company is in a different industry altogether. They responded to the student letter with a donation to plant trees in our local community. And, before Christmas of 2019, The Future, found themselves presenting to city council once again, this time urging the city to declare a climate emergency and direct funds towards reducing the carbon footprint of the city in all areas. Once again, the youth of our city were using their voices to speak up for the future they wanted, for a planet that was clean and sustainable.
Making learning authentic, making our learning go out the door of the classroom, has always been a goal of mine. Whether we are starting a business, such as an overnight camp-out, selling home-baked dog treats for the SPCA, running an art competition and show or learning about social justice issues in our community, getting kids involved in solving real-life problems inspires them to be difference makers and to see themselves as problem solvers.
With COVID and all the precautions we are taking, many things look different this year. Even our recycling-committed Green Team can no longer do their work. We have managed to keep up with our recycling efforts through classroom leaders, but things are not the same. Our Terracycle program has taken a hit as well. Household waste products can no longer come into the school. A stream of plastic lids from a Water Depot collected by a teacher at the school is keeping the program alive, but we are not collecting at the rate we did before the pandemic. Clubs are no longer meeting and that has put a pause on the organizing and actions of The Future. But restrictions placed on schools due to COVID-19 need not hamper student-led climate action. There are many ways students, in face-to-face learning or in online classrooms, can take action and have their voices heard.
If you are ready to level up your Green Team or are looking for ways students in your classroom and school can be more involved, here are a few ideas:
Connect with local agencies such as conservation authorities, waste management officials, local climate groups, community garden organizations, local Indigenous organizations… there are lots of options.
Invite a scientist or researcher to a virtual meeting. Bird Studies Canada does tremendous research and tracking of migrating birds using GPS trackers. Book a virtual meeting with one of their researchers.
Engage in Citizen Science. Canadian Feeder Watch and School Yard Bird Blitz are programs run through Bird Studies Canada. Websites, such as ontarionature.org or citizen-scientists. ca, offer events and programs that everyone can participate in. Apps like iNaturalist, EDDMapS Ontario and Journey North are a few examples of active citizen science options. By engaging your students in these activities, they will learn and document first-hand impacts of climate change on Ontario species.
Take a virtual field trip! There are many natural world wonders now accessible by virtual tours. Some may cost, and it may be worth the fee, but many others are free!
Follow the news and investigate the hot stories of our time. We gained momentum from the global climate school strikes being driven by Greta Thunberg and other youth around the world. Current affairs, including, but not limited to, oil spills, new pipelines, fishing, single-use-plastic bans, species in danger and changes to government legislation are all options to explore.
Connect to the curriculum and make it count. Social studies, geography, science, math and language offer great opportunities to integrate your student's activism with your own responsibility to cover the curriculum. Writing letters, creating media, teaching others and researching sustainability, living systems and natural disasters can all connect to the Ontario curriculum.
Write to government officials. Children don't often realize how powerful their voices can be. Engaged students get the attention of elected officials. Learning about the levels of government, who is in charge and who they need to talk to, helps develop lifelong citizens. Local municipal councillors, MPPs, MPs or even local businesses may surprise you with their desire to engage with students in these conversations.
And finally, let them lead you. If you put your students in the driver's seat, they will amaze you and themselves with what they can achieve. They are passionate about their future and they care deeply for the earth. Giving your students a voice to be a part of the fight against climate change can lead to amazing things!
Michaela Kargus is a member of the Grand Erie Teacher Local.
---
Online Resources:
Terracycle Program terracycle.com/en-CA
Derek Forgie, Eco Ally Speaker derekforgie.com
Bird Studies Canada birdscanada.org