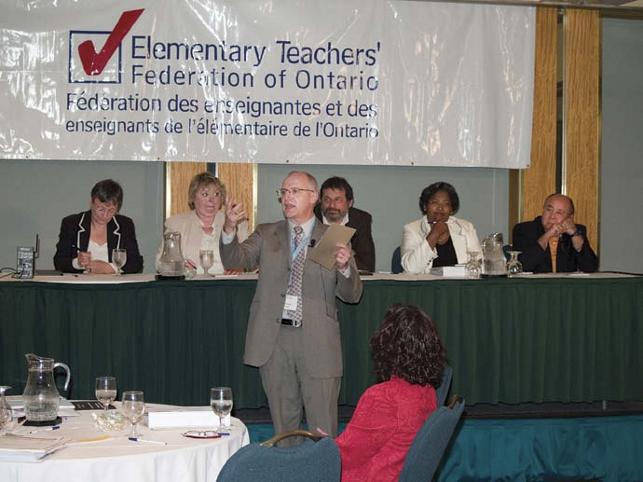 FEATURE
Improving Working Conditions and Learning Conditions for Teachers and Students
Last year ETFO commissioned OISE/UT professor Ken Leithwood to examine the current research on what teacher working conditions will improve student learning. Leithwood's book, Teacher Working Conditions that Matter, was the starting point for a symposium held in June that brought together researchers and leaders of teacher unions from Canada, the United States, and England, along with Ministry of Education and school board staff and trustees.
Dr. Leithwood presented a short synopsis of his findings on how teachers feel and how what they know affects what they do. The systems in which they work influence their feelings and their knowledge. He observed that "the constant stream of changes that we've introduced into schools [have] a pretty damaging effect on the amount of confidence teachers feel and their ability to actually do this work. They are constantly being deskilled by the change initiative."
Certain working conditions matter more
Using his research from North Carolina, Eric Hirsch showed how the five categories of  teacher working conditions that matter  –  professional development, empowerment, leadership, time, and facilities and resources – are directly linked to teacher retention and satisfaction.
Alma  Harris  from  the  University of  Warwick, England, made  her message very clear: "School  leadership matters." Harris sees school leadership as "transformative, widely shared or distributed, and [something that] creates new ideas about instruction."  She  believes  that  optimizing  the  structures, spaces, and time for teachers to collaborate is an essential teacher working condition. Equally important is the creation of opportunities for teachers to lead innovations in teaching and learning.
Joseph Murphy of Vanderbilt University examined the topic from another perspective. He acknowledged, as did the other speakers, that the role of the principal is key. The principal is a facilitator but the impetus for change comes from teachers themselves. In his view the transfer of organizational power to  teachers, a focus on positive collegial relationships, and the creation of structures to support teacher interaction and teacher  learning are the engines that drive this new era of school improvement.
In Britain, in spite of increased funding and multiple initiatives, the emphasis on test results and the introduction of business models into schools have caused a crisis in leadership and retention difficulties, according to Christine Blower from the National Union of Teachers. She stated, "A narrow focus on scores is linked to the alienation and truancy of  many children, unhappiness, and a failure to develop self-discipline and the soft skills."
The need for self-directed teacher learning
In  workshop  presentations  Bruce  Sheppard,  of  Memorial University, Newfoundland, and Karen Seashore Louis, from the University of Minnesota, focused on professional learning communities, a term familiar to many of us. Interestingly, their definitions and their research on how to effectively implement PLCs differ significantly from those that are presently being used in many jurisdictions. For them the important elements are collaboration, sharing, trust, action learning, and cultures that support teacher learning. These concepts have often been left out of discussions around how professional learning communities should be organized and run.
Ron Wideman, one of the authors of ETFO's Professional Learning to Reshape Teaching, believes our schools need to focus on teacher learning. He believes a teacher's work is not just about teaching but about learning. Schools must be places where  teachers have flexibility to experiment and innovate, where leadership is distributed, where time and resources are available for teacher learning, and where teachers focus on knowledge creation and dissemination. He states that developing a culture supportive of knowledge creation will require an understanding that learning is " part of the job." In his presentation, David Dibbon of Memorial University underlined the importance of teachers also being knowledge creators.
The theme of the symposium – Teacher Working Conditions that Matter – is a very important one for ETFO as we seek to understand how to improve the teaching and learning conditions of our members. To make the most of the speakers and their  presentations and to provide an ongoing resource for learning in ETFO and its locals, all keynote sessions and selected  workshop presentations were videotaped. Companion guides to the videotapes will be available in the fall for use in ETFO training sessions.
The symposium had an important goal: to bring together the  major  partners  in  education  to  examine,  understand, and discuss the current research about those teacher working conditions that  improve student learning. The evidence is clear. We know what matters and we have ideas about how to make it work. The question is do we, as education stakeholders, have the collective political and organizational will to act collectively on our knowledge?
Teacher Working Conditions that  Matter  and  Professional  Learning  to  Reshape  Teaching  are  both  available  from etfo.ca > shopETFO.