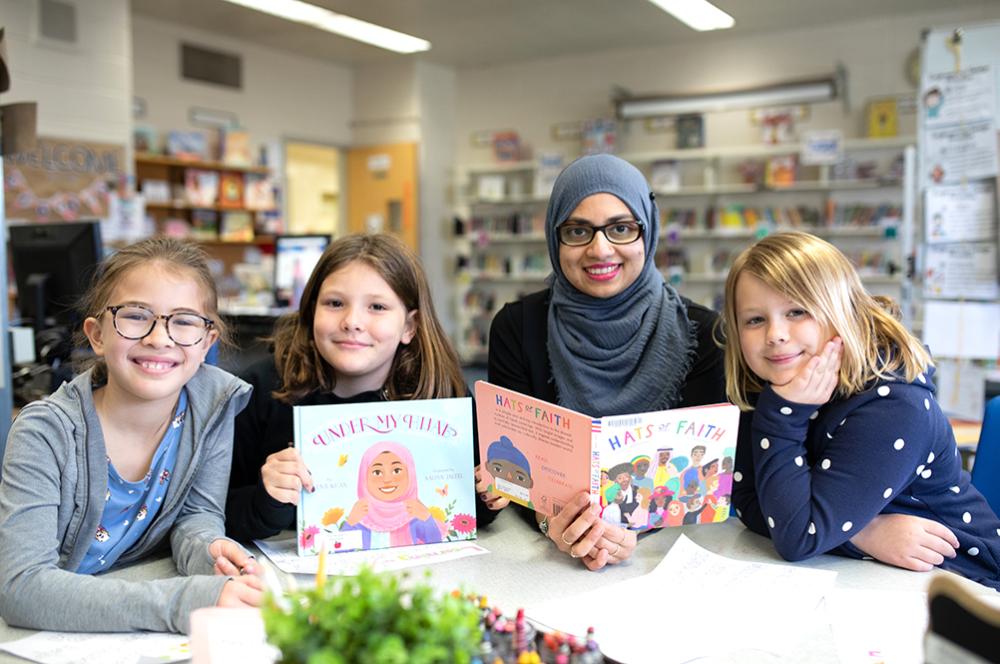 FEATURE
The Power of Stories: Learning from Complex Characters to Counter Islamophobia
Literature is an important part of our classrooms, a staple that informs and impacts our instruction. As a cornerstone, teachers use literature to socialize students into values and norms our collective culture believes to be important such as appropriate behaviours in different spaces and character traits. Stories can also be bridges that teach, affirm and validate diverse lived realities and experiences. They can become springboards that scaffold many different conversations and discussions with our students. As teachers, we are in positions of power and every day we make choices in our classrooms that will teach our students to become critical, kind, informed young thinkers and citizens. We must be cognizant of what we include, gloss over or omit in our classroom, intentionally or unintentionally. Which stories do we include and spend a lot of time focusing on and which do we exclude or only teach during 'specific' times of the year?
Since the stories that we share and those shared with us play such a significant role in our classrooms, I am inspired by an idea in Thomas King's book, The Truth About Stories: A Native Narrative, where he states "stories are wondrous things. And they are dangerous." Using this big idea as a framework for this article, I want to think critically about the following questions: How are Muslims represented in the stories we know and tell in our classrooms? Who is telling the stories we share? When are these stories shared with students? Who is considered and seen as being Muslim? Why is thinking about stories as dangerous and wondrous important?
As schools continue to respond to the need to become more inclusive and ensure respectful and authentic representation of all our students, Muslim students, who are often stereotyped and marginalized, must be centred in these conversations. It is very clear that Islamophobia is on the rise. Messages perpetuated by many media outlets are normalized and in doing so Islamophobia shows up in many different forms in the many spaces Muslims occupy. Islamophobia shows up through physical violence, verbal harassment, hate crimes, microaggressions and 'othering'. Since our schools are not isolated from the outside world nor function in a vacuum, these messages about Muslims often make their way into our schools and can become ingrained.
My commitment to this conversation is deep and rooted. I am a racialized visible Muslim woman, currently an LTO teacher-librarian at a school in downtown Toronto. I am also a Master's of Education student at York University studying representation in children's literature. In the many spaces I occupy, gendered Islamophobia is unfortunately always part of my experience: in public spaces, Islamophobia is often physically and verbally violent such as getting spit on this past summer and being called derogatory words. In the school and professional spaces, it shows up as 'othering' and microaggressions. In some spaces, due to the way my identities are read, I have more or less power. As a teacher, I occupy a positon of power. As a teacher-librarian, I have the privilege to impact and influence my wider school community; this is a space where my position gives me an abundance of power. I know that I have the opportunity to curate stories and experiences in our Library Learning Commons (LLC) that can expand and validate different identities and also counter particular limiting and stereotypical narratives. Similarly, my 'teacher body' in a place of power and privilege also shifts the stories we know of Muslim women since we are often tokenized and seen through the 'single story' lens. The single story perpetuates that I can only play a supportive role in a classroom and never be 'the teacher'. I am thinking of how being in such spaces expands the stories we know and learn about Muslims.
As we think about using storytelling as a tool to disrupt the often stereotyped, tokenized and single story narratives associated with Muslims, we must first think and examine the types of stories that are usually told about Muslims in our classroom and school spaces. Often, the most common stories that we tell can be grouped into two categories: one, "saving the Muslim girl narratives" and two, "religious literacy."
The first category, "saving the Muslim girl narratives" often follows Muslim female characters, situated in the Middle East or Afghanistan, who are trying to leave or escape a patriarchal household or wider society. These stories either only focus on the wider geopolitical context or completely ignore it. Written by cultural and religious outsiders, stories such as The Breadwinner, Parvana's Journey and Malala Yousfazi narratives reinforce the victim and saviour narrative where Muslim women need to be saved by outsiders, usually Western ones, from 'backward' and controlling Muslim men. Such stories also show a very limiting and monolithic way of being Muslim. These stories can be 'dangerous' if they are the only stories about Muslims that we share in our classrooms. These stories can also misrepresent the Muslim students in our classrooms who do not have similar narratives. If we are teaching them, we must emphasize that they show one experience, not all.
Writer Alison Kysia shares the notion of 'religious literacy" in her article "Rethinking Islamophobia: Combating bigotry by raising the voices of Black Muslims." Religious literacy books, which teach the beliefs and rituals of a religion, are often shared in our classrooms and schools. Stories such as My First Ramadan by Karen Kartz, Under the Ramadan Moon by Sylvia Whitman and It's Ramadan, Curious George by Hena Khan are important and often read during the holiday. These stories are important because they help all our students become informed citizens, and validate and affirm Muslim students' identities. But if Muslim students are only represented in the curriculum during holidays, they can be further tokenized.
These are often the two main categories of stories that are shared in our schools and classrooms. What we need more of is everyday stories that include Muslim characters as one aspect of the story, rather than the story. These stories have the potential to be 'wondrous' and to expand the narrative.
In our LLC, we are operating from Professor Rudine Bishop's concept of Mirrors, Windows and Sliding Glass Doors when we choose, display and share our books. Books that are mirrors show reflections of the lived experiences of the one reading, windows show and teach about those who are different people in a respectful and authentic way and sliding glass door books help the reader connect to the similarities and differences between themselves and the character. In doing so, they come to understand the shared experience.
In our LLC, our book displays expand the stories we know of Muslims and help the conversations move beyond only recognizing Muslim perspectives during specific times of the school year. Books like Mommy's Khimar, Digging Deep, Big Red Lollipop, the Ms. Marvel series and The Sandwich Swap are read to students and, for some time every now and then, linger on our bookshelves and reinforce the values and norms of positive and authentic representation we want to convey. These stories are powerful because they show that Muslims have intersectional identities just like anyone else. They also show universal experiences of friendship, finding one's identity and loving and playing sports. These aspects shift the single story narrative of Muslims and in doing so disrupt stereotypes that can reinforce Islamophobia.
Similar to our book displays, we also work with a group of grade six students to read Islamic Heritage Month Announcements during the month of October. Students were excited to choose which interesting announcement they wanted to share with their school community from a document created by the TDSB. For example, one student read aloud an interesting fact about Muslim soldiers and their connections to Remembrance Day. These small 'stories' are counter narratives; they disrupt the stereotypes that always position Muslims as outsiders and newcomers because they show Muslim's deep roots in the West and the contributions they have made. To have the entire school community hear these stories at the start of the day builds a culture of inclusion and respect. It can also help Muslim students feel a sense of pride about their identities.
Another way we are expanding the stories we know of Muslims is through our grade three and four book club. Right now, we are meeting once a week to discuss our reading of Amina's Voice by Hena Khan. Amina's Voice is the definition of an 'everyday story.' The main character, Amina, has just entered middle school and the story follows her trying to find and accept her identities, negotiate friendships and overcome stage fright. The universal messages in this book are what students connected to the most. In the beginning they loved talking about the meaning of their names and how they feel if and when their name is mispronounced. Then we discussed if we have ever felt nervous or had stage fright like Amina. As our conversations deepened, so did the emergence of a 'safe space' to ask questions and share ideas. Students took their own initiative to research the meaning of some Urdu and Arabic words Amina uses; they asked their families for support. We were amazed at the level of connection-making and empathy our students were showing. When Amina's family was worried her uncle would get treated badly because of his beard we discussed how stereotypes are harmful. When Amina's mosque was vandalized we all felt the pain; how could such a mean thing happen to a character and family we were so invested in? We took the time to scaffold simple conversations about racism and Islamophobia. We spent time discussing the important role each one of us can play to make things more fair. We learned that people in Amina's community came together to show their support. Our book club really exemplified the 'sliding glass door' concept since students read about someone who was mostly different from them, connected deeply and profoundly with Amina and, in doing so, recognized the shared experience.
Lastly, we are also using 'everyday stories' of Muslims to think critically about who we see as 'heroes.' During a grade one social studies collaboration on community helpers and activists, we read aloud the story The Librarian of Basra by Jeanette Winter. Our goal was to emphasize that activists believe in their hearts that they can make a difference and they always take action to make things that are unfair more fair. In this story we learned about Alia Baker, who is the librarian of Basra. She loves books and is worried that because of the war her books will get destroyed. She sees something is unfair and takes action to make things more fair; she bring all 30,000 books from her library into her home! To build relevance and connection, we asked our students what their favourite book is and which they would save if they were in a similar situation. To build context, our story became a springboard into looking at the maps of Iraq and Canada to situate us. Students were interested, amazed and inspired by this hero who cared so much about books that she saved so many! We made pictures of the perfect new library for Alia Baker and also wrote statements about why libraries are important. This story shifts the narrative of Muslim women needing to be saved because Alia Baker is a hero!
In the same class collaboration, we read the book It's Okay to be Different by Todd Par and used it to think about the 'outside' and 'inside' differences that make us special. The example I gave was "my outside difference that makes me special is my hijab" and my "inside difference is that I love books." It was a way to talk about our identities and also normalize talking about religious attire with young children. It gave them the vocabulary to think about their own identities and see them as positive and assets.
Thomas King says in his novel, "if we change the stories we live by, quite possibly we change our lives." I am inspired by this and see his idea as a 'call to action.' We all need to think critically about the stories we tell in our classrooms and our schools. In our positions of power and privilege, we can use stories to humanize and authentically represent the experiences of our students.
Rabia Khokhar is a member of the Toronto Occasional Teachers' Local.
---
Resources for Teachers:
Rethinking Islamophobia: Combating bigotry by raising the voices of Black Muslims by Alison Kysia
The Truth About Stories: A Native Narrative by Thomas King
Equity Continuum: Action for Critical Transformation In Schools and Classrooms, Centre For Urban Schooling by Bree Picower
Being the Change: Lessons and Strategies to Teach Social Comprehension by Sara K Ahmed
Muslims in Story: Expanding Multicultural Understanding Through Children's and Young Adult Literature by Gauri Manglik and Sadaf Siddique
Critical Checklist for Assessing Books with Museum Characters:
Check the Storyline:
Is the story written well enough that students will enjoy it?
Does it accurately represent experiences?
Who is the protagonist? Whose voice is centred? Who is left out?
Check the Author:
Is the author writing from an informed perspective?
Pay attention to their insider/outsider status.
Check the Illustration:
Do the illustrations represent Muslims as diverse with intersectional identities? E.g. Do illustrations show Muslim women as only wearing a hijab?
Make sure the story is free from exaggerated and stereotypical representation.