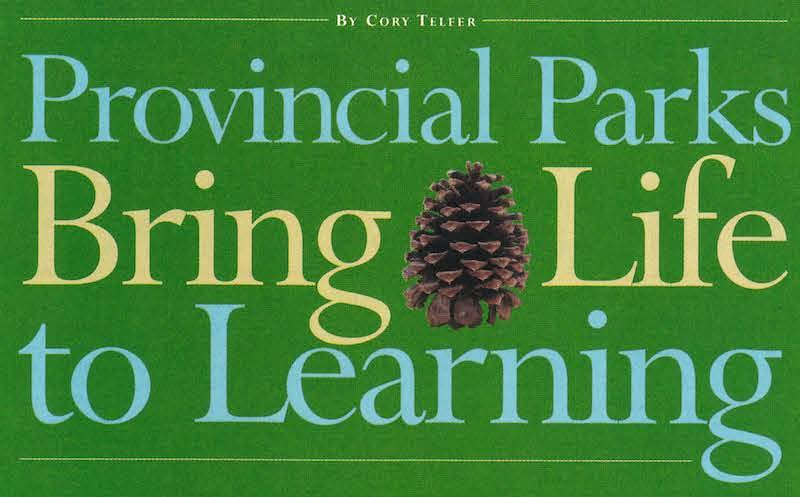 FEATURE
Provincial Parks Bring Life to Learning
Several science and technology strands lend themselves directly to outdoor experiences. Students need to be able to make observations, collect data, and test hypotheses in nature. These experience's enrich learning and deepen understanding of science and technology content.Teachers can, and should, investigate the opportunities available at provincial parks to complement their science and technology program.
Provincial parks have long supported elementary school experiences in a variety of ways. This has become even more important in recent years. Outdoor education centres are suffering from budget restraints, and many educators don't feel rich experiences can be found safely in their school's neighbourhood.
Provincial parks can help schools organize field trips that are not only enjoyable but meet curriculum expectations in real ways. They are responding in remarkable ways as they work to align existing programs with Ministry of Education guide-lines and in some cases, to develop new ones to meet demand.
Provincial parks are actively serving ail Ontario communities in six regions. Their efforts are being recognized by teachers struggling to bring meaningful, hands-on activities to their students. While programs are available throughout the province, I will highlight some of the experiences that have been successful in southwestern Ontario.
Teachers with the Lambton-Kent District School Board are making excellent use of both Pinery Provincial Park on Lake Huron, and Rondeau Provincial Park on lake Erie. Generally, programs are free, with only a charge for vehicles entering the park. This makes them a very reasonable field trip experience, and great value when considering the range of opportunities that exist, often right in our own backyards.
Provincial parks are mandated to educate students, generate interest through hands-on experiences, and promote the importance of conservation. These goals complement the aims of science educators as well. These three areas of service are being met by the staff at Pinery Provincial Park, which lies on the shores of Lake Huron. Opened in 1959 as the twelfth provincial park, Pinery is now the second-busiest park in Ontario. It boasts 11 trails for a range of uses, a Visitor's Centre, and an outdoor live theatre. It also hosts a variety of guided programs throughout the year and has been recognized for its dedication to protecting globally rare ecosystems. Pinery Provincial Park responded to the Ontario Science Curriculum the year it came into effect. At that time, the parks outreach co-ordinator re-did the school programming,Teachers who use Pinery rave about the wide range of experiences available, and show their appreciation by returning year after year.
Two excellent examples of programs offered here arc the Habitat Hike, for grade 4 Life Systems, and the Invertebrate Study or Pond Study for grade 6 Life Systems.
At Pinery, staff meet with the teacher to discuss what students should expect to see on the Habitat Hike,The components of habitats, food, water, shelter and space, are discussed, as well as food chains and the human effect on the environment. Micro habitats are seen, including those of insects that spend their whole lives in a leaf This kind of learning captures students' interest as no textbook could. Unique habitats, particularly the oak savannah forest, and the organisms that live within them, are observed throughout the hike.
The grade 6 Life Systems strand is addressed through an Invertebrate Study or Pond Study. Invertebrate studies allow students to catch insects within their habitats, and draw conclusions about the adaptations insects have made to live in their environment. The Pond Study is a program students don't soon forget. They are encouraged to get right into the water to collect specimens. They identify organisms and sort them on a classification tree they develop, a task that encourages higher-level thinking and problem solving skills.
The Pond Study is a unique opportunity for students to observe the direct impart humans have on the environment. It is done in the old Ausable River Channel. In 1896, a series of cuts made in the channel created the harbour in Grand Rend. This intervention cut the river off from all natural sources. However, because of underground springs, the water remains virtually pollution-free.
The Earth and Space Systems strands for the junior grades are addressed by the Pinery's trained naturalists. As they participate in active hikes, grade 4 students take part in a Shore Explore and examine fossils, glaciations and how sand dunes have formed. Seeing and touching an environment shaped by science concepts learned in the classroom deepens students' understandings of the issues. Grade 5 students look at types of clouds, pressure systems and the water cycle on a Weather Hike. Grade 6 students consider why seasons change, the changing of night and day, and how these changes affect animals.
Rondeau Provincial Park, on the shores of Lake Erie, also lies within the boundaries of our school board. It is home to more endangered species than anywhere else in Ontario. As well, it encompasses a large percentage of southern Ontario's forests, Like many other provincial parks, Rondeau offers a range of school programs. Students benefit from experiencing its unique environment first hand. Staff at Rondeau take advantage of the fact that they enjoy several unique habitats within a small area.
Rondeau's Habitat Explorers program starts at the beach. Students are often surprised to learn that, although the beach seems desolate, many specially adapted plants and animals tolerate the difficult conditions found here. Walking 25 feet from the shoreline, one can observe a succession of habitats. The sand dunes show a continuation of the habitats on the beach. As more plants adapt, they enrich the soil and allow more organisms to survive in the environment.
From the dunes, students benefit from observing the open savannah, one of The rarest habitats in all of Canada This habitat consists of open grasslands, tall grasses, wildflowers and oak trees. Mam highly adapted, and sometimes endangered, species, live here, such as the red-headed woodpecker. While this habitat relies on a fire every few years to keep out exotic organisms, humans work to prevent dangerous fires in their communities. That's why controlled files are lit by park staff. Finally, students make comparisons between Rondeau's Savannah and its the Carolinian forest. In particular, they observe the forest's closed canopy, which provides a cool, damp environment for a variety' of shade-tolerant species.
Provincial parks are continuing to adapt to the needs of Ontario teachers and students, and Rondeau is no exception. To meet the demand for integration, Birds of a feather is being developed to address two grade 6 units: Diversity of Living Things and Flight, The Rondeau area is one of the best birding locations in Canada. Birds of a Feather takes advantage of this by enabling students to observe endangered birds and, at the same time, to discover the mechanics of their flight.
like other provincial parks, the programs at Rondeau are free with vehicle entry, Many schools use buses, which can transport two classes for a total cost 0.1 $60. Most provincial parks have an interpretive centre with interactive educational displays. Many teachers use these displays, along with their chosen program, for assessment. Programs can be a half-day or full day.
Many parks help teachers organize overnight excursions. Existing programs, such as those outlined here, can be utilized. In some cases, the staff can adapt programs to the needs of the class. Rondeau Provincial Park, and some others, partner with classes. They allow students to plant trees or perform other conservation activities, giving environmentalism even greater meaning.
Science is a form of knowledge that seeks to describe and explain the natural and physical world and its place in the Universe (Ontario Science and Technology Curriculum, 1998). In addition to understanding basic concepts, we need to help our students develop skills of scientific inquiry and relate science and technological knowledge to each other and the world we live in. That's why making use of our provincial parks makes sense. Children can see, touch, wonder and explore. They can be amazed and excited by what they see. They can be proud and changed by what they accomplish. They can become the next generation of conservationists for provincial parks, from which we can all benefit.
To find out how provincial parks in your area can assist with your science and technology program, visit www.ontarioparks.com or call 1-800-ONTARIO.
Cory Teller teaches grade 6 at King George VI Public School. Lambton-Kent DSB: and is a member of STAG'S Elementary Curriculum Committee.