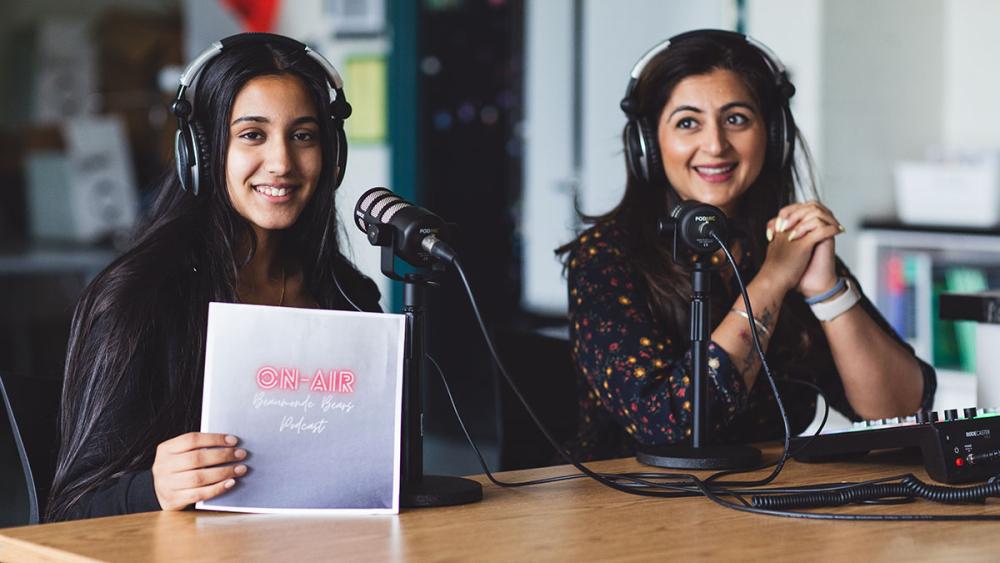 FEATURE
Student-Led Podcasting in Rexdale: A Unique Success Story
The first time Grade 8 student Kearrah heard her voice through the podcast microphone her eyes lit up. "I didn't know it was going to sound like that!" The excitement began to grow as the small group of keen Grade 7 and 8 students at Greenholme Junior Middle School in Rexdale, an urban neighbourhood in the north-west corner of Toronto, helped unbox our brand-new podcasting equipment. Soon, they were pushing all the buttons on the RODEcaster Pro, the colourful new interface purchased with technology funds at the school. They learned how to upload new sound effects to accompany the factory presets – a voracious applause, a laugh track, a comical sitcom-style theme song and even eerie mystery music.
The story was similar at Beaumonde Heights Junior Middle School, just five minutes up the road from Greenholme. Using an empty classroom, students helped by putting together our full sound studio, complete with green screen and high-quality photography equipment. Everything was coming together and the creativity was just about to get underway. Kazi and Emmanuel already knew they were going to produce something stellar with this new opportunity, and it was clear that their wheels were turning immediately. The Grade 8 students had planned their ideas for the fiction narrative podcast they would be recording complete with soundscapes and interesting sound effects, all researched and ready to go before equipment even arrived.
A Brief History of Us as Teacher-Podcasters
During the 2018-2019 school year, we were teaching together at Beaumonde Heights JMS, where we introduced podcasting to students as an extension and culmination to our Genius Hour projects. Genius Hour is a self-directed study unit in which students select topics that they are passionate about to explore and engage with. The role of the teacher with Genius Hour is to facilitate the learning process and guide students to reach their goals, whatever those may be. In this case, we had students write and present short podcast segments to be stitched together and published as a group. This was a great opportunity to learn new skills related to podcasting and present their newly acquired knowledge of their Genius Hour topics in an exciting and innovative way.
As a followup, we launched the pilot episode of our very own education-driven podcast, "The Chey and Pav Show," initiating a series of events that would take us to new heights in our teaching growth journey. Initially, we started our podcast as a way to reflect on our week of teaching – to talk about the activities that worked well in our learning environments and the ones that didn't work well. We wanted it to be a space where we could discuss the things happening in the classroom or school. These "hallway conversations" between the two of us were recorded, documented and archived for later. Over the last three years, however, "The Chey and Pav Show" has given us much more than we ever anticipated. We have learned about new pedagogies, deepened and reinforced our understandings of anti-oppression education, developed new connections with educators around the world and built our capacity as teachers in ways we couldn't have even imagined. We began to see the value and importance of having an opportunity to share voices and realized how much podcasting could add to learning, selfrepresentation and creativity in our middle school communities.
Honouring Audio Content and Oral Communication
In our traditional literacy frameworks, there is a tendency for greater value to be placed on reading and writing, with oral communication trailing behind in importance. This can be problematic in terms of culturally responsive and anti-racist pedagogy in that it devalues the oral traditions that many students come to us with. Rexdale is home to students from some of the most diverse communities in Toronto, many of whom immigrated to Canada from countries where stories are passed on from generation to generation as a primary means for learning. We have made it a priority in our teaching to honour those oral traditions and incorporate as much of them as we can into our literacy programs.
Part of honouring these oral traditions is advocacy. We knew we needed great equipment to start podcasting in our schools in order to convince students that we were serious about honouring and amplifying their voices and to make lessons come alive. It was important for us, as their teachers, to advocate for the materials that they would not normally have access to. With the negative representations of Rexdale in the popular media, students were eager to inform listeners about their lives and experiences in this vibrant and close-knit community.
Podcasting in Pawan's Grade 7 and 8 Class
Not only have I taught in Rexdale my entire teaching career, I was also born and raised in the same north-west part of Toronto, creating a unique and deep connection with the students I teach. I can relate to what the students experience as teens facing the stigma of growing up in a neighbourhood not always portrayed in a positive light. I know how important it is to create a more accurate picture of this community, one focussed on connection, relationships and success. As a person of colour, I know and understand the need for amplifying the brilliance and vibrancy of Rexdale and the voices of the powerful people that reside within this community, with so many beautiful stories to tell. I made this quite clear to students as we began our podcasting journey. It was important that students were able to express themselves fully not only to their peers, but also to the community around them.
The class was keen to dispel the many myths and half-truths about themselves and their beloved community. Many of them wanted to talk about the ways they are portrayed in the popular media.
"We feel like we get such a bad rap," said Gabby while preparing the introduction for her solo episode for Stories from Rexdale. "When people think of Jamestown, a small community in the north end of Rexdale, made up of primarily community housing, all they think about is gangs, drugs and violence. We are so much more than that. We're smart kids, and many of our older friends and relatives have gone on to do really amazing things." Gabby was among so many of the Grade 7 and 8 students who felt this way and were grateful for the opportunity to share their experiences and their innovative ideas on how to improve their community and to bring hope and joy into their work.
Gabby went on to talk about some of her experiences growing up within seconds of her best friends. "We're more than just friends, we're family here in Jamestown. We can go to any house after school – we are treated just like their kids. My friends' moms will buy me clothes and school supplies if I need them, and my mom does the same for them when they need it. I know I can depend on anyone in this neighbourhood."
Other students wanted to focus on the good things to come out of Rexdale. In his episode with partner Venall, Ibrahim wanted to talk about all the superstars that have emerged from this community. "We've got basketball stars, rappers, poets, social media stars, all from Rexdale – they came from HERE! Raptor Delano Banton used to take the Kipling bus just like I do, that's why he wears the number 45 on his jersey, and that's why I'm going to be a wicked basketball star, too! K'Naan, who had one of the biggest hits in the world with his song Waving Flag, is also from Rexdale. And let's not forget about hockey LEGEND, P.K. Subban. Did you know his dad used to be a principal and he even came to talk to us this year? How cool is that?"
Podcasting allowed the students in this middle school class to tell their stories about how much they love their home and community. They also shared their frustrations, and even though we chose not to publish these, the process was affirming and cathartic for many students. Podcasting not only offers a medium and outlet into the world, it's also a way to archive and document one's thoughts and feelings, which these students will now have forever.
Podcasting in Chey's Grade 8 Class
Podcasting allowed the students in this middle school class to tell their stories about how much they love their home and community. They also shared their frustrations, and even though we chose not to publish these, the process was affirming and cathartic for many students. Podcasting not only offers a medium and outlet into the world, it's also a way to archive and document one's thoughts and feelings, which these students will now have forever.
One particular group dove deep into a post-apocalyptic world overrun and dominated by a new and rare disease. In this story, the characters attempted to escape from school to the safety of their homes. The principal of the school, played by Emmanuel, warned the two students, played by Ibrahim and Rakin, to head home immediately. When he ensured all the students had left the building, he observed an eerily similar scene to what the students experienced first-hand three years ago at the start of the COVID-19 pandemic, when students left the school building for the long term. "I have to head back to the rooms and make sure the other kids are safe, you two should head back home," Principal Wayne said warningly to the two students, "Be careful! We don't know what else could be lurking outside these walls…"
When I listened to an initial recording of this episode, I was blown away by how insightful and authentic their fears and worries about disease were. This class, like all our classes, had spent the past three years learning and growing in this brave new COVID world, and this narrative storyline highlighted how they continue to have fear and anxiety about pivoting back and forth between in-person and virtual learning and about illness and disease, whether it's COVID-19 or something else in the future.
I had once asked myself if there were adequate, relevant and explorative enough spaces for students to share their deepest and most vulnerable thoughts. When I listened to the tone, intensity and passion of this podcast episode, I realized that below the surface of our seemingly content classroom, these 13-year-old students were living with deep anxiety and uncertainty.
The experience of podcasting has been abundantly rewarding for us and our students – filled with design thinking, diversity, creativity with oral communication and all aspects of literacy, and most importantly, sharing of student voices and experiences. If we want students to be engaged and advocate for the things that matter to them in their own way, it's important to give them the tools and resources to be able to do that. The most beautiful thing about gradual release of responsibility when it comes to this type of self-directed learning is, they most likely will.
Pawan Wander and Chey Cheney are members of the Elementary Teachers of Toronto.
---
Six Steps to Immersing Podcasts Into the Learning Space
Step 1: Highlight The Importance Of Stories
Read stories aloud to students. Talk about why oral storytelling matters to many cultures around the world. Read stories that connect to students, are representative of the diverse communities in the learning space and are relevant to the content being covered in class.
Step 2: Share Podcasts with Your Students
Ensure that students spend ample time exploring the vast variety of podcasts available to them.
Five podcast categories to explore:
Interview style
Reflective/Conversational
Solo
Narrative
Informative/Documentary Style
Step 3: Assemble the Studio
This can be done in many ways and at different price points. We were lucky that our administration teams were very supportive of our visions with the podcast and helped us acquire the equipment we needed to set up a professional studio. You can also begin the podcasting process by using equipment that you already have at your disposal.
Step 4: Start the Planning Process
This is a highly iterative part of the podcast production process, as ideas will shift and evolve, and students will find flaws and errors in how and what they record. During the planning phase, students are deciding on the category and style of their podcast and then working towards writing their segments, planning their music and introductions as well as noting the content that they will cover.
Step 5: Recording
It's quite normal for students to go back and forth between their planning document and the recording of the episode, especially in the beginning phases of the recording process. We set up weekly recording sessions that groups can sign up for in the studio. Ideally, students have an hour at a time in the studio, and during this time, they record either their entire show, or particular segments of it, so that they can stitch the parts together.
Step 6: Post-Production
The software options for post-production are endless and exploring what your board supports for use is paramount. We found there were a few students who thrived in the post-production space more than any other. Some students who were hesitant to share their voice audibly shared an abundance of their creativity in editing and digital artwork to enhance and compliment the voices in the recording.