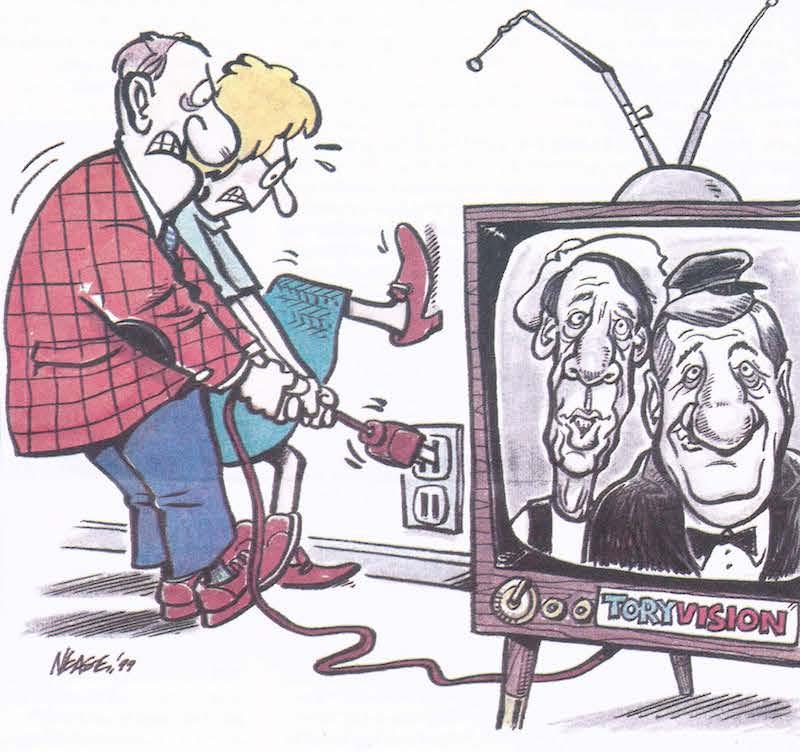 FEATURE
Take Action! ETFO Prepares for the Election
Mike Harris is likely to call an election sooner rather than later this spring. ETFO has been working hard to meet this challenge and to make sure education remains at the centre of debate during the election period. Here's how ETFO has been preparing to protect publicly funded education and the rights of teachers, education workers and students:
Building coalitions
ETFO has been working with the other Affiliates of the Ontario Teachers' Federation, labour unions, social justice networks and others to build a strong coalition capable of speaking out about the effects of Tory policies on education, health and social issues. This coalition has developed into a valuable forum for information sharing and coordination of communications and political action strategies.
One of the coalitions with which ETFO is working is dedicated to increasing the number of women voters. The coalition, which is active in a number of cities and towns across Ontario, wants to ensure more women get out to vote.
Polls show that women are more likely to support progressive health and education related policies than men - a gender gap that has been tracked right across North America.
Provincial training
An All-Affiliate meeting of Local Presidents took place in Toronto on January 23. A great deal of information was shared. On February 6, a follow-up session for ETFO Local Presidents took place at the Representative Council.
Local training
ETFO, through OTF, has been offering local level workshops to train members to work in election campaigns. Provincial office staff are also working with Locals to support their election activities.
Riding analyses
ETFO and its coalition partners have analyzed the voting patterns of each electoral riding and have offered preliminary advice on the best candidate to support. Each ETFO Local is deciding on how best to allocate resources and implement an effective election strategy.
Local support materials
ETFO is preparing posters, pamphlets and other election materials for distribution to school stewards. Radio scripts and print advertisements will be made available for Local use.
Media campaign
ETFO has purchased space on 205 billboards across Ontario for a four- week period commencing April 12. ETFO will be running a radio campaign as well. OTF and the Affiliates will mount a media campaign during the election period.
While members can expect to see their Federation in the forefront during the election, here's something that might give you an unpleasant surprise:
Voters' list chaos
The voters list that will be used for this provincial election is the same one used for the last Federal election. This potentially creates a major problem for people concerned
about democratic process in Ontario.
With this out-dated list in hand, it appears the provincial government is preparing to enumerate only brand new subdivisions - particularly in the suburban belt surrounding Toronto. What this means is that the many thousands of people who have moved since the Federal enumeration will not be correctly identified on the voters list. While voters will be able to sign up at the polls on voting day, long lines at polling stations will discourage all but the most determined from doing so.
Take Action
To date, Elections Ontario seems almost totally incapable of dealing with an upcoming election. Staff have been cutback - there's hardly anyone to answer the phone. Even if you get through, no one seems to know what is going on. ETFO will keep you up-to-date on any information that will help you confirm your status on the voters list. If you've moved since 1998, don't expect an enumerator at your door. It's going to be a bit more complicated than that. Interneters might wish to check the Elections Ontario web page: www.electionsontario. on.ca. for more information.