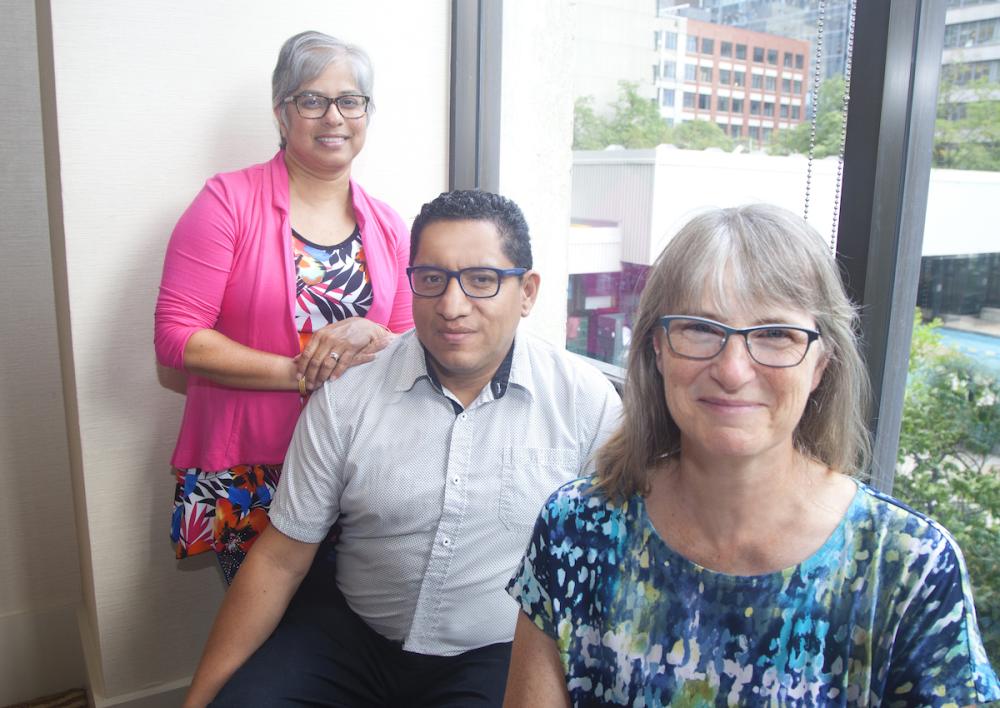 FEATURE
Talking About Local Bargaining: Voice in Conversation with Chief Negotiators Shelly Jan, Elizabeth Kettle and Diego Olmedo
VOICE: What is your role in the local? How did you get involved in bargaining?
SHELLY JAN: I have been a local president and the chief negotiator for the past 15 years. When I first started as an occasional teacher, a friend brought me to a local annual meeting. She had asked me to join her on the Professional Development Committee. When the president at that time asked if anyone was interested in being on the local executive, I put up my hand. I was on the executive for about four years before I became president. As president, I was also the chief negotiator. I had a couple of people on the executive with some experience, but I learned a lot from my ETFO staff officer at that time. 
ELIZABETH KETTLE: I was the local chief negotiator for about eight years and am currently president. I got involved in bargaining when I volunteered for our local Collective Bargaining Committee and served on our local table team. This was an opportunity to learn about and participate in the bargaining process. I also had the opportunity to be a steward, which was an invaluable experience. It gave me insight into the details of our collective agreement and how articles have been interpreted over the years.
DIEGO OLMEDO: I have been an ETFO member since 2010. I got involved when Full-Day Kindergarten was introduced in Ontario by the Liberal government and our local was formed. I was vice-president of the local for three-and-a-half years. Prior to my employment with the board, I was a director of a child care centre. I worked in a unionized environment with early childhood educators but I was on the management side. I felt very strongly that ETFO was the right union for us and that it would fight for a fair collective agreement. I have been part of the collective bargaining team since the very beginning.
VOICE: What happens at the local bargaining table? Why is local bargaining so important and how has it changed since Bill 122 (The Schools Boards Collective Bargaining Act)?
DIEGO: Prior to Bill 122, the local bargaining table was where the school board and unions worked on the best language for employees and fair working conditions. We were able to discuss different topics that affected DECEs, such as planning time, monetary items, supervision time and various other items. 
When Bill 122 was introduced it changed the landscape of how the government and unions bargained. It replaced the provisions of the Education Act related to collective bargaining. Central bargaining is bargaining that takes place at the provincial level at "central tables." The two central tables for ETFO members are the Teacher/Occasional Teacher Central Table and the Education Worker (DECE, ESP, PSP and education professional) Central Table. 
For teacher and occasional teacher members, ETFO provincial office conducts central bargaining with the employer bargaining agency called the Ontario Public School Boards' Association.
For DECE, ESP, PSP and other education professional members, ETFO provincial office conducts central bargaining with the employer bargaining agency called the Council of Trustees' Association. This year ETFO created two Collective Bargaining Advisory Councils, one for education workers and the other for teachers/occasional teachers. These committees offer support to our provincial body. I believe that we have lost our individual voices due to Bill 122. This is unfortunate because every local is different and has different concerns and needs. One size does not fit all.
ELIZABETH: Our local table team consists of our chief negotiating officer, president, our three vice-presidents, as well as two members of our Collective Bargaining Committee. We are all at the table but much of the work is done when we caucus.
Every round there are items we are particularly hopeful about, but I think it's fair to say that we always hope for respectful and valuable dialogue. We hope the board representatives are as committed to resolving issues as we are and that at the end of all the sessions both sides, regardless of the final written agreement language, maintain a commitment to work cooperatively. 
One of the biggest challenges facing us is developing a culture of bargaining awareness. There hasn't been a lot of local bargaining since 2012. Between imposed government contracts and contract extensions, there was only a brief round of local bargaining in 2014, and our newer teachers have never experienced bargaining. Bargaining is very different from the notions many people have and it can take years to achieve gains in certain areas, which is why items are brought back to the table multiple times and why local bargaining is so important. 
For the table team, it is important to spend time developing the ability to know when and how to present at the table. It's a challenge to understand that some things need to be set aside in order to make progress in a different area. I'm looking forward to it a great deal, but also know it's a steep learning curve for new members to the table team.
SHELLY: The process can be a slow one. The local presents our preliminary submission and then we go back and forth with the school board until we reach an agreement. When the local believes that we have made enough gains for the membership to vote on, we have a tentative agreement. Local bargaining is very important because there are unique issues and practices that are board specific. These can get lost in central bargaining.
VOICE: What is something you have bargained for your members that you are particularly proud of?
DIEGO: We are proud that we bargain for our members. Our local was the first DECE local in Ontario to get planning time and we were able to gain our counterparts' benefit package. At the last round of central bargaining we gained professional development funds and other DECE, ESP and PSP members were able to gain better and fairer benefit plans.
ELIZABETH: In our most recent round of bargaining, we negotiated several gains. One we are particularly proud of was to establish a joint union/board committee to create guidelines for staffing schools affected by closures, reconfigurations and amalgamations. We established this committee at a time when the area review began in Ottawa and we negotiated protections for members to move schools, based on seniority and qualifications, where normally they would have been surplus to the system. Negotiating protections for teachers in these situations was a high priority for our members and it alleviated a lot of stress for those who were affected by school closures.
SHELLY: We negotiated two unpaid days for LTOs for personal reasons. We are proud of those efforts and will continue to work hard on behalf of our members.
Shelly Jan is the president of the Peel Occasional Teacher Local, Elizabeth Kettle is the president of the Ottawa-Carleton Teacher Local and Diego Olmedo is the president of the Toronto Catholic DECE local.
Izida Zorde is Coordinator of Communications and Political Action at ETFO.