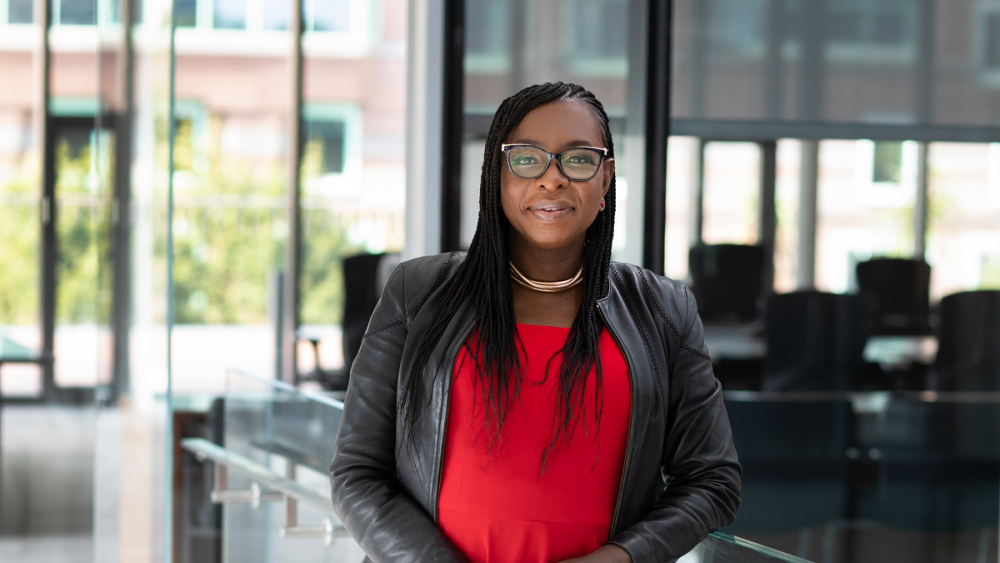 FEATURE
A Vision for Public Education: Voice in conversation with ETFO's newly-elected President Karen Brown
VOICE: Karen, you were elected President at this year's annual meeting after serving on the executive for 12 years. Can you tell members about yourself and your work as an educator? 
KAREN BROWN: When I was in high school, I took co-op and was placed in a variety of settings, including a school. That led to my interest in working with children. I enrolled in the child studies program at Brock University and that confirmed my love of working with children. I decided to pursue a program at the Institute of Child Studies, University of Toronto, which provided me with a certificate in early childhood education, but also led to a teaching certificate. In 1993, I was fortunate enough to be one of a few new hires at the Scarborough Board of Education to teach in one of their Section 23 (now section 19) classrooms at Aisling Discoveries Child and Family Centre. I have a passion for the early years, and I am a special education teacher at heart. I spent the first two years of my career working with children with autism spectrum disorder and speech and language delays. In those days, I actually did home visits to help students transition and become more independent at school and at home. I understood the impact I could make as an educator. 
It was also where I first encountered racism as a teacher when a parent questioned my qualifications and wanted to know if I had gone to university. I informed him that I was qualified like all the other teachers in the building and, had additional qualifications in special education. This experience of having my credentials questioned is not unique to me, but a reality shared by many racialized teachers. After three years of teaching, I applied for a Grade 3 position at West Hill Jr. Public School at Morningside and Lawrence and that is where I gained my experience working with refugee and immigrant children living on the motel strip. I soon learned that for most of my students, home was a motel, and mornings involved waiting for several families to use the communal kitchen, resulting in many of my students being late. I also learned that fire alarms sounded like bomb alerts. It was at West Hill Jr. Public that I realized the impact representation had on racialized and non-racialized students and that representation matters for everyone! For two students one Black and one white it was the first time in five years of schooling that they had a Black or racialized teacher. They and their parents articulated the excitement of having Ms. Brown as their Grade 3 teacher. Yes I was the teacher and not the education assistant, which was another issue I had to constantly address throughout my teaching career. Might I add it was also the inaugural year of EQAO testing and my students had fun trying to figure out the circumference of a zucchini leaf, once I explained what a zucchini was. The students I taught were more familiar with spinach, callaloo, broccoli and cabbage.
With five solid years of teaching behind me, I applied for a Primary Chairperson position at Fairglen Junior Public School. I worked with another dynamic team and amazing staff before starting a new journey as an executive officer with the newly formed ETFO local the Elementary Teachers of Toronto.
It's in the classroom that you see firsthand the inequities of the system and try to cushion that by bringing in extra hats, mitts and snacks; and having those courageous conversations that foster inclusion and diversity. The detrimental impacts of food insecurity, the lack of affordable housing, precarious work and children living in poverty make me want to fight for a better tomorrow. I took that fight beyond the classroom and into the streets and community. Naturally this would lead to my activist work fighting against all forms of oppression and discrimination and championing issues like 15 and Fairness, affordable childcare, pay equity, migrant worker rights, and missing and murdered Indigenous women and girls.
VOICE: How did you get started as a union activist and leader?
KB: I actually started my involvement with the union prior to ETFO and at the onset of my teaching career. The Scarborough Women Teachers' Association (a local of FWTAO) took all the new hires out for dinner that year. I believe there were only nine of us. It was the year prior to the social contract and there was declining enrollment and the board was only hiring special education teachers and few other specialists. The veteran teacher and union steward thought it would be a good idea if I took on the role of "Key Teacher," we were not called stewards when I started. She said it would be a good way to meet people. I took on the role, went to meetings and soon was asked to run for the local executive. I sat on the executive and led staff at my new school as the Picket Captain during the Bill 160 protest. I still have that orange hat as a reminder of how far Ontarians have come in the fight to preserve public services.
At the formation of ETFO, I was tapped and trained as part of Women in Action to hopefully be one of the many women who would impact, influence and lead change within ETFO. After being successfully elected at the local level, I went on to serve as Vice President for nine years and was the first racialized woman to run for the office of President of my local. I was not successful in my attempts, but continued to work and support the leadership at the time that in turn supported my bid to run for VP female at the provincial level. I then ran for First Vice- President and through persistence, courage and strength, I am now serving as the fifth president of ETFO and the first racialized person to hold that office. This is a significant milestone for ETFO as we continue to lead change in the areas of equity and social justice. We have demonstrated to others that we must make room for diverse voices at decision-making tables and to in fact lead those tables.
ETFO has guaranteed funding for women's programs and those programs enabled me to develop my skills and fuel my passion to lead this organization today. I am encouraged by the work we are doing in the area of equity, specifically anti-Black racism, and the leadership programs we have in place to engage more diverse leaders in our union and profession.
VOICE: What is your vision for public education in Ontario?
KB: My vision is a public education system that provides equitable access to all learners regardless of their race, ability, religion, sexual orientation, geographic location or economic status. An Ontario that is fully funded with smaller classes and the supports and resources our students need to thrive! A system where our members' professional judgment is respected and their expertise is valued. A system where the health and safety of our members is protected, enforced and modelled to the highest standard. A system that puts students before profits and is committed to expanding and enhancing public education. A system that teaches and celebrates the history and contributions of all peoples to this great province and country.
Since taking office, this government has attempted to push an austerity agenda with early cuts to public services and a mandated 1% wage freeze for all public services. Their attacks on public education began with consultations to justify their slash and burn agenda and predetermined plans to expedite legislative reforms. Our members, the public and communities pushed back and attended these consultations in record numbers. We marched with thousands to reinstate the 2015 health curriculum and took the Ford government to court over our members' right to use their professional judgement to implement it. We mobilized educators, parents and the public to maintain the current model of Full-Day Kindergarten and for caps on class size for Kindergarten and grades 1-3. ETFO campaigned for the return of the two percent of lost pay from the 2008 round of bargaining. We brought forward a Charter Challenge against Bill 115, challenged the revocation of Regulation 274 at the Ontario Labour Relations Board, won the recent Charter Challenge against Bill 254 and now are continuing our Charter Challenge against Bill 307.     
Our members participated in "walk-ins" with their communities and held strong for five days of strike action in the 2019 round of bargaining, which resulted in more supports and staffing for students with special needs, language to address violence in classrooms and preservation of our benefits. In solidarity with all four affiliates, educators participated in a one-day strike to call for well-funded public schools.
Through this pandemic, we have demanded safer schools and have shed light on the inequities of online learning. As we enter the fall, our members' resolve will continue to be strong as we work to ensure appropriate measures are in place for a safe return to school and beyond.
VOICE: What do you see as our greatest challenges as we head into what is hopefully our COVID-19 recovery but also our next round of bargaining?
KB: Obtaining a commitment from this government to invest the resources needed for a safe school year. Their commitments are few, late and short of what our members need to feel safe in their classrooms/worksites. Vaccines cannot be the only solution. The Ford government must commit to lowering class sizes to ensure physical distancing; to maintaining cohorting that limits interactions; improving classroom/worksite ventilation; mandating masking for all elementary students, including Kindergarten, unless medically exempted; requiring confirmation of COVID-19 screening of staff and students; providing on-site testing; and directing adequate safeguards for student transportation. All of these measures will help avoid the school closures we experienced last year.
We are challenged by the Ford government's refusal to engage education stakeholders on key areas of interest and their back peddling on decisions including scrapping the Indigenous learning workshops and removal of the anti-racism framework from the Grade 9 math curriculum.
This government has also used its legislative powers to enact strips they could not obtain through the collective bargaining process. Our Labour Relations Board challenge on Regulation 274 is a clear indicator that this government will do whatever it takes to appease their base.
We will continue to fight to halt the permanent expansion of online and hybrid models under the guise of parental choice and the push to siphon public funds to support charter and home schooling. Public education is the great equalizer and we must push back against privatization.
We will bargain to enshrine language that protects the health and safety of all our members, that addresses the intermittent use of online learning only in emergency situations and that protects Ontario's public education system for all students.
VOICE: The pandemic has had a disproportionate impact on already marginalized communities. How do we ensure that equity is at the centre of our recovery plans?
KB: The pandemic has highlighted existing inequities, and the challenges that many face such as housing, food insecurity, mental health, precarious employment and racism.
Job losses have disproportionately impacted Indigenous peoples, racialized communities, women, low-wage workers, people with disabilities, young people and newcomers. There needs to be a systemic response that is adapted to the needs of these communities. For many Black and Indigenous communities there is a lack of trust in the health care system due to racism. The pandemic measures that are in place are challenging to carry out because of these social and economic inequities. Any plan for recovery must be from an anti-oppressive, anti-colonial framework that has been developed in consultation with the communities most affected.
We know that student mental health is a major concern and we will need to ensure the necessary long-term supports are in place to help students stay engaged and connected. Investing in public services, mental health supports for Black, Indigenous and 2SLGBTQ+ youth will be part of a just recovery.
Centring an equitable recovery will also require us to continue to push for access to affordable childcare and a living wage for everyone, which are important to building a more equitable and more prosperous Ontario.
VOICE: One of ETFO's priorities for the coming year is defeating the Conservatives in the June 2022 provincial election. Why do we need ETFO members to get active in their local communities?
KB: What we have seen with the use of the notwithstanding clause to enact unconstitutional changes to our election laws is that Doug Ford believes that his re-election is more important than our democratic rights. Throughout this pandemic, he refused to recall the legislature to expedite measures to help Ontarians in long-term care homes, ICUs, schools and daycares. What we saw was a recall of the legislature to secure and preserve his political power. If this is not reason enough for Ontarians in every community to mobilize, I am not sure what is. ETFO members need to tell our stories, about the underfunding of the public education system and what it means to work with fewer resources and more challenges. Our members can be champions of public education by elevating the voices of those who need to be heard. Building better schools is a part of building a better Ontario and building stronger public services. Defeating this government will require local communities to mobilize for change. ETFO members can connect with one of ETFO's regional organizers and talk with friends, family and colleagues about why we need a government that will invest in public education and other public services. Your voice is powerful! You can start your activism by signing up at BuildingBetterSchools.ca/mobilize.