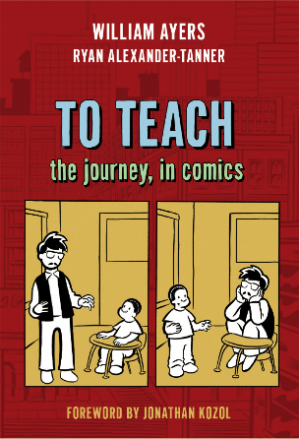 To Teach: The Journey, In Comics
William Ayers and Ryan Alexander-Tanner. Teachers College Press, 2010. 144 pages, $26.08 (paperback)
Anyone interested in American 1960s counter-culture might recognize Bill Ayers. He was a radical political activist. Today, Ayers is retired from the College of Education, University of Illinois. He specialized in early childhood education. In the graphic novel, To Teach: The Journey, in Comics, Ayers distills his work as an educational theorist with the help of Ryan Alexander-Tanner's simple black and white drawings.
He describes facing a philosophical crisis on his first day of teaching in a kindergarten class: "What is teaching? Who is a teacher?" Ayers playfully looks at some teaching myths, incorporating scenarios involving teachers currently working in the field across the grades. He examines the challenge of "creating an environment for learning" that can't help but resonate with those engaged in inquiry-based learning.
Ayers notes, "The learning environment is a complex, living reflection of a teacher's values." He recognizes the instincts that have driven so many of us to embrace the full-day kindergarten program. An absolute gem is listed as a goal: "Life is lived in the present tense – where life in school, is life itself, kindness begets kindness, accomplishment repeats itself. I try to develop a permanent readiness for the marvelous."
Ayers sees teaching as bridge-building where a teacher moves with students toward "broader horizons and deeper ways of knowing." He touches on the problems with standardized testing. After an entertaining set of drawings where administrators challenge him, Ayers reminds readers that there is more 'honest data' to be collected. Final chapters entitled, The Mystery of Teaching and Final Commencement, continue with this thought-provoking tone.
In conclusion, Ayers writes, "The intellectual challenge of teaching involves becoming a student of your students, unlocking the wisdom in the room, and joining together on a journey of discovery and surprise. The ethical demand is to see each student as a 3-dimensional creature, much like yourself, and an unshakable faith in the irreducible and incalculable value of every human being."
While it would be easy to say that this book is perfect for a new colleague, it also serves as a provocation to veteran teachers. After all, to re-examine our choices and seek inspiration are all part of the journey.
Francesca Alfano is a member of Hamilton-Wentworth Teacher Local.