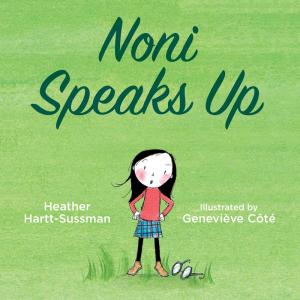 Heather Hartt-Sussman, illustrated by Genevieve Cote. Tundra Books, 2016. 22 pages, $19.99
Author Heather Hartt-Sussman of Noni Says No and Noni Is Nervous shares another delightful tale of Noni as she finds her inner voice. The Canadian author explores the complex world of friendship and bullying and uses the story to set the stage for needed conversations.
Noni Speaks Up explores Noni's struggle to find the courage to stand up for others. Noni is a "good" kid who tries to do what is right. She finds herself faced with the struggle of how to do what is right when doing the right thing means standing up to her friends. In front of her friends Noni freezes, unable to find the words she needs. Although she knows that Hector does not deserve to be treated poorly, Noni finds herself unable to speak as her friends tease him. Noni has trouble sleeping, she thinks about Hector, but worries her friends will not speak to her or will make fun of her if she speaks up. Noni worries about losing her friends. Finally, one day, Noni cannot take it any longer; she speaks up for Hector. Noni can be proud of herself again.
This book would be great supporting character education conversations in K-4 classrooms. Students can learn about friendship and enjoy sharing this tale of finding the courage to resist bullying. This story would be a great tool for discussion about friendship, character traits and finding your inner strength to stand up for your friends and yourself.
Deborah Cote is a member of the Peel Teacher Local.