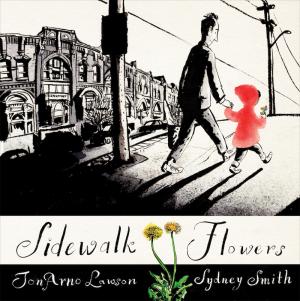 Written by JonArno Lawson, Illustrated by Sydney Smith. Groundwood Books, 2015. 28 Pages, $16.95
Sidewalk Flowers is a wordless book that can facilitate many inspiring lessons and be a platform for powerful dialogue in the classroom. The book follows the journey of a little girl in a red poncho, accompanied by her father, through a black and white city landscape. As she moves through the city, she collects flowers and, as she does, splashes of colour become visible: a beautiful floral dress worn by a woman at a bus stop, vases in the window display of a shop, and little birds on the sidewalk.
As the young girl collects flowers, she is simultaneously giving them away. She collects some yellow and purple flowers to place a bouquet on a dead bird. She places one flower on a gentleman sleeping on a bench. She tucks five colourful flowers in the collar of a dog she meets on her journey. Once she arrives home with her father, the majority of the illustrations are in colour, with only splashes of black and white detail. She tucks flowers in her mother's hair, as well behind the ears of her siblings. The book culminates with the little girl tucking one flower behind her own ear and continuing her journey into a meadow of blossoms.
This picture book can be used to spark many conversations and lessons focusing on mindfulness, equity and kindness. The little girl's small acts of kindness bring colour to her world, and likewise, acts of kindness can bring colour to our world. Supporting our students in making choices that make the world a more colourful and better place, regardless of how small the deeds, is an important component to any teaching program. Encouraging our students to be mindful and to be cognizant of their journeys, as well as the journeys of others, is another lesson that Sidewalk Flowers can facilitate. This picture book is interesting. Every time you open it, and engage in mindfulness, more details emerge. A good practice would be to "read" and delve into this book multiple times to see all the wonderful details in the illustrations.
Elena Vandergeest is a member of the Simcoe County Occasional Teacher Local.