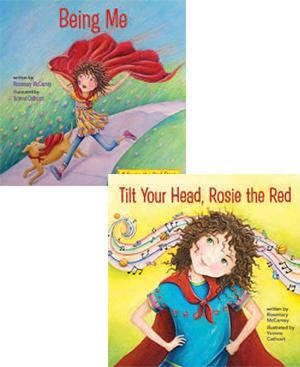 Being Me (2016) and Tilt Your Head Rosie the Red (2015)
Rosemary McCarney, illustrated by Yvonne Cathcart. Second Story Press, 2016. 24 Pages, $15.95
In Being Me, Rosie is faced with the question adults often ask, "What do you want to be when you grow up?" Rosie doesn't particularly like this question as it makes her feel unimportant in the world around her. She doesn't want to wait until she grows up. She wants to do something now. She thinks and thinks about what she could do to make a difference as a kid. Her dad comes along and they decide to take a walk and talk about it. All of a sudden, they see a food bank and decide to go inside. Rosie is very interested in what they do there, so she asks some questions and looks around. Before you know it, Rosie is helping out. Then she discovers her friend Sam at the food bank. Sam isn't there to help; he is there because his family needs help. Sam is embarrassed but that doesn't stop Rosie! She comes up with a plan to include Sam in a food drive at their school. Sam is great at drawing so she asks him to design the posters for the food drive. Rosie proves you don't have to be big or older to make a difference. Just be yourself!
In Tilt Your Head, Rosie the Red, Rosie loves to wear her red cape. She also has a vivid imagination and a keen sense of hearing. Whenever she is faced with a difficult decision or problem that she needs to see through someone else's eyes she just thinks, Tilt your head, Rosie the Red and it works!
In this book, when arriving at school, Rosie encounters students laughing and teasing a new student who is wearing a hijab. This does not sit well with Rosie. She has to come up with a plan, but the bell rings so she takes her new friend, Fadimata, by the hand and walks across the schoolyard. Rosie explains what has happened to the teacher, who talks about people needing to treat each other nicely. Rosie feels more needs to be done, so she tilts her head and thinks about what could be done to make her friend feel more welcome. Suddenly, Rosie pulls her cape off and covers her own head. A new friendship is formed. The next day Rosie arrives to find a crowd gathered around the swings again. Dreading what she might find, she walks over and, to her surprise, she finds all the girls adorned in scarves of every colour and style.
This series presents examples of real life experiences our students face. It can be embedded throughout the curriculum. The messages are terrific and are suited to children of all ages. Intermediate students love picture books and should be included. This could be used to develop a school wide anti-bullying initiative and a commitment to social justice.
You can integrate social justice, language, arts, drama, health, music and more. The possibilities are endless.
Ann Pharazyn is a member of the Lambton Kent Teacher Local.