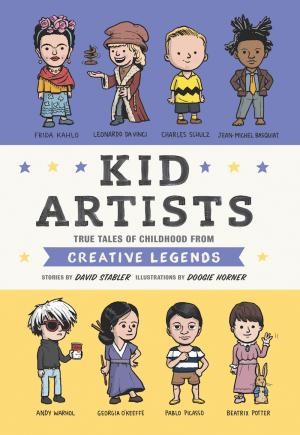 Kid Artists: True Tales of Childhood from Creative Legends
David Stabler, illustrated by Doogie Horner. Quirk books, 2016. 206 pages, $15.95
Kid Artists: True Tales of Childhood from Creative Legends, written by David Stabler and illustrated by Doogie Horner, will be a welcome addition to the library of any teacher or student who loves visual arts.
This book explores the childhoods of 17 different famous artists. These artists range from cartoonists like Charles Schulz, the creator of the Peanuts comic strip, and the whimsical Dr. Seuss, to classical artists like Vincent van Gogh and Leonardo da Vinci. There are also stories of important female artists, such as Georgia O'Keeffe and Louise Nevelson. Many people will know all of the artists in this book, but some may discover new artists to enjoy.
The book is divided into three sections: child artists who overcame adversity, child artists who practiced relentlessly while they developed their unique style of art, and child artists who loved spending time in nature. In the text, there are many quirky facts about the lives of the featured artists. For example, did you know that Jackson Pollock was chased by a bull and attacked by a gopher as a child? He does not fall into the category of children who loved spending time in nature! The illustrations by Doogie Horner are cartoonish in nature and serve to support the gentle text.
This book is appropriate for students in grade four and up. Some students may wish to read the entire book, while other times a teacher may read or assign a section to support the arts curriculum. It could also be used as an example when teaching biography writing.
A word of warning, however. Not all the art produced by the adult artists are suitable for display or discussion in the classroom. For example, I wouldn't recommend pulling up images of some of Keith Haring's art on Google in front of your students, although there are plenty that would be suitable to use as examples in art class if they were pre-selected.
Marlene Sutton is a member of The Hastings-Prince Edward Teacher Local.